Everyone loves a good happy hour. There's nothing like getting a little tipsy and saving money doing it. In New Orleans, Happy Hour is a key part of this city.
We all know Happy Hour well. And everyone has their own tactics of how to attack it. Are you a spot hopper, intent on hitting several places quickly over those quick hours?
Or are you an early arriver, camping out at one location for the bulk of your leisure? Maybe you go looking for the snack deals, or maybe you are all about the drink specials. Probably though, you are gunning for both. These are all personal strategies, not to be discounted in any way. We all Happy Hour differently.
---
River Beats may not be able to recommend an approach that works for everyone. What we can do is make you the best-informed version of your relaxing self by providing a kicking list of spots not to miss when going out on the town.
Check out our favorite Happy Hour deals in New Orleans:
Foodies Feast at Happy Hour:
Echos Pizza: 5-6 pm, Daily. All Day Monday for Service Industry.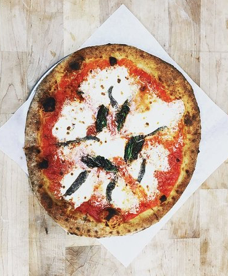 While the biggest news coming from Echos lately might be their pivot to an "all-day" cafe format, we still think one of their best attributes is Happy Hour. Draft beer is pretty cheap and no better place to find a Margherita pizza, you'll want a piece of this Happy Hour pie.
$3 drafts
$7 sangria
$6 house wines
$6 margherita pizza
$1 Roman rice balls
Red Dog Diner: 4-6 pm, Monday through Friday
This cozy diner from the team at the Rum House is well known across town as a great place for breakfast. However, their menu goes all day and when it hits that special time opens up for a real foodie-focused Happy Hour.
Items such as tamale meatballs, tomato bruschetta, and pimento cheese are all available at deep discounts beside some great deals on drinks as well.
1/2 off specialty cocktails
1/2 off beer
1/2 off wine
1/2 off "Grazers & Tidbits" menu
Bayou Wine Garden: 11-6:30 pm, Monday through Friday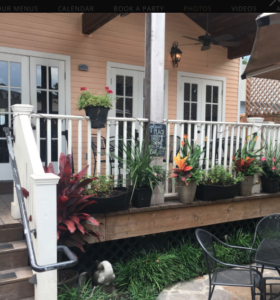 The Bayou Wine Garden is our favorite for outside living. The open courtyard has the power to make strangers become friends.
I've found the deals on Rolling Rock make me feel right at home. What really attracts us is the snack menu, featuring chicken skin tacos, and an absolutely massive basket of coconut curry mussels.
Blow up those Anchor Arms, you'll need them to lift that unit.
$5 wines
$2.25 beers
$7 and under snacks menu
Seaworthy: 4-6 pm, Monday through Friday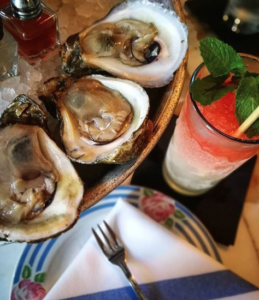 This writer loves himself an ice cold oyster. Seaworthy is one of the best places around town to enjoy them in style.
The swanky pirate pub right underneath the Ace Hotel offers half off oyster from the raw bar throughout the week, as well as some great cocktails to wash them down with.
1/2 off wine
$2 off all beer
$7 classic cocktails
1/2 off oysters
Grease the Wheels at:
Cane and Table: 3-6 pm, Monday through Friday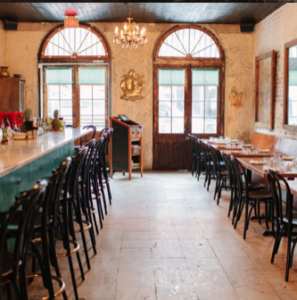 Cane and Table is a wide-open wonder in the world of rustic colonial food. As Eater says, the bar feels like Old Havana. It's the products that bring such a sentiment to life.
Their regular menu features items like crispy Duroc ribs dressed in papaya glaze for goodness sake.
Happy Hour menu continues on well with that Caribbean style. We come for the beer and shot combos, a quick way to cut through the fog of a hard-fought work day.
1/2 off original cocktails
Beer and shot combo
$6 snack menu
Copper Vine: 3:30-5:30 pm, Monday through Friday
Copper Vine is a modern downtown wine pub. The space offers a well-curated list of the grape stuff, offering a Happy Hour that really revolves around it.
Don't let the decor fool you though: the building has such a historic past that it can be found on the National Register.
With this old school of a soul, the popcorn bowl stays full.
$5 house wines
1/2 off wine on tap, by the bottle
$5 and up snacks
Juans Fly Burrito: 2-7 pm, Daily
We can't say enough about Juan's Happy Hour. Mid-City is our chosen location, but with spots all over town, Juan has ensured they are available to help foster your afternoon buzz.
The beer deals can't be beaten, but the true hitter is their rotating drink specials that keep us coming back daily.
$1 PBR
$2 Tecate
$6.50 double margarita
Daily Drink Special
Barrel Proof: 4-6 pm, Daily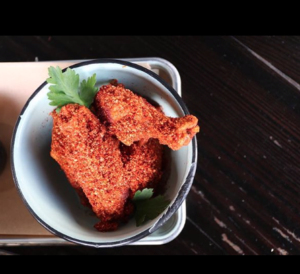 When you need to beat the busy-ness of the CBD but still want to be close by for that downtown date later, Barrel Proof is there.
Their $5 wings are just right as an early snack, but what really attracts us is that $5 old fashion.
1/2 off well spirits and draft beers
$5 daq, margs, old fashion
$5 wings
Best of Both Worlds:
Pythian Market: 4-7 pm, Monday through Friday
Pythian Market is (arguably) the city's favorite food hall at the moment– and for great reasons. The offerings inside are well cultivated, vendors are friendly, and the cuisine is top notch.
With so much variety it can get hard to pick. We love the $4 falafels from Little Fig. 1908 also has an awesome happy hour for those looking to indulge in a nice cocktail: $5 drafts, $6 house wines, $7 Grand Temple Old Fashioned/GT&T.
Araña Taqueria: 3-7 pm, Monday through Friday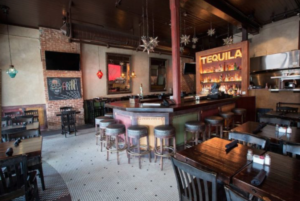 Araña Taqueria is one of the best in the business at slinging authentic Mexican. Chef Richard Papier has worked with some of the best including Emeril Lagasse, Donald Link, and Susan Spicer.
Members flock to join their Tequila Society, imbibing in worldly mezcal and tequila for some tasty rewards. With one of the lengthiest HH's on this list, we like Araña for their deals on both food and beverage. Indulge accordingly!
1/2 priced drinks
1/2 priced tacos
Bonus: Late Night
Superior Seafood: 4-6:30 pm, Daily. Reverse: 10p – till Friday through Saturday
Superior is a New Orleans staple, though some might view it as a tourist hub. Though, late at night when the crowds are flocking Bourbon Street, Superior stands as a great value drink for those who are in the know.
You can count yourself among those ranks. Do with this late-night knowledge what you will, but have one (or two) for us.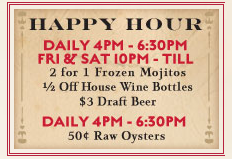 2 for 1 frozen mojito
1/2 house wine by the bottle
$3 drafts
50¢ raw oysters
Where will we catch you snacking? Follow River Beats New Orleans to keep on the everyday staycation of dining in New Orleans.
All photos courtesy of restaurant's website or social media account.