The pop-punk band Boys Like Girls is going back on tour and stopping in New Orleans. Grab your tickets here.
---
Get ready to relive the glory days of pop-punk because Boys Like Girls are making their return to the stage. On Thursday, September 21, 2023, the Fillmore New Orleans will be shaking as Boys Like Girls bring their headlining "Speaking Our Language Tour."
For those of you who need a quick refresher, Boys Like Girls is the pop-punk sensation that brought us unforgettable hits like "The Great Escape" from their 2006 self-titled debut album and "Love Drunk" in 2009. Their main stage appearance on the 2007 Vans Warped Tour solidified their place in the hearts of music fans across the globe.
The "Speaking Our Language Tour" kicks off on September 17 in Charlotte, NC, and it's been making waves since its announcement. The tour coincides with the release of "Blood and Sugar," Boys Like Girls' first new song since 2012. "Blood and Sugar" takes a grittier and heavier approach, a departure from their lilting, lovestruck pop-rock of the late 2000s. It's a musical journey akin to The 1975, with massive production that nods to the glory days of 80's metal and new wave. This is monumental news for eager emo fans who have eagerly awaited the return of their icons.
Boys Like Girls in New Orleans
Boys Like Girls will perform at the Fillmore New Orleans on September 21 as part of their "Speaking Our Language Tour," presented by Emo Nite. This 30-date tour will journey across the country with promises of unforgettable nights of nostalgia and heart-pounding melodies.
Joining Boys Like Girls on the road are some incredible acts, including State Champs, Four Year Strong, 3OH!3, LOLO, The Summer Set, The Ready Set, and Max Bemis, who will be offering support at various shows. It's going to be an unforgettable night of energetic pop-punk magic.
Don't miss out on this opportunity to see Boys Like Girls live and experience their new sound alongside their classic hits. Grab your tickets now and get ready to sing your heart out. Ticket options and availability are here.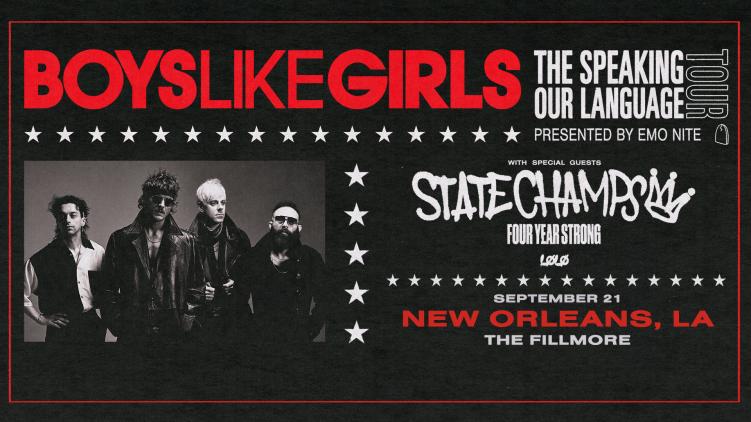 ---
Doors: 6:00 PM | Fillmore New Orleans | Thursday, September 21, 2023
---
Live Nation supports this editorial. Supported by is an advertorial series used to describe editorially independent River Beats content that is supported by a client's advertising spend.