Fast, Casual food dining is one of the biggest markets in the country as brands like Chipotle and Shake Shack are now valued at almost 1 billion dollars. The revolution didn't happen overnight; consumers grew tired of lackluster choices and palates became more enriched.
On the other hand, New Orleans is caught behind the trend in most situations, including in the way we eat. In a city dominated by fried foods, creole cooking, and heavy pastries, fast-casual and healthy choices can go by the wayside.
We still embrace the decadent side of our cuisine, don't get us wrong. But over the past decade, New Orleans has also embraced, and more importantly, innovated diverse cuisine, fast-casual food dining, and healthier options.
One company that has spearheaded this new direction for a healthier, more casual way of dining in our city is City Greens. Described as a healthy, fast-casual restaurant, City Greensprides itself on brand consciousness and the use of fresh ingredients.
Founded by locals Abhi Bhansali and Ben Kazenmaier, the company grew from one location to 4, with their fifth location set to open inside the new terminal at Louis Armstrong International Airport.
The expansion of locations proves New Orleans is ready for change, even if they don't know it yet. I sat down with co-founder Abhi Bhansali this past week, and we talked about how Katrina and the growth of the city were catalysts to City Greens' success in such a crowded New Orleans space.
"Opportunities come out of crazy situations sometimes. I think Katrina changed the thought process of how startups and new businesses work in New Orleans. In 2010, we saw demand for healthy lifestyles grow here. You had yoga studios and crossfits popping up on every corner. But, we were missing the various goods and services that fit that lifestyle. People wanted quick, convenient, fresh healthy food that they can trust. And at that point, if you wanted something healthy you had to wait for it; if you wanted something quick, you had to sacrifice your health for it. The crossroads of these two problems led us to create our first City Greens."
City Greens Emerges As A Leader In Healthy Alternatives
City Greens opened its doors in downtown New Orleans in January of 2012. Since opening, the restaurant has remained at the forefront of a healthy food movement in the city.
Using mother nature's cue in offering seasonal menus of salads, wraps, soups and cold-pressed juices, the City Greens menu is fit for all diets. Vegan and vegetarian options are obviously a big selection at all locations, and protein lovers will be happy to know City Greens serves cage-free, organic chicken, wild-caught tuna, Gulf shrimp, sustainably-raises Steelhead, and even Wagyu Beef.
One of the most satisfying and unique features of City Greens is that all of their cooked menu items are made from scratch daily in the brand's central kitchen, then transported to all City Greens locations throughout the city of New Orleans. Each morning, each store gets fresh veggies, dressings, greens, protein, and ideas to create new dishes.
The City Greens team arrives at their central kitchen around 5am each day. They continue to work throughout the day, providing guests with the freshest selections possible.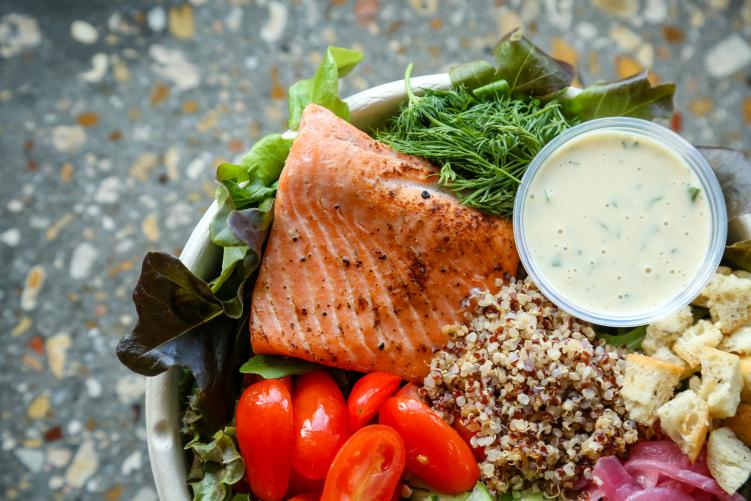 When you deliver fresh healthy alternatives to a city dominated by heavy foods, you naturally give back in terms of healthy choices and more nutritious selections. But what about giving back to the community on a more social level, in which you create a sense of economic development?
"The name City Greens reflects how we feel a city should be. Great cities are affordable and accessible – they have great food and culture, they are education centers and are ripe with opportunities for growth. Most of all, great cities have a commited and tightly-knit sense of community. We wanted to thik of our brand within that same light. We want our guests to leave our restaurants feeling the same way they would feel having just visited a great city. We want to give our team the chance to grow and develop, all while driving impact and resources back into the community that supports us everyday"
Current culinary director, Justin Faulkner, is a perfect example of this, having started as a prep team member for the company. He was promoted after City Greens noticed his knack for creating unique dishes along with his curiosity and enthusiasm about hospitality. Every current manager of the City Greens staff was promoted to that position after working as a general team member for the restaurants.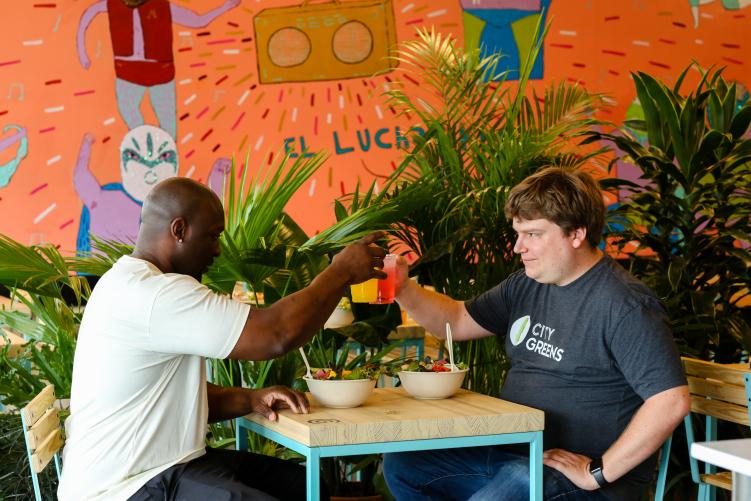 The company also takes part in Liberty Kitchen's Youth success program. The organization works with "motivated young adults who are facing extraordinary challenges to access employment and education and develop their skills as leaders and mentors." The program has mentored over 750 New Orleans youth so far, and City Greens supports the non-profit by hiring and engaging with their members, training their externs and even partnering on a research campaign as part of an Aspen Institute project.
This belief in a "conscious kitchen" in which City Greens values how its guests and staff are treated has definitely paid off in the long run. The unique brand culture led City Greens to stay within its staff to grow its restaurant, while simultaneously giving back to the community.
Feret Street Location, & Adding Unique Items To The Menu
The new location on Freret Street stands out; not only because its the newest City Greens, but because the store offers a menu category not available at the other locations. Each item features a different twist that has not been on board with City Greens: warm dishes.
"We wanted to balance out night-time traffic. We realized that people sometimes want warmer, heartier meals. The balance of warmer proteins has been a huge success; people have really loved these new additions."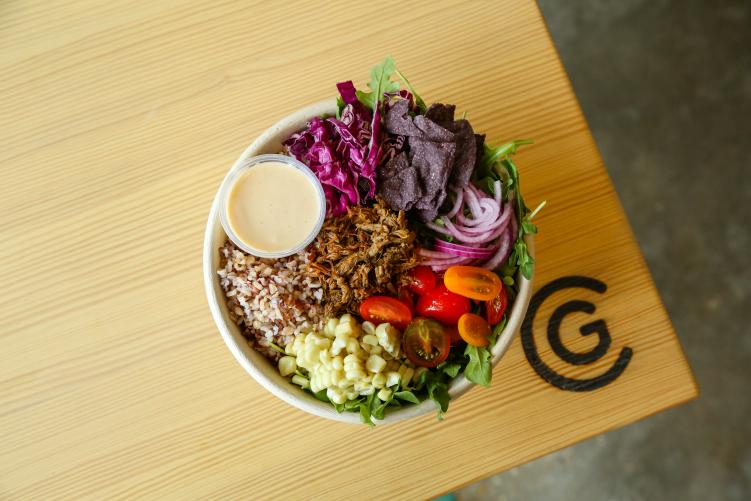 The new dishes include Mushroom Elote, Ginger Teriyaki Chicken, and Wagyu Barbacoa. On this occasion, I ordered the Wagyu Barbacoa. The dish featured corn, grape tomato, red onion, cabbage, blue corn chips, arugula, Mississippi brown rice, sweet corn dressing, and Wagyu Beef from Raines Farm in Girard, LA. The balance of warmth and sweetness was something that felt both nostalgic and unique at the same time.
Looking Into The Future
As City Greens braces for its 5th location to open in the New Louis Armstrong Airport, the brand has lots to celebrate in their 7 years of success, failure, growth, development, and discovery. In a city with hundreds of new restaurants popping up each and every year, their resiliency is something to praise.
You can visit City Greens and their menu selections at the newest location: 5001 Freret St Suite B, New Orleans, LA 70115.
---