DJ Soul Sister is hosting her 20th Annual New Year's Eve Soul Train at Civic Theatre. Buy tickets here.
---
When DJ SouL SISTER THROWS A DANCE PARTY, it's the stuff of legends. As New Orleans' favorite "rare groove" excavator, her New Year's Eve parties have been a longstanding tradition in the city. This year, for the 20th edition of Soul Sister's NYE bash, she's taking over Civic Theatre for a soul train shindig you won't want to miss.
Soul Sister, known worldwide as the "queen of rare groove," has been a crate digger and vinyl collector ever since she was six years old. As a veteran radio programmer on WWOZ FM New Orleans for more than 25 years, she is the host and founder of the popular "Soul Power," the longest-running rare groove radio show in the U.S. As a vinyl DJ, she mixes retro funk, R&B, soul, and disco with total ease, keeping you dancing all night long.
DJ Soul Sister New Year's Eve
The 20th edition of DJ Soul Sister's New Year's Eve Soul Train party rolls into the Civic on December 31st. Tickets start at $50 and go up to $150 per person. One premium ticket ($150) includes an open bar, premium balcony access, a special champagne toast at midnight, a separate line for entry, and a special souvenir gift.
The all-night dance party will feature a special, funky DJ set from Soul Sister, plus special guests Marco De Santiago and Freddie Mae Maxie (a few original Soul Train dancer alumni). Throughout the night, guests can groove with Soul Sister's Booty Patrol Dancers, snap a photo at one of the themed photo booths, or simply drink and dance the night away. Doesn't sound like a bad way to ring in the new year!
Tickets for DJ Soul Sister's New Year's Eve Soul Train are on sale now. Check out ticket options and availability here.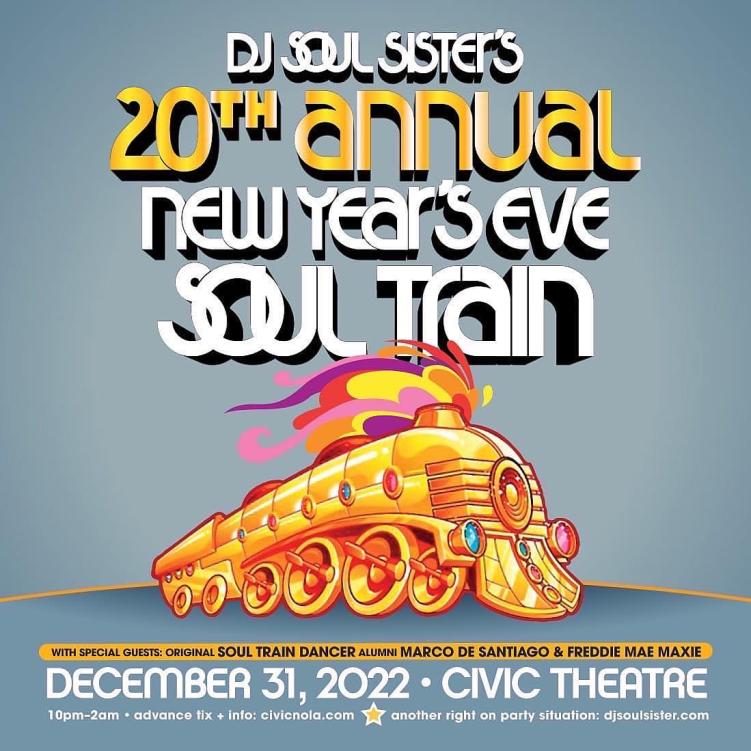 ---
Doors: 9 PM | Civic Theatre | December 31, 2022
---
This editorial is Supported By Brooklyn Made Presents. Supported by is an advertorial series used to describe editorially independent River Beats content that is supported by a client's advertising spend.