Don't miss your chance to celebrate the summer with Dohm Collective. The party experts have two new exciting showcases planned for May. Stay up to date with all their info here.
---
Since 2015, the Dohm's Collective has organized some of the most noteworthy events in the city. Their group of creative professionals, DJs, and visual artists have all become notorious in New Orleans' dance music community. Truthfully, The Dohm Collective has never disappointed when it comes to a great experience. This year, they're kicking off the summer season with irresistible waterfront parties and fantastic music at Bayou Boogaloo and The Drifter Hotel.
A Dohm event, whether it's at the Dragon's Den, Hell's Gala, or Bonnaroo, always offers an immersive and unforgettable experience. Their annual showcase at Luna Fête in 2019 was one of the collective's biggest triumphs to date. As a local artists' collective and performance group, Dohm has dozens of friends and family to draw inspiration from. Over that winter weekend in New Orleans, the group hosted over 50 artists across four stages for four days. It was the largest booking of local DJs that year – more than Buku and Voodoo Festival combined.
Founding Dohmie & visual artist Brendan Pechon has been with the team since the beginning. With fellow founding members–Chase Labure "C-Lab", Matthew Zuppardo "Zupparty", and Austin Thompson "Dino Brawl"–they created "the party within the party."
This Year Under the Dohm
Groovie into the season with The Dohm Collective at this year's Bayou Boogaloo Festival. During the day, festival-goers can enjoy a relaxing space with shade, hammocks, and cooling misters and fans, along with intimate performances from special guests. As the sun sets, The Dohm will initiate the interactive visual board, which attendees can use to create their own visuals and project them on the Dohm.
In addition, their signature Silent Disco will take place from 8 – 11 pm on both Friday and Saturday. The silent disco is free to all Bayou Boogaloo ticket holders and will continue beyond the normal hours of the festival. Stay tuned for more announcements and the full lineup.
Then in late May, the collective is hosting a two-night run at The Drifter Hotel. The mini-fest will host funkster Flamingosis and his new project, vocalist Ehiorobo,  special guest Funkmammoth on his New Orleans debut, and of course a gaggle of local artists on this signature VOID sound system.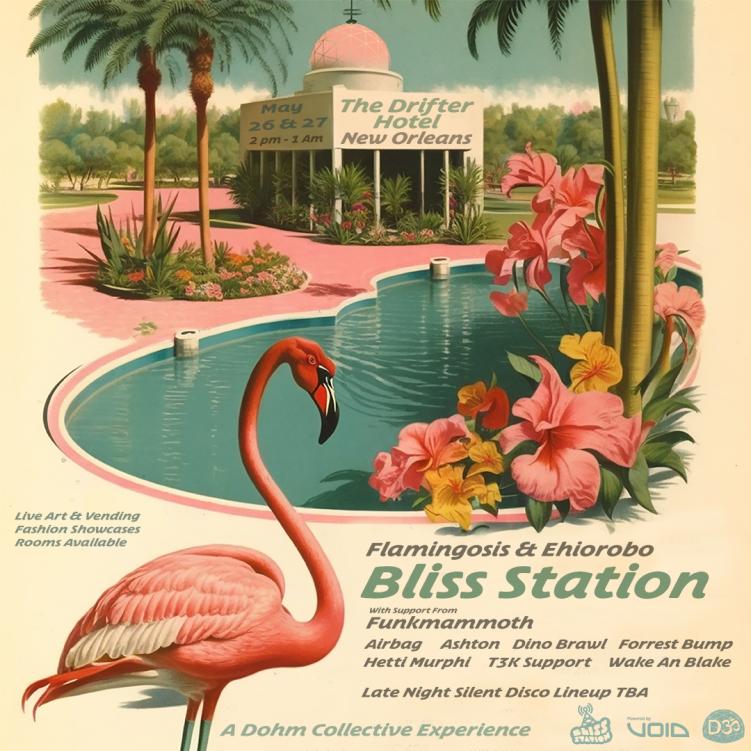 And for the first time ever at a Dohm event: a vintage fashion show by Mad Liberation Vintage, Goddesy, Moon Bug, and Sparklepuss. Plus the live painting and local vending that attendees have come to expect from Dohm Collective Experiences. As the sun sets, a full lineup of Silent Disco artists will play until 1 am, including takeovers by Hi Speed Music and NolaDnB.
Get more info on the Dohm fest and look out for final lineup announcements here. Also noteworthy, festival-goers who book a hotel room can attend for free. Don't miss your chance to be part of this unforgettable event hosted by The Dohm Collective at The Drifter Hotel.
featured image by Bryce Ell Photography