The Dohm Collective has never disappointed when it comes to crafting an experience. Their performance this year at the annual Luna Fête festival was one of the collective's biggest events to date.
As a local artists' collective and performance group, Dohm has dozens of friends and family to draw inspiration from. Over this past weekend, the group hosted over 50 artists across four stages for four days. It was the largest booking of local DJs this year – more than Buku and Voodoo Festival combined.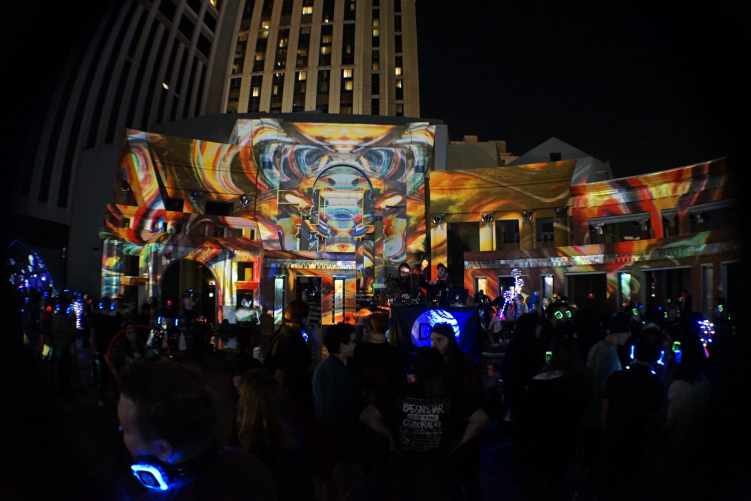 Throughout the Piazza d'Italia fans, families and dohmies immersed themselves in the sounds and sights of Growth & Change. The installation focused on the development of the mind and soul in light of our closing decade.
A staple in the New Orleans artistic community, Dohm has supported the diverse talents of our local electronic music community for more than half a decade. And their immersive experience has taken them all over NOLA in addition to cross-country festival and events.
The Dohm Collective is always a family experience, and for their Luna Fête experience this year, they welcomed in some special guest artists as well. Tipper's visual artist Steven Haman stopped by, as did nationally renowned psychedelic artists Glass Crane and Ovoid. They've certainly come a long way from their Bluetooth on a bucket day.
Founding Dohmie and visual artist Brendan Pechon have been with the team since the beginning. This weekend he celebrated his 30th birthday behind the booth at one of the biggest events in Dohm history.
"This past weekend felt like everything we've never even dreamed of doing coming together in perfect harmony. … We will continue to grow, change and adapt to new challenges, because it's what we love to do. Dohm will always provide for people who are interested, ready, and willing to do the damn thing.
Featured image via Jeremy Fredricks