Kanaval Ball tickets will go on sale this Friday, December 20th at 10 am CST. Grab your tickets here.
---
New Orleans Mardi Gras Krewe, the Krewe du Kanaval, is gearing up for the 2020 season! Krewe Du Kanaval was founded in 2018 by Win Butler + Régine Chassagne of Arcade Fire and Ben Jaffe of Preservation Hall Jazz Band. For the parade's third annual Kanaval Ball on Friday, February 14th, 2020, Arcade Fire will be the featured headliner, marking the band's first show in a year and a half. This is a huge TREAT for New Orleanians and Arcade Fire fans alike.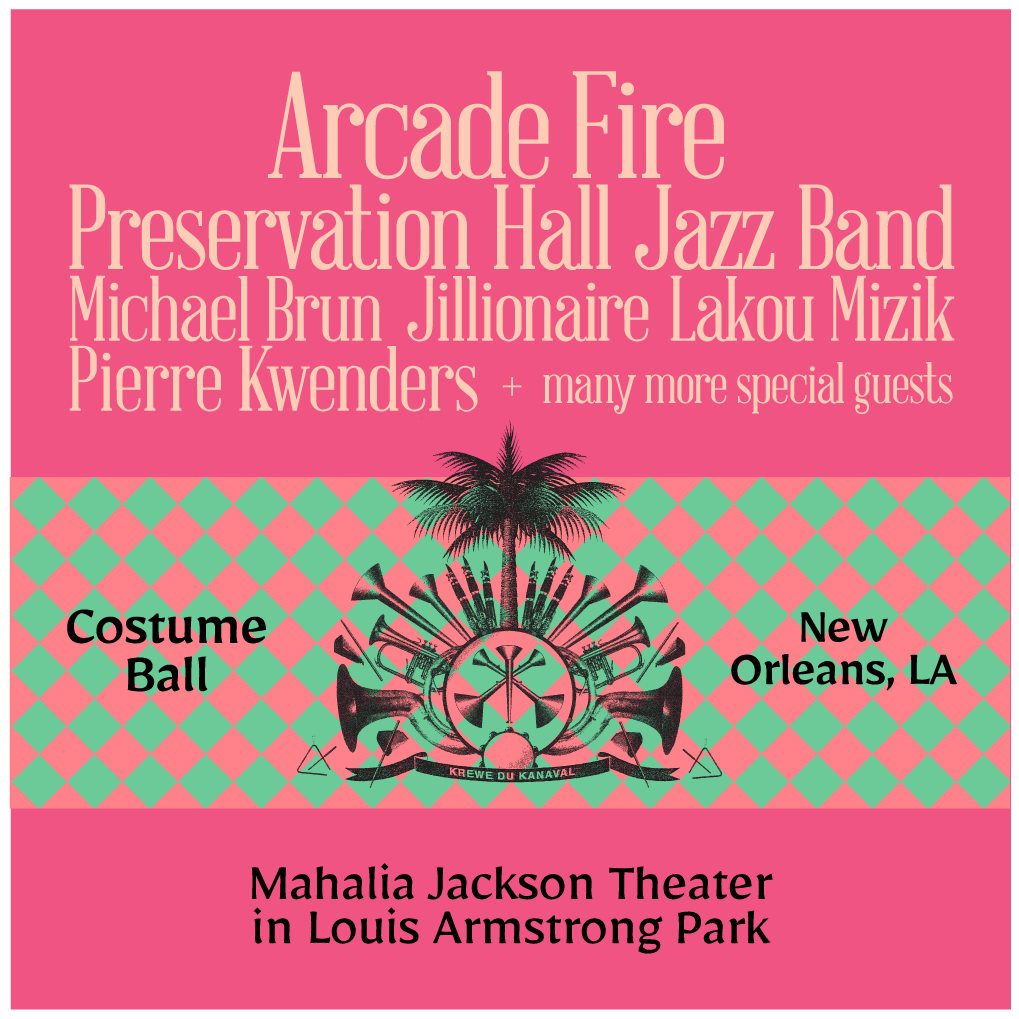 In addition to Arcade Fire, Preservation Hall Jazz Band, DJ Michael Brun, Trinidadian DJ Jillionaire, Haitian powerhouse collective Lakou Mizik, and Congolese-Canadian musician Pierre Kwenders will join the diverse list of musical acts, plus some special guests of course!
The Ball kicks off a weekend of festivities "celebrating Haitian culture and its many contributions to the city of New Orleans and pays homage to the longstanding relationship between the two cultures, which dates back for more than 200 years."
In addition to the ball, the Krewe of Freret parade on Saturday, February 15th is also in the books for their first time parading on the Uptown route!
All ball and membership proceeds support Krewe du Kanaval's philanthropic initiatives: Serving unmet social and cultural needs of New Orleans and Haiti via the KANPE Foundation (founded by Régine Chassagne, celebrating its 10th anniversary in 2020) and the Preservation Hall Foundation.
Those interested in taking part in the full Krewe du Kanaval two-day experience can join as a Krewe du Kanaval or Klub Kanaval member, which grants access to attend:
● TOUR DU KANAVAL. Attend the opening ceremony and walking tour through Louis Armstrong Park & historic Treme neighborhood.● KANAVAL BALL at Mahalia Jackson Theater. Enjoy special access to the Krewe lounge, complimentary food & beverage and premium viewing for the show.
● KREWE DU KANAVAL PROCESSION. Take part in the walking parade down St-Charles.
● CLOSING CEREMONY. Kanaval's post-parade dinner at Latrobe's in the French Quarter, featuring complimentary food & beverage and intimate musical performances.
This year's ball is held at The Mahalia Jackson Theater. Tickets go on sale this Friday at 10 am. You can purchase them here.