I caught up with New Orleans grown People Museum in the greenroom at Gasa Gasa, just an hour after their opening set for the Chicago-based trio, Ohmme. It was a show in which both groups thoroughly rocked. After writing about their first single, "Eye 2 Eye" early in the month, I was excited to get to talk to the artists behind the come-up.
Fresh off the release of their newest tune "Bible Belt" it was clear that minds behind People Museum were ready to show their art. With an upcoming LP, I Dreamt You in Technicolor, the duo of Jeremy Phipps and Claire Givens had plenty of material to give.
Givens' haunting voice, layered with beautiful prismatic production, laid lyric after lyric over the blazing brass lines that Phipps was weaving. It coalesced to a set of siren songs that called the crowd closer and closer to the stage, every one of them stamping their feet to the music.
The band's production style on the album translates well to their live show, a vindication of the New Orleans infused style of pop the collaborators are pushing. Its ethereal music that's rooted in the very deep-seated stylings of the Crescent City. People Museum attributes that to the how & why this LP developed from.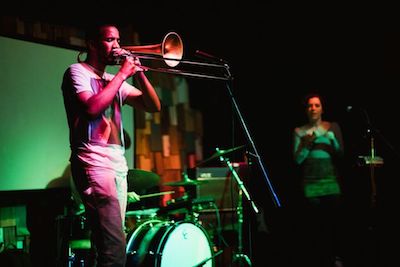 Photo Credit: Bryce Ell
A lot of recording credits for the LP go to Ross Farbe (the Living Room Studio), and Ben Lorio (Below Productions). These two have worked with some really great acts to come from New Orleans: Tank and the Bangas, Generationals, The Revivalists, and Trombone Shorty. How did that level of experience help you on this project?
Jeremy: "When we approached Ross, he had never done anything electronic. We wanted somebody who knows a lot but has never done something like this to give it a different flavor, so it wouldn't be just another EDM sort of sound. As far as Ben goes, we've been working together for five or six years now, so that is a really easy relationship.  Anything I do he normally gets."
Claire: "Working at both places was great. I don't think Ross had ever done much pop like this before. He comes from a perspective of building sounds. So, he got us using things like analog pedals—really taking our sound and putting it in a way that is electronic but is grounded. He kept us grounded, which was the whole idea of the project in the first place."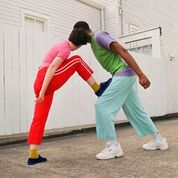 Tell me about thE 'whole idea' of this project. Where did your inspiration for this LP come from?
C: "I think we had a lot to say and a pretty cool idea of how to say it. For me this was trying to figure out for the first time how to articulate my thoughts. Musically, I was listening to a lot of Hurray for the Riff Raff, Julia Holter, Tom York. Trying to see how other people do it, and mixing them together without overthinking it."
J: "Yea I think when bands start out a lot they go into the studio thinking, "oh we want to make music like this person." But we never really had that conversation. We just thought of making random, awesome things. At some points, it was tough. But because of that it has become a leftfield sound and we're making something we're both really proud of."
How would you describe that sound?
J: "That is a tough one. I was actually just talking about this with someone…"
"New Orleans music with a foil tint over it. That's the sound we want to make." – Claire Givens
J: "When I make things, I keep it as a pop format. The instruments can be anything but the structure is going to be the same as pop songs, so for that reason I call it electronic pop."
C: "With a New Orleans influence. I moved here because I wanted to sing jazz music. I had to respect this thing that was so beautiful. I think People Museum brings that history back in a nonliteral sense. We keep the horns, and beats and rhythm of this city, but we make it new."
J: "Anything I make is going to focus on those horns, the trombone, because that's the instrument I know best. This is new-wave New Orleans."
What's your collaborative process like?
J: "It [isn't] a whole lot of thinking. I can make something and send it to Claire and then she would be like—"
C: "— okay drive over to my house right now. You have to come now. I'm ready to do this."
"It's a little disjointed sometimes. I make beats and instrumentals and I send it to her and she does what she does and it bounces back and forth." – Jeremy Phipps
C: "We do different things. Jeremy can make a complete thought as far as an instrumental track goes, and I can come in and do lyrics and vocals quick. He's 100% the track. I can say like "yea a horn would sound cool here" and add that.
J: "One of the funny parts is that I didn't actually write a lot of the horn parts, I didn't write because I would ask you for them."
C: "I guess I just like making melodies and see things in a different way."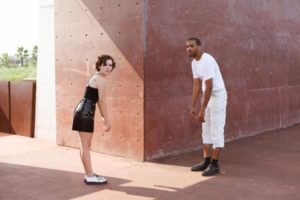 Photo Credit: Daniel Grey
Do you have any personal favorites on the LP?
C: " "Bible Belt" is my favorite. It's the most fun and the most heated in my world. It's definitely a statement. It was not difficult to write, but it was difficult to release into the world, and be like 'yea this is what I have to say about how I grew up.' "
J: "Yea mine is probably Bible Belt too. The song "Fly By" as well. I always liked that song. In the process that one was really easy, the recording was like, "oh I guess were done with this" it just happened so fast and it jams."
What do you hope this project says about People Museum?
J: "This our first album as People Museum, so we are hopeful that people will get a feel for who we are."
C: "Some of these songs are probably two years old now. We're ready to get them out and let people know what we've been doing, and where we're going with this sound."
What are your plans for the group going forward?
J:  "We're heading to New York for the first weekend of October to give them a taste of People Museum."
C: "And we have the album release on the 28that Saturn Bar. We're playing at Artmosphere in Lafayette upcoming too."
J: "Then we're going to regroup and keep going with this album till we squeeze the life out of it and start something new."
People Museum's new album I Dreamt You In Technicolor is set to arrive September 28th, via live release at the Saturn Bar.
The album's track-list boasts several previously released singles including "Eye 2 Eye" released here on River Beats, as well as "Fly By", and their newest single "Bible Belt".
[soundcloud url="https://api.soundcloud.com/users/49970893″ params="color=#ff5500&auto_play=false&hide_related=false&show_comments=true&show_user=true&show_reposts=false&show_teaser=true&visual=true" width="100%" height="300″ iframe="true" /]
Tracklist:
1. Eye 2 Eye
2. It Won't Be Long
3. Let Go
4. Clockwatchers
5. Fly By
6. Its Too Real
7. Bible Belt
8. Closing
9. Close 2 You