In a city with a seemingly endless lineup of festivals and parties, there is one that stands above the rest. The French Quarter Festival celebrates its 35th anniversary this year, which coincides with the city's tricentennial celebration, and this fest is not one to miss out on.
Toted as a locally grown festival "for the people, by the people", the French Quarter Fest's sole mission is to focus on Louisiana-grown talent while building a stronger community.
What Is French Quarter Fest?
This isn't your typical back-yard BBQ, one-stage show. Last year, the festival played host to over 700,000 attendees and 1,700+ musicians over the weekend with plans on bigger crowds in the years to come.
But how does a festival with that many people and that many musicians stay intimate and personal?
This belief is not just within the festival goers, but is held true by its organizers and staff like Mark Romig – president and CEO of the New Orleans Marketing and Tourism Corporation.
"We do get people from all over the world for this, this being what some consider the largest free music festival in the United States, but it is in our most iconic of neighborhoods which is the French Quarter."
Romig and his staff work to keep that neighborhood block party vibe by incorporating local restaurants and musicians, as well as the local shops and vendors, into the very fabric of the festival.
Rebecca Sell – marketing and communications manager for the festival – says,
"French Quarter Festival is, first and foremost, an event we host for New Orleans. If we can make it great for the locals, we know our guests will love it too!"
That local litmus test of fun and revelry is not an easy one to pass, but the French Quarter Festival manages to do so each year.
The festival's beginnings go back to the 1984 World's Fair and was born as a way to thank the locals at the time for putting up with the construction surrounding the French Quarter.
"It's a fantastic opportunity for people to come together from all over the city, plus from all around the world, to experience the best of New Orleans," says Romig.
35 years later, the festival grew from a small neighborhood party to hosting 1,700 musicians on 23 stages spread throughout the streets of the French Quarter.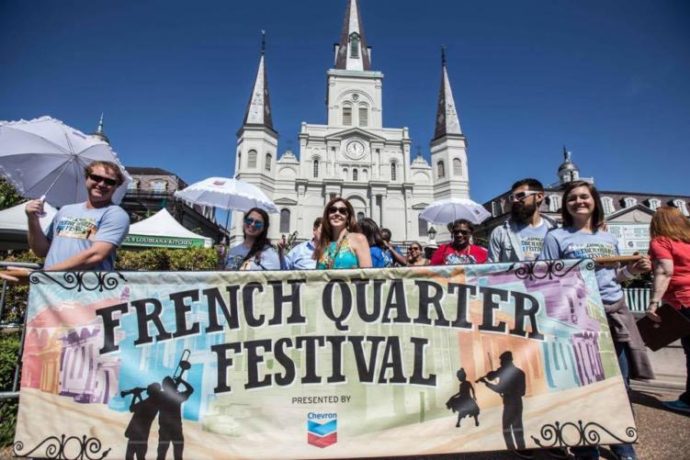 Starting at the Gateway to Bourbon Street Stage at the 100 block of Bourbon, attendees will be treated to the sounds and smells that make our city a major destination for millions of people each year.
After, you will move through the heart of the Quarter to a number of unique exhibits and stages where you will get the real New Orleans experience.
"23 stages aren't even enough to showcase everybody!" exclaims Sell, speaking about the different stages and events that will be featured through the weekend.
"In Jackson Square, the Hilton Tricentennial Stage will feature four days of music by some of New Orleans' most legendary artists like Ellis Marsalis, John Boutte, James Andrews, and Charmaine Neville."
Among the big names that are performing is also New Orleans native, Aaron Neville. But the big talent is not what makes this a unique experience.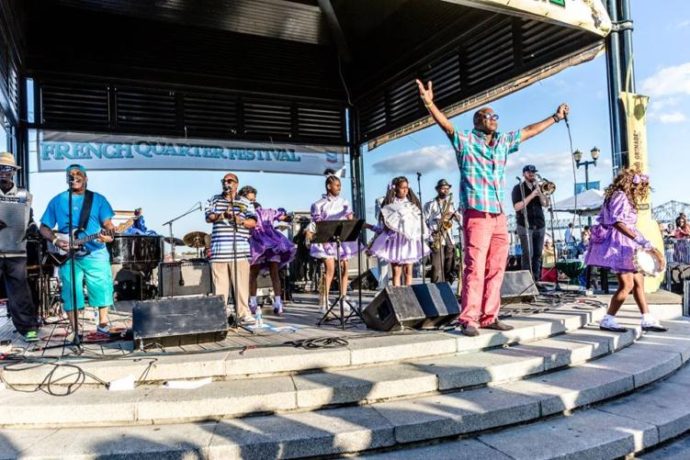 This festival is also an opportunity for local talent to shine. "We are honoring our cultural heritage by investing in the future," says Sell.
"Ernie's Schoolhouse Stage at Homer Plessey Community School at Royal and St. Philip Street will give young artists the opportunity to perform at French Quarter Festival while gaining business and marketing skills to support their musical careers, thanks to a House of Blues Music Forward Foundation."
When people ask what makes New Orleans so special, it's the feeling of community and family, no matter your background. When you walk the streets as both a tourist and a local, you feel as if you're a part of something greater.
That mojo is the essential life-blood of our city and pumps through the veins of our streets. This festival is just a small taste of that lifestyle.
But New Orleans is more than just great music and some of the best food you can get your hands on. It's the story of a seemingly impossible city thriving between a swamp and a river with more life and more personality than anywhere in the world.
A city that has been through terrible disasters, foreign occupation, and a 300-year-old identity crisis that has molded us into this wonderful and chaotic place we call home.
And it's through the people the story lives on and continues to grow. Romig says they are offering a way for attendees to add to that growing story,
"We will have the New Orleans Story Booth there for us to ask people to give to us their best story of New Orleans, starting with the line 'One time in New Orleans…' and let them finish it".
That continued and ever growing story sustains us, even in the darkest of times. It's what enthralls and charms the millions of people who visit our small port town, for some even to the point of never wanting to leave.
The French Quarter Festival is a large and fantastic chapter in that growing story. The city invites you not only to experience the story but be a part of it and add your own flavor.
So if you ever once wondered how the locals party in a city that seems to always be partying, experience the French Quarter Festival and see for yourself.
Come on through to be a part of this ever-growing story and feel the true heartbeat of New Orleans. Party like the locals because during the French Quarter Festival, everyone is a New Orleanian.
Featured Photo: Zack Smith Photography
This article was written by contributor Robert Blue