In the midst of New Orleans' comedy festival, Hell Yes Fest, there are tons of acts to check out. Tomorrow, join the cast of MTV's Girl Code for a hilarious journey into the female mind. With cast members Carly Aquilino, Jamie Lee, and Annie Lederman, fans will be laughing their asses off as these ladies dish all the dirt and advice on everything from beards and boxers, to booty play and everything in-between. These women unapologetically push the envelope and discuss the taboo topics that everyone goes through but is too afraid to admit. This Thursday, October 13, check out MTV's Girl Code featuring Carly Aquilino, Jamie Lee, and Annie Lederman at The Joy Theater.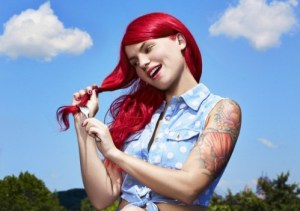 A native New Yorker, Carly Aquilino has gained enormous popularity from her stand-up comedy routines. Beginning at Gotham Comedy Club she rose through the ranks of the New York comedy scene. Carly has been apart of MTV's Girl Code and brings a hilariously fresh outlook and great girls-only advice.
Her standup has been featured on Sirius XM and she has been touring as a member of Girl Code Live.
Jamie Lee
Hailing from Texas, Jamie Lee has stopped at nothing to gain her stardom. She has made a ton of television appearances including live stand-up routines on Conan, John Oliver's New York Stand-Up Show, The Pete Holmes Show, and was also a finalist on NBC's Last Comic Standing.
Her other television appearances include Comedy Central's @Midnight, MTV's Ridiculousness, Fox's World's Funniest Fails, and E!'s Chelsea Lately. 

Her most notable role has been on MTV's Girl Code. You can see Jamie in all her comedic glory and giving women only the best and most hilarious advice on men, fashion and everything in the middle.
Annie Lederman
Annie Lederman is one of those female comedians you just have to see live. With her recurring appearances as a guest panelist on E!'s Chelsea Lately and performing on the first season of Adam Devine's House Party, Annie has made a name for herself with pure sass and wit.
Don't miss your chance to see Carly Aquilino, Jamie Lee, and Annie Lederman as they become the trio of fabulously funny females set to perform at New Orleans' Joy Theater, this Thursday, October 13 at 10 pm. Pick up your tickets here, and don't forget to check out the rest of the hilarious performance line-up for Hell Yes Fest.
CONNECT WITH RIVER BEATS
facebook |twitter | instagram | youtube | soundcloud  | mixcloud