Louisiana is one of the latest states to enact a strict "heartbeat bill." Gov. John Bel Edwards signed the bill just last month, banning all abortions that detect a fetal heartbeat. Since a heartbeat is usually developed well before a woman knows she's pregnant, this law uniformly strips women of the right to choose in what can be a very scary situation.
Since then, protesters have marched through the French Quarter dressed like women from The Handmaid's Tale and rallied around local healthcare providers like Planned Parenthood.
Local music club the Howlin' Wolf is the latest institution to take a stand. In a more light-hearted campaign, the dive bar is hosting a Boogie for Your Right event on Friday, July 12.
The benefit event will host stand up comedy and spoken word performances, in addition to music from DJ Soul Sister, Miss Mojo and Valerie Sassyfrass. All ticket and raffle proceeds will support local organizations that are fighting for reproductive rights.
See the full list of benefiting organizations here:
Lift Louisiana
Louisiana Trans Advocates
New Orleans Abortion Fund, Inc.
Planned Parenthood Gulf Coast
Sexual Trauma Awareness & Response Center
The Rock & Rouge
Women with a Vision, Inc.
General admission tickets are on sale now for $15. The show is open to ages 18 and up. Doors at 8:00 PM, show: 9:00 PM.
Follow the event page for ticket sales and to stay up-to-date on lineup and event news. Come support women and their right to choose while enjoying some great music and local culture.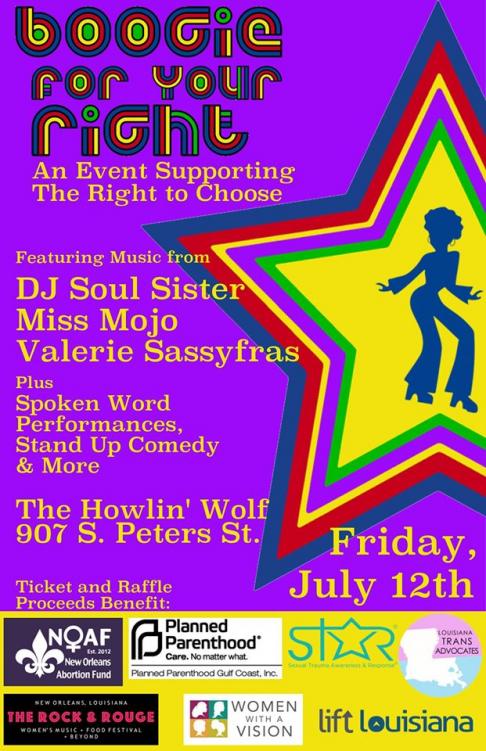 Follow River Beats New Orleans to stay up to date on all your favorite events in the city.