Kanye West continues to dominate the news with his new album, and now he's headed to Louisiana to show it off. After dropping his brand new gospel-infused hip-hop album "Jesus Is King" last week, the producer is set to host his popular Sunday Service on the Rieger Road campus of Bethany Church.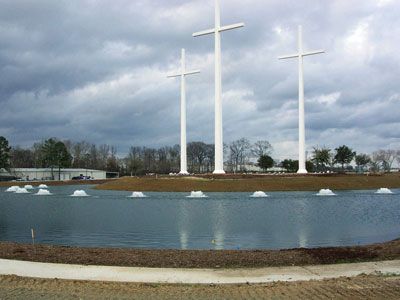 The Bethany Church is the notable location of the three gigantic white crosses that face Interstate 10. You can't miss them as you start to enter the Baton Rouge area.
Kanye's Sunday Service features dozens of choir singers, musicians, and live instruments. The Baton Rouge edition will feature an 80 piece ensemble. West just held a memorable Sunday Service in Salt Lake City last month.
Friday's Sunday service opens at 5 pm and starts at 6 pm. The event is billed as "BRunchella," as organizers will sell tickets that feature a full brunch layout. The ticket sales will be used to recoup the costs of the live event. You can grab tickets to Sunday Service here.
---
H/T: NOLA.COM