I visited Palm & Pine on a sunny day, arriving in typical New Orleans fashion: late. My five mile trip took nearly forty-five minutes, slowed by multiple road closures due to the Hard Rock Hotel collapse. After clearing that hurdle (by parking nearly a mile away), I booked it through side streets towards the Rampart-based restaurant.
Finally clearing the roadblocks, I cut across the road, but was stopped again within the median; halted, by a second line. The brass-band trumpeted the way forward for a funeral procession. As I looked towards the construction site, I wondered if this was a ceremony for one of the workers trapped within the tragic collapse. It would be natural of this city's culture to celebrate a life with music and dancing. More so to do it within the shadow of a tragedy.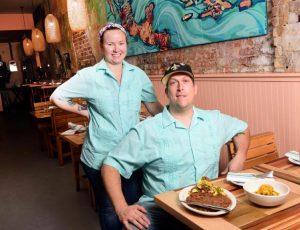 I was born up North. That's to say that my thoughts get cut short by the nagging feeling of time. Fortunately, Chefs Amarys and Jordan Herndon are as hospitable as they come. What I always think of as a lack of punctuality, they accepted with the understanding of Southern pace.
I was welcomed into their brightly lit space, and we got down to business on this exclusive River Eats interview. We talked about their experience as fine-dining cooks, how Palm and Pine emerged, and they shared with me some of their favorite flavors on the menu.
Read on to hear from Chefs Jason and Amarys Herndon.
---
Can you tell me how Palm & Pine came to be?:
Jordan: "The concept was formulated for about five years. Before we got into these digs, we were a pop-up that focused on New Orleans cuisine and then, as a filter added local and regional cuisines."
"We moved here from Texas 12 years ago just to cook in the city. We were dating, we lived together, cooked together, worked in the same restaurant, on the same line next to each other at Arnaud's. It was like Bootcamp for us. For that reason, Arnaud's hangs around for me as the epitome of the idea of traditional New Orleans cuisine."
Amarys: "At the same time, we were homesick for Texas, and that's when Honduran and Korean cuisine were really exploding across the landscape and taking their place at the table. We were eating a lot of it, and it shaped our view of the food here. Not having grown up here and not having specific notions of what New Orleans cuisine is, whatever we were eating was New Orleans cuisine to us."
J: "When you study New Orleans' culinary history, for a long time the most prominent thing mentioned is the French, Spanish, and African creole traditions that are viewed as the foundation and the indigenous food of the city for the last 300 years. But as Amarys said, there are so many other little pockets. Only 40 years in and the narrative is shifting to discuss how Vietnamese cuisine has shaped the city. 12 years after Katrina, and how Honduran and Central American cuisines are shaping the city. And there is so much more.
Coming from Texas, we knew about all these other flavors, but in New Orleans everything just tastes different. Palm & Pine emerged as our conversations about what the new Creole is, what is getting tossed into that new melting pot."
So y'all came here to cook. Was the intention always to open a restaurant?
A: "We were young and we really wanted to do something with our lives that made us happy. We knew we wanted to cook. So, with an indistinct decision, we decided to learn. I don't know that I thought this would be our home though."
J: "I think I almost expected to somehow learn the cuisine quickly by studying at restaurants, and then I thought maybe we would move back to Texas. As we moved up the ranks, we started to grow roots here, and then the popup emerged–"
A: "– and the city just grows on you. We started popping up and building a relationship with our guests, and then it started to kind of feel like home. Even before we were culinary students the idea was that we wanted to own a restaurant. All I know is restaurants, its a part of me. The popup was where it started getting serious: building a strong concept; testing it in this real way. Opening a restaurant requires risk, so first, we started by building support."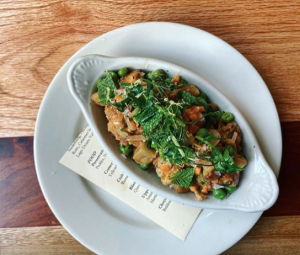 J: "We started the pop-up when we were sous chefs. We didn't have our name on any menus and we were cooking somebody else's food. But, we wanted our own thing. We began carving out time on our days off, which were really not our days off, to make this place. It's addicting from a creative standpoint. When people start getting your food and seeing something different, they're excited. The pop-up was like fine dining on paper plates. We were watching the scene and seeing people find their niches, but we were just trying everything."
A: "Yea, we were really trying to find our identity as a restaurant. We used the popup as a way to explore the path towards it."
J: "We did the popup, and got on peoples' radars. We found a partner, and here we are."
Is Palm & Pine is a larger translation of your pop-up, the Old Portage?
A: "More of our late night is drawn from the pop-up. We stay open until 2 am. Most of what we do then is for service industry members. We all deserve to get off our shift and have a good meal ourselves. So we're thinking about what someone would want after their shift. A burger is one option. We have the Upper Quarter Pounder ($10). We're never going to put it on the P&P menu, it's only for after 11 pm. But sometimes, you want something cold and crisp. So we offer the Corner Store Crudo ($14), but that's something which can go back and forth to either menu."
J: "That's something we would do during the pop-up: something with fish to keep it light, like ceviche. There are some things that emerged, and some things we are just trying."
A: "When we popped up, we were doing global cuisine. Then, in the last year, we started honing in on what we wanted our concept to be. We came upon South and South of That, started to go the direction of our current menu."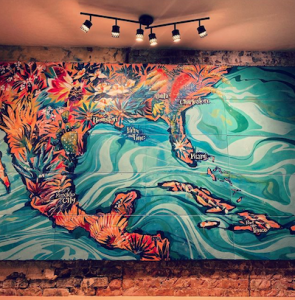 J: "Palm & Pine is a refinement of what we were envisioning with the pop-up. We are fine dining chefs, and we're coming from this experience so we looked for something in the middle. You have this place which is light and bright and open, but the food is fine dining, though there's no table clothes, no waiters in tuxedos or ties."
A: "Well we do have a guy who wears a bolo tie sometimes."
J: "As cooks first, we've gotten rid of a lot of that stuffy aspect, but the food that's hitting the table is fine dining.
The dishes look pretty, like they should be more expensive than they are. If this was somewhere else, they would be. We pride ourselves on that aspect, being more approachable. So we upgraded the pop-up experience with new digs, narrowed our focus, and elevated the food by targeting flavors based around the Gulf: New Orleans, Mexico Yucatan, Central America and the Caribbean."
"Take, for example, the importance of corn in this region. Whether it's tortillas or grits in New Orleans. What corn means to Mexican cuisine as maize. There are a lot of ingredients that are shared, but with totally different preparations from culture to culture. We use that as a format and then explore within those flavors"
What are some of your favorite flavors and dishes at Palm & Pine?
A: "It varies by the day. The differences between what is the most fun to prep, and what is the most fun to cook on the line, or plate."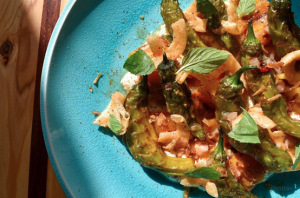 J: "This is a good exercise in discussing what we're most proud of (laughs). What are the dishes we feel are most ours. For me it's the Corner Store Crudo ($14), which has been a dish of ours for five years. We did it as a pop-up and we've carried it through. It's this very New Orleans dish, based in the Vietnamese culture that is so important to the city. I learned how to make nuoc cham from a Vietnamese mother in another restaurant, and she had a secret ingredient for the sauce that she wouldn't share. Then, I caught her one day, and saw that it was Sprite!"
"I had always wanted to use Big Shot in a dish. It's such a New Orleans thing. So the Crudo feels like one of those things that could only be found in this city. You couldn't replicate it because people elsewhere are just not going to understand. But if you live in New Orleans, you get it. Then there's the shrimp chips on there. It just feels like something you could get at your corner store."
A: "The Stuffed Delicata Squash ($14) is something that I'm really in love with and the guests are too. The flavor of the chilaquiles is something that I didn't expect and it came together perfectly."
J: "The Goat Curry ($14) came right when we opened. It's a Jamaican flavor that I really did my due diligence to research and tried hardest to make authentically. We layer flavors and use so many different techniques to try and make the initial flavor as thoughtful and traditional as possible. The curry paste is scratch-made. But then, instead of serving rice or roti we use fedaeos, which are very Mexican, and turns it almost to a pasta dish. Finally, it's finished with a whole bunch of Indian snacks on top, like mango yogurt. Another snack is crushed Chee-wees, because its New Orleans. It ties it all in together and makes a dish that is unique but traditionally technical."
"We see ourselves as a New Orleans restaurant. We're asking the question, what does it mean to be a New Orleans restaurant in 2019? What are you creating that can only be done here, what are you doing that represents the city? These dishes are our answer to that question."
Tell me about your cocktail program:
A: "With spirits, we're primarily focused on cane and agave. Rum, Cachaça, tequila and mezcal. Some Pisco as well. Those spirits which are south of that, but relatively few bourbons and vodkas. We have a lot of good rum programs in the city, but we're just seeing people start to really expand their tequila programs. Palm & Pine seeks to expand people's experience through the food we offer, and also with what their drinking. We want to bring people out of their comfort zone, but with something thats familiar. We want our servers asking, 'hey you like gin? Well here at Palm & Pine, we serve this great agave gin. It shares the botanical notes, but the finish is different."
J: "We want to stretch people into trying new things, we're offering agave flights and pairing them with the small dishes."
A: "Our wines by the glass are all South American, so their really great wines, and their affordable. Which has the effect of making them approachable. Its not a big risk to try something new, and even some of the grapes might be familiar, though since they're grown in a different region, they might taste new. Our bar program is as exciting as the food, because we have some really creative people working it as well."
How have people responded to your concept and your creativity in the ways that it pushes their boundaries?
J: "When we start creating things, we start with by asking 'why?' Why are we making this? Whats it for? We don't do things differently just because we want to, or we think we're better than the traditions of the region. We are doing it because it tastes good, and its a personal take on honoring the local fare. And when you do that, people respond and they're willing to try new things. We are showing people that they can have their preference, but in a totally new and inventive way. We want people to know how the food is made, that its familiar flavors done really well, and really fresh.
What would you like people to know about P&P?
A: "Our after hours program is a big deal for us. We offer some really quality food, really late. It's our goal to be there for people when they're hungry, especially those people who are working to serve others. When programs resume at the Saenger, there will be a whole Pre-theatre menu for pairings and quick service to the shows. Brunch service just began, which is another new menu with exciting dishes. We're excited about the diversity of our offerings, and we want you to come check them out."
---
Palm & Pine: 308 N. Rampart St.
New Orleans, LA 70112,
Sun, Mon, Wed, Thurs | 5pm-1am
Friday & Saturday | 5pm-2am
(504) 814-6200 | info@palmandpinenola.com