COOLinary has arrived, New Orleans, and it's time to support your favorite local restaurants – and maybe even find some new favorites! From seafood to Mediterranean, breakfast and brunch to dinner, there is something for everyone in the form of 3-course prix-fixe menus all month long. Check out River Beats New Orleans' top 10 picks throughout the city, and let us know what we missed in the comments below.
Commons Club
550 Baronne Street
Commons Club is the gorgeously designed, local ingredient fueled flagship restaurant located inside Virgin Hotels New Orleans. Led by award-winning Chef Alex Harrell, Commons Club COOLinary menu includes a 3-course meal for both brunch and dinner with two selections for each course. For dinner, pick from entrees including the Grilled Berkshire Pork Chop or Local Gulf Fish. Commons Club' brunch in general is one of our new favorites, and features this gem for sweet-lovers: Churro Fritters. Check out the Commons Club menus here.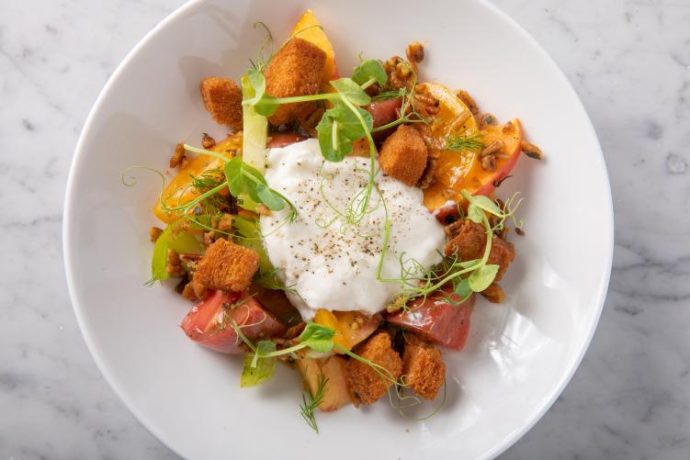 ---
Copper Vine
1001 Poydras Street
Take your pick from multiple items on lunch, brunch, and dinner prix-fixe COOLinary menus at Copper Vine! From tried & true favorites like the Cornflake-Fried Chicken Sandwich and Louisiana Crawfish Beignets, enjoy a wide range of choices that packs a lot of bang for your buck. Bonus points for a super cute atmosphere and great music in the CBD! Check out Copper Vine's COOLinary menus here.
View this post on Instagram
---
Costera
4938 Prytania Street
Located in the Uptown/Garden District area, Costera's coastal Spanish cuisine highlights local produce and Gulf Seafood in a casual, communal dining setting. With this in mind, Costera's COOLinary menu differs from the rest in that it's a family-style tasting menu for meant for 4 guests + more at $45 per person. There are multiple options and room to upgrade for those looking to try different things on the Costera menu. Choose from LOTS of options like Citrus & Vermouth Marinated Olives or Beef Shank and Potato Bombas to Lamb & Beef Albondigas and even Seafood Paella. Grab your friends, because this is one you'll want to have some back-up support on! Check out the COOLinary menu for Costera here.
---
Jewel of the South
1026 St. Louis Street
Though cocktails may be the star of the show at Jewel of the South, this charming tavern in the French Quarter is serving an elevated 3-course prix-fixe to match your perfectly prepared and presented cocktails. Jewel of the South's cocktail program is steeped in history, showcasing classic techniques with innovative, seasonal flavors, as is their offerings. On their 4-course COOLinary menu, you'll find some not-so-usual New Orleans fare. Reservations encouraged, make yours here.
---
Justine
225 Chartres Street
Dining at Justine offers a lively scene, Chartres Street views, and good food and cocktails. Led by husband and wife team Justin & Mia Devillier, Justine combines the sophistication of Parisian brasseries with the playfulness of the South's most lively district. This one is a pick for your girl group, birthday celebration, or date night. For COOLinary this year, Justine is offering a 3-course prix-fixe menu for dinner. You can pick from some of their most beloved dishes including the iconic Onion Soup Gratinee and the Justine Burger. Conclude with Vanilla Creme Brulee or a Pink Champagne Snoball for a treat. Book a reservation for Justine here.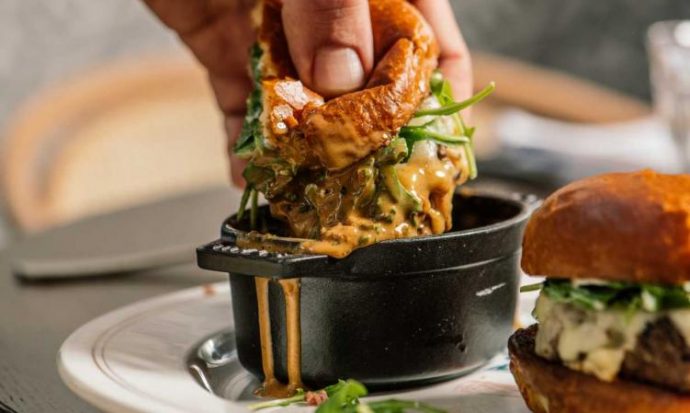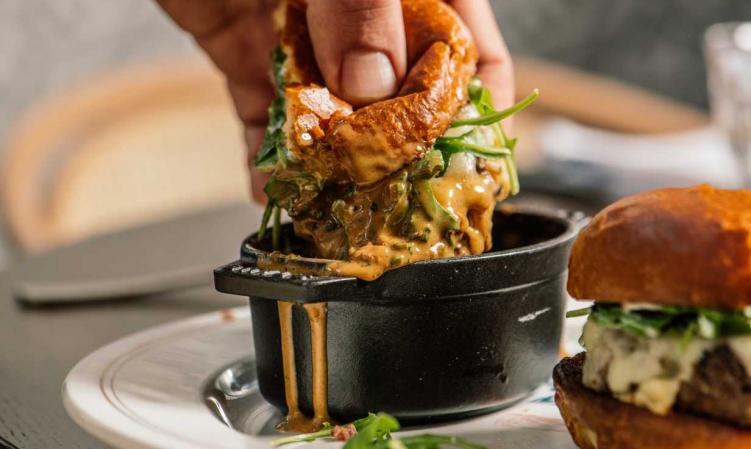 ---
Gianna
700 Magazine Street
The newest addition to the Link Restaurant Group and offers rustic Italian cuisine rooted in Louisiana tradition and technique in the CBD. Overseen by James Beard award-winning Executive Chef Rebecca Wilcomb, Gianna's prix-fixe menu is the perfect sample into Gianna's robust Italian menu. Dinner is one of our favorites and on the menu here, you can try Heirloom Tomato Panzanella, Shrimp Scampi, and more.
---
Gris-Gris
1800 Magazine Street
Similar to Gris-Gris' sister restaurant, Saint John, Gris-Gris is serving a 3-course COOLinary dinner menu at $45 per person with an additional $20 for wine pairings. The COOLinary menu features all new items that are not on their traditional menu so if you're a Gris-Gris fan, this is your chance to try something new – like Bruleed Goat Cheese Salad or Grilled Flank Steak with Chimichurri. Make a reservation here.
View this post on Instagram
---
Palm & Pine
308 N. Rampart Street

A vibrant New Orleans restaurant in the French Quarter, Palm & Pine, the pop-up turned brick-and-mortar restaurant, focuses on local and regional cuisines. Palm & Pine emerged about what Chef's Jason and Amarys Herndon think "the new Creole is, what is getting tossed into that new melting pot." With that in mind, you'll try unique combinations of Latin and South American flavors here with fresh ingredients from local purveyors. From the salt and pepper LA tomatoes on the P&P salad to gulf shrimp in the Shrimp & Okra, Palm & Pine is a must for the COOLinary foodies. Visit their website here.
---
Saint John:
1117 Decatur Street
If you haven't eaten at Chef Eric Cook's other restaurant baby yet, COOLinary is the perfect time to do so. After opening in October 2021, Saint John has quickly gained notoriety among both locals and tourists as a must-visit in the French Quarter. For their first ever COOLinary, Saint John is offering a dinner menu at $45 per person with an additional optional $20 wine pairing. Check out the menu below, and make a reservation here.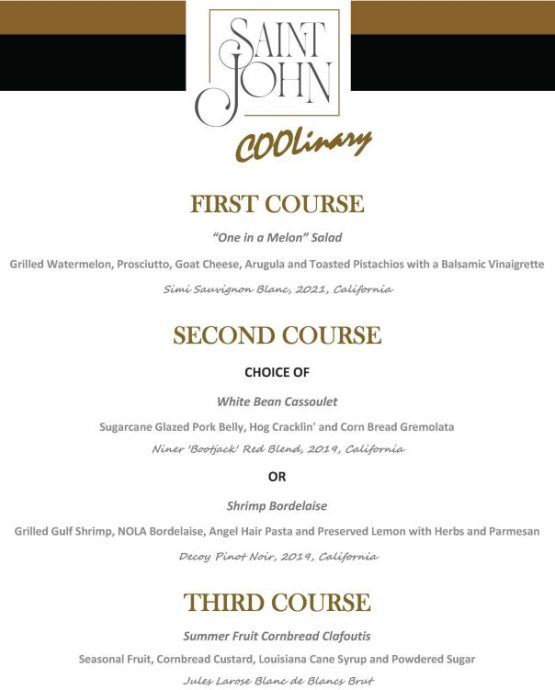 ---
Shaya
4213 Magazine Street
Freshly cooked pita, falafel, and shawarma are among some of the selections at Shaya on Magazine Street. Israeli staples combined with Southern flavors and modern techniques can be found on the contemporary menu here at Shaya, as well as seasonal, responsibly and locally-sourced ingredients. Many of the dishes here are designed to be shared and enjoyed. View the COOLinary menu for Shaya here.