Minnesota and CharlestheFirst tore it up at Republic nola this past weekend. Minnesota released Curio in March of this year and has been touring across the United States since.
Charlesthefirst and Zeke Beats joined him along the way, but now – they're wrapping up the last leg.
Before Minnesota made his appearance to a nearly sold-out show, Christian Bauhofer – better known as his party crushing alter ego Minnesota – sat down with River Beats for a quick chat.
Exclusive River Beats Interview with Minnesota
---
River beats: Welcome to New Orleans! This isn't your first time here, is it?
Minnesota: "No, I've been here just a few times long ago. When I was 12, my dad took me to the Super Bowl out here. But I haven't explored recently until today. We walked around Bourbon Street a bit, but it was all rainy, so only for like 20 minutes."
Well I guess that just means you'll have to come back then! how's the tour been going?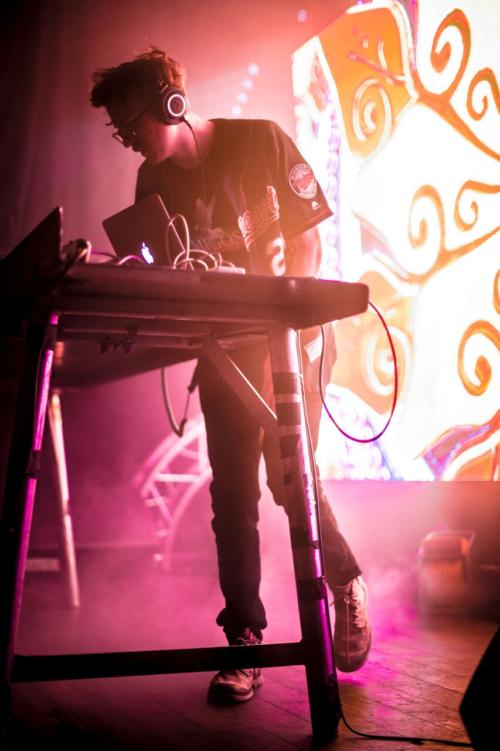 "It's been great! We have a really great crew; we're just having a good time traveling around and playing music."
and for this tour, you have sort of a revolving door of artists from show to show, which must be interesting.
"Yeah, so we have most of the same people on tour but the direct support switches out during different legs of the tour. So in the beginning, we had Zeke Beats, and now we have CharlesTheFirst. Just good people to travel around with."
Does that change the energy from show to show at all?
"Ya, kind of. Both Charles and Zeke are pretty similar, but Charles is a little bit younger, so he definitely gives that energy to it. It's important to have a good crew of people in general. You're on this tiny little tour bus and you're always sort of in each other's face, so you kind of have to have good people. I've toured with people before where it's been hard, so it's good to have such wonderful people this time around."
I'm so glad that's working out for you this time around! So in addition to these different artists, you yourself have such a diverse production behind you. How do you change your sets to fit the energy of the people you're playing with?
"That's the fun part!
Part of it is being able to go through and catalog different stuff so it's not too stagnant or resting too much on one style. It's more of a journey through different energy levels.
But having Charles on tour is great because he plays really chill, groovy, deep stuff. Then I can come in and go a little bit harder. It would be easy to go through and just play bangers throughout the entire thing, but when I play the chiller stuff, I can look up and see how some people aren't that into it, but the people that are liking it are super stoked on it."
"Well, I came to a point about two years ago where I wasn't sure where I wanted to go. I tried to really not care too much. Then I came out with this music and people responded to it. And now, I'm sort of finding where I want to go, but you never know. l may sit down with one idea of what to produce and then come out with something totally different."
"But I've figured out the most important thing is to do what just flows naturally and see what happens."
And I know you've mentioned holding on to the songwriting aspect of electronic production, so would you say you have a certain process to your production?
"I don't. When I sit down and try to get something to come out a certain way, I feel like it doesn't turn out as well. It's when I sit down and try something new… that's when the magic happens. If you don't think about it too much and just let it flow out of you, it's so awesome."
Wow, if I didn't seriously need to hear that right now.
"It's so hard to do though! I'll still go back in the studio and do the same thing over and over again. I'm thinking about it too hard and it just sucks. Then one day comes when I just don't care, that's always the stuff that comes the best."
any new upcoming goals on the horizon?
"I've spent so much time on this tour in the last six to seven months. From programming all the visuals for it to being here now, I haven't gotten too much time to work on new music. I'm sad for it to be over because we've had so much fun, but I'm excited to get home and start writing music again."
Follow River Beats New Orleans to stay in the know on music in New Orleans!
Featured Photo: Minnesota's Facebook