There are five sites open for enrollment to study the use of MDMA to treat PTSD, and New Orleans is one of them. These clinical trials will study the use of variable doses of MDMA to treat Post Traumatic Stress Disorder. This will be a double-blind study in which some participants receive a placebo while other participants receive anywhere between 80 – 180 mg dose. The study will take ~12 weeks to complete.
For this study only around 100-150 participants will be recruited. Criteria is based on a number of factors including:
Must be 18 years or older
Able to swallow pills
If childbearing potential, must have negative pregnancy test
Agree to have study visits recorded
Must be willing to stay overnight
At baseline, meet DSM-5 criteria for current severe PTSD
The study will continue into 15 sessions over the 12 weeks. Some sessions will include a dose or placebo. Other sessions will be preparatory or designed to help deal with some of the issues that have been brought up.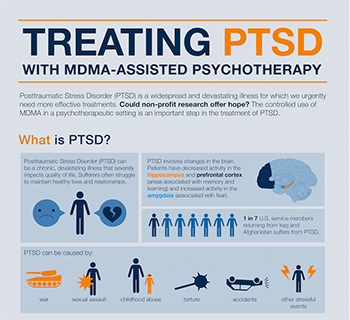 This is the third trial for these studies and if successful, could be approved by the FDA by 2021. The results of Phase 2 showed that 68% of the participants no longer met the DSM-5 criteria for PTSD as soon as 1 month after the trial.
If you or someone you know meets the criteria and interested in the study, get more information here.