The Dohm Collective takes over DMac's Bar and Grill again, this time for a sun-kissed Bayou Boogaloo afterparty.
The local party throwers just announced their indoor headliner for the night: the street gypsy crew New Thousand.
The mega-popular, high energy street corner band has been steadily gaining momentum and popularity. With a short album available for stream on their website, a majority of their fandom comes from their visceral live performances. Not just a group for tourists, the Big Easy musicians have a special place in the heart of the locals. Past performances at the Drifter, Hi-Ho Lounge and even Buku Fest have won the city over.
Guests of the DOHMACs party can expect New Thousand in addition to other great, local artists set to be announced soon. After soaking up the sun at the Boogaloo on the Bayou, wander down to DMac's for the full Dohm experience. Silent disco, flow arts, local vendors and great music all wait to carry you late into the evening.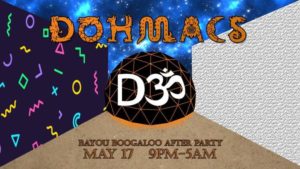 Doors at 8 p.m. // $10 at the door // Get more DOHMACs event details here.
Follow River Beats New Orleans to stay in the know on events in New Orleans!