NEW ORLEANS – Press Release – Addis NOLA, one of Louisiana's most exciting Ethiopian Restaurants will officially open to the public on Thursday, November 10, 2022, on Bayou Road – New Orleans' oldest passageway and a bustling hub for Black-owned businesses. With 13 small businesses and nine black-owned businesses, Addis NOLA is proud to become an added pillar in the community representing successful Black entrepreneurship. Located at 2514 Bayou Road, the restaurant will start with dinner service only, with lunch to follow.
"We're excited to open in our new space and take Addis NOLA to the next level," says General Manager Prince Lobo, who opened Addis NOLA with his mother/founder Dr. Biruk Alemayehu and father Chef Jaime Lobo.
"Opening on Bayou Road, the Black Wall Street of New Orleans, allows us to embrace our culturally-rich community and shine a spotlight on one of the best-kept secrets in American History."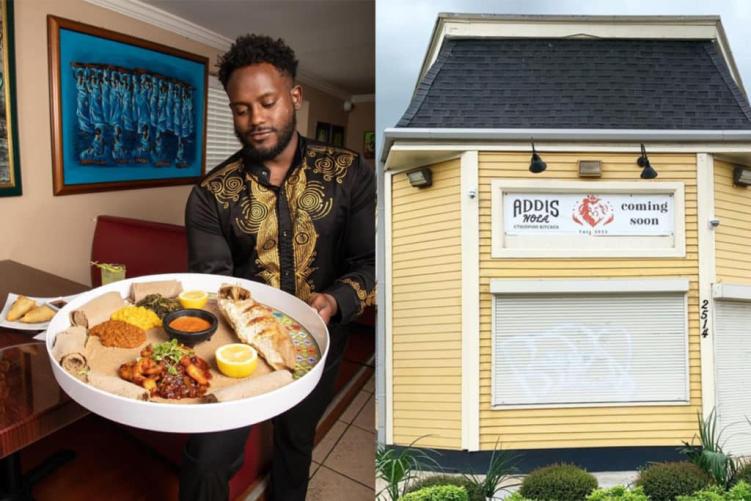 When Addis NOLA first opened on Broad Street in August 2019, it gave New Orleanians a place to celebrate the cultural heritage of East Africa through an authentic communal Ethiopian dining experience. Since then, the family-owned restaurant has captured the attention of locals and visitors and has become a haven to bring people, cultures, and traditions together through great food and drink.
The oldest road in New Orleans and amongst the oldest in the U.S., Bayou Road served as the epicenter of black and Native commercial exchange. Today, the colorful corridor is teeming with a variety of Black-owned and Afro-Caribbean restaurants, shops, and businesses, transporting visitors back and forth between history and the modern day.
Being a part of Bayou Road is a testament to the family's labor of love and their vision to continue building the community, while also allowing for exciting changes and growth. The new space will double the capacity and bring an array of new amenities including a full bar and a designated coffee ceremony stage, where the aromatic ritual of coffee roasting will take place. It will also allow for more creativity in the kitchen. "Our new home will allow us to expand the menu and create a setting that is more evocative of Ethiopia," adds Lobo.
Of course, diners can expect the same core menu that has earned the restaurant multiple awards, featuring stews, stir-fry, specialty dishes, and fresh vegetables. Most dishes are served with a choice of rice or injera – a fermented pancake-like, stretchy flatbread that takes almost three days to make. In traditional Ethiopian cuisine, injera takes the place of utensils, with diners tearing up bits of the flatbread to gather stews and salads.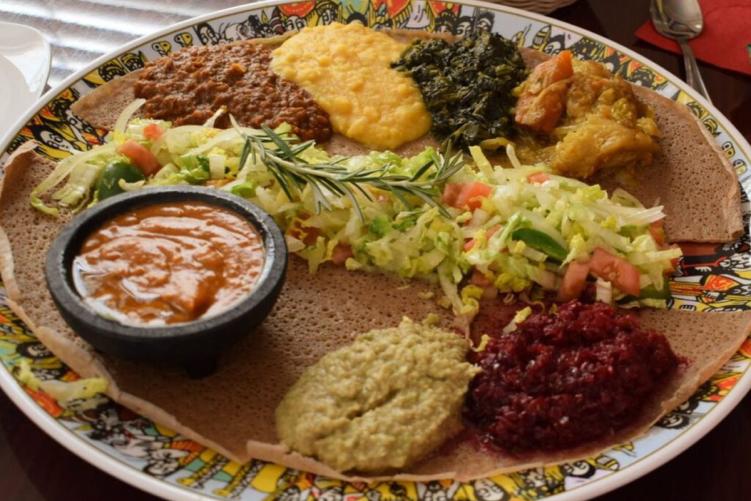 With a full bar in the new space, Addis NOLA will highlight Black-owned wine and spirit producers with a variety of signature housemade cocktails, beers, and wines such as O.P.P and Chasing Lions. Under the direction of Turning Tables founder Touré Folkes and wine consultant Roxy Eve Navaraez, specialty libations include The Woo – Housemade Ethiopian honey wine and gin; Addis Smash – seasonal fruit, bourbon, lemon, and fresh mint; Ode to A – Addis NOLA's Sazerac variation; Prince's Cup – a twist the classic local staple with housemade Pimm's; and Kahltini– hand-roasted Ethiopian coffee, Kahlua cream liqueur, and Vodka, served with housemade ice cream upon request.
Designed by Nomita Joshi Interior Design and OI Studio, the 2,500 square feet space will combine traditional Ethiopian aesthetics with modern elements. Colors reflect the Ethiopian landscape with pops of brown, red, yellow, green, and dashes of gold, against a neutral backdrop.
A stunning bar, seating eight, sits in the center of the restaurant and features a backdrop of black and gold wallpaper reminiscent of the highlands in Ethiopia. Guests can enjoy dining at the bar, along with specialty cocktails and wine made by the owners themselves. The stage, which will host Addis NOLA's beloved coffee-roasting ritual, is adjacent to the bar and will also feature light, live music on occasion. From start to finish, design to dishes, cocktails to coffee, everything at Addis NOLA's new Bayou Road location is certain to transport guests to the Motherland.
Addis NOLA will open to the public on Thursday, November 10, 2022, in its new location at 2514 Bayou Road in New Orleans. The restaurant will serve dinner Wednesday – Monday, 5 PM – 10 PM (closed Tuesdays). Weekend brunch is forthcoming. For additional information and to make reservations, please visit www.addisnola.com. Follow Addis NOLA on Instagram: @addisnola and on Facebook: @addisnola2019