The Opiuo Doin Shows Playing Music Tour is coming to The Republic on June 17th in New Orleans! Grab your tickets here.
---
Opiuo can't be confined to the blanket term "EDM." His blend of funkadelic bass has taken form through everything from solo performances to 21-piece orchestras. This year, his "Doin Shows Playing Music Tour" has been tearing up North America for a majority of the spring season. On June 17th, Opiuo and accomplices The Sponges and VCTRE are bringing the show to the Republic. Bass and funk lovers won't want to miss Opiuo in New Orleans.
Oscar Davey-Wraight, better known by his stage name Opiuo, was raised on festival grounds (no, really). The property he grew up on in New Zealand was frequently rented to festival promoters thanks to his music-loving mom and dad. His childhood was bookended by one unforgettable gig after another. When he turned 20, Opiuo landed in the colorful, party-pushing streets of Melbourne, Australia. He immediately captivated club and festival-goers with his uniquely funky bass and upbeat attitude.
By the time his seminal album Meraki was released in 2014 he already had an emphatic fan base in Melbourne and a nod from the Australian Independent Music Awards. Both Meraki and its follow-up Omniversal earned the title of "Electronic Album Of The Year" from the New Zealand Music Awards.
Since then, Opiuo has gone on to support some of the biggest names in the industry – Bassnectar, Griz, and Pretty Lights just to name a few. His latest release is a 2020 EP titled "Dusty Bugs." Across the four tracks, he collaborates with Vorso, a dynamic bass producer from the UK.
What to Expect at Opiuo in New Orleans
Opiuo's euphoric live sets are a huge draw. His performances at major North American, Australian, and European festivals always get rave reviews. For this tour, he's joined by the kalediscopic swamp funk of The Sponges, and the gutteral bass of VCTRE. It's certain to be a night of funky bass and a lot of groove.
Don't miss the Opiuo Doin Shows Playing Music Tour in New Orleans on Friday, June 17th at Republic NOLA. Tickets are on sale now.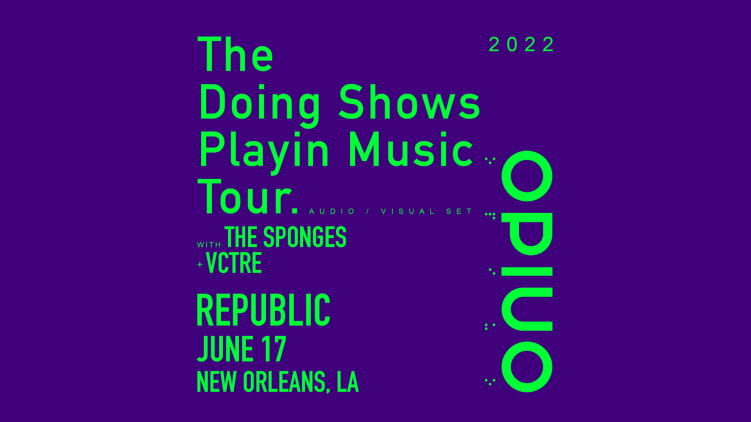 ---
Doors: 9:00 PM | Republic NOLA | Friday, June 17, 2022
---
This editorial is Supported By Winter Circle Productions. Supported by is an advertorial series used to describe editorially independent River Beats content that is supported by a client's advertising spend.