In New Orleans, it can be hard to find the time or a place to picnic, and that's where Picnic Provisions and Whiskey comes in. The corner spot located Uptown combines soulful classics with a modern twist and a staff that treats you like family. Its a place where you can create your very own picnic experience.
The food
With an array of food items, the menu can be daunting at first, but Samantha, our lovely server, was there to walk us every step of the way. We began with the Fried Chicken Wings (which are on special and not available all the time), and the Smoky Cochon de Lait Boudin.
As we waited for the big shebang, we snacked on the Crispy Fingerling Potatoes served with a lemony white miso mayo sauce on the side. The twist? These potatoes are also fried in the same crawfish boil that their chicken is, so it has an amazing taste. The mayo sauce on the side is the perfect little touch.
Picnic's "Picnic Fare" of the menu is where all the entrees live. There, you'll notice some top contenders like Pig-nic Po Boy, Whiskey Smoked Chicken Salad Sandwich, and what Picnic is known for: the iconic Crawfish Boil HOT Fried Chicken Basket. Though "HOT" is in bold, red letters, don't let that intimidate you. It does have a bit of a spicy kick, but nothing that a New Orleanian can't handle. We chose the Pig-nic Po Boy and the Crawfish Boil HOT Fried Chicken Basket (how could we not?) for our meals and when they arrived, we realized our eyes were a lot bigger than our stomachs.
The Pig-nic Po Boy is a new-ish meal to the menu and comes with smokey cochon de lait, green onion sausage, tangy cabbage chow, crispy onion straws, that delicious white bbq sauce again, and a custom-made round Po-boy bun made only for Picnic by Weiss Guys Bakery in Covington. This sandwich is truly unique and delicious.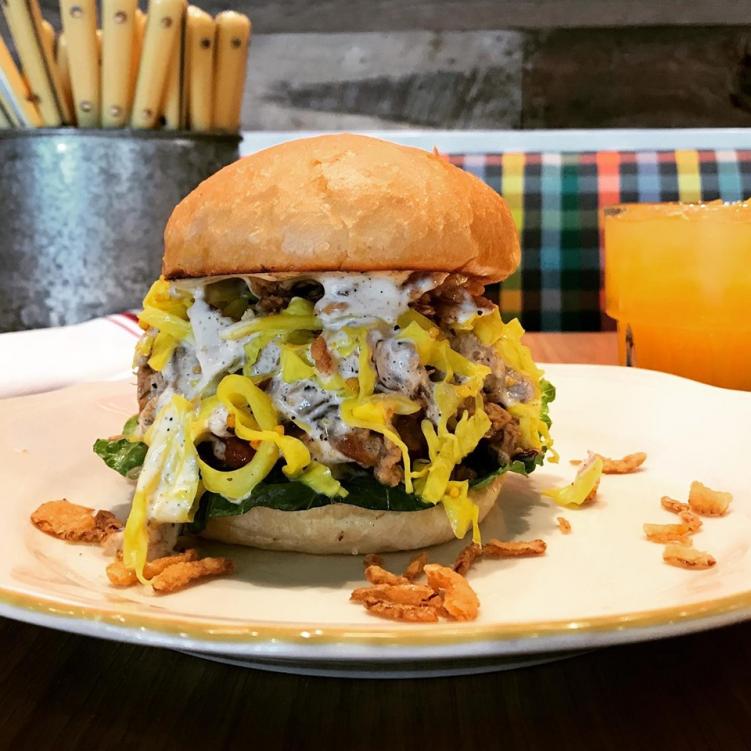 The Crawfish Boil HOT Fried Chicken Basket was the star of the show, boneless light and dark meat sat on a plate accompanied by the most amazing cornbread cake biscuit I've ever had in my life. The basket comes topped with Crystal hot sauce pulp, which was voted "The Best Condiment" in "Food and Wine" Magazine. We couldn't finish this massive basket, but it tasted just as delicious the next day. For those that prefer their chicken on a sandwich, Picnic's giant chicken sandwich is always an option worth checking out.
With the cold winter months coming up, the Creole Smashed Potato Soup is on our radar for our next visit. Pair it with their Ooey Gooey Grilled Cheese Sandwich for the ultimate comfort meal.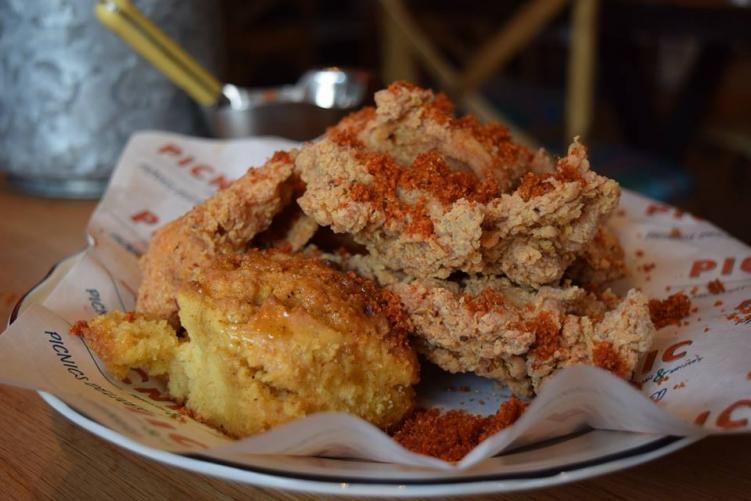 And of course, dessert. This deserves its own little spotlight because of how amazing-ly rich it is. If you're a chocolate lover, you need to dedicate an entire visit to this: the Campfire Cookie Dough S'mores. Now, these aren't your regular camp-side s' mores. But rather, half-baked chocolate chip cookie dough, Butterfinger pieces, broken pretzels, crushed Zapp's, all torched table-side with a huge marshmallow on top. Seriously. This is what dreams are made of.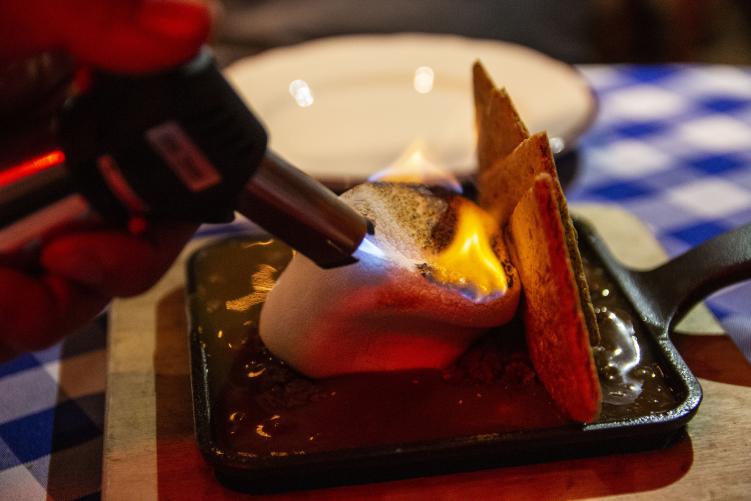 The cocktails
The restaurant has whiskey in the name, so you automatically know they have whiskey for days. Whether you like your whiskey smokey, rich, or sweet, there's an option for you. Every Wednesday, they host a "Wings and Whiskey" night from 6 pm-8 pm which includes a whiskey flight and their delicious chicken wings. They also host a whiskey tasting every third Wednesday of the month; their next happening for November.
If whiskey isn't your thing, they have a handful of wines, beers, and cocktails to satisfy your palette. We recommend the Vodka Gimlet, found on their happy hour menu which occurs every day from 3 pm-7 pm. Their happy hour menu also includes $2 beers, $5 bubbles, and some snacks to share with the table.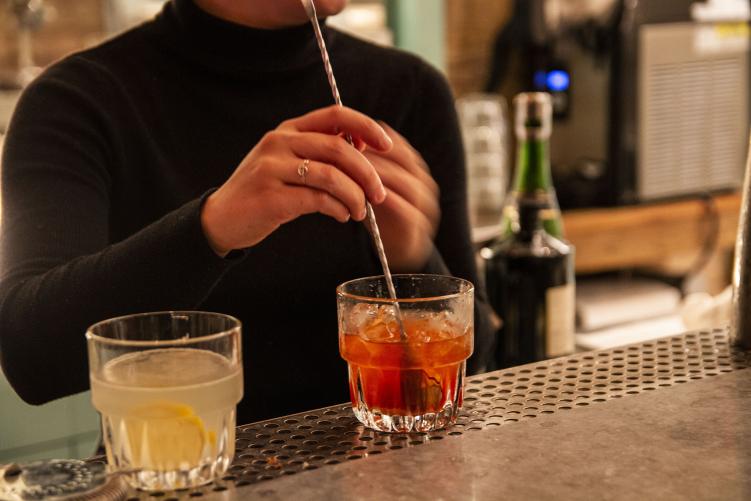 The experience
Once you walk in, you are greeted by a neon sign on the back wall – "You Make Me So Happy" – Picnic-Esque styled decor, a jukebox, and a massive wall of whiskey at the bar. There are no reservations, but you are able to call ahead of time and their team will hold a table for you. Outside, they have a small patio area with a green space that hosts special activities throughout the week including yoga and dog adoptions.
TLDR: I will be recommending this spot to everyone I know, and everyone looking for a savory, hearty meal. Everything is cooked with love and it is certainly translated into the food.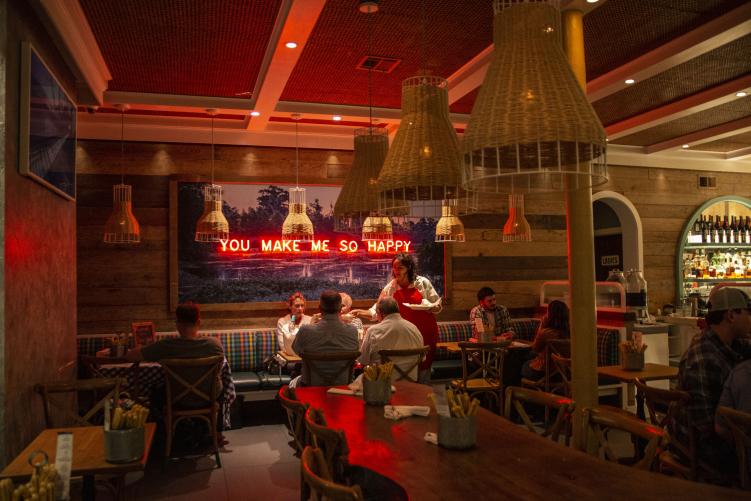 ---
Images via Picnic/Kelsey James.