The holidays are merrier and brighter at PJ's Coffee of New Orleans this season! The international coffee brand has partnered with New Orleans artist Becky Fos to commission artwork that will be featured on its holiday cups and a tumbler available for purchase for a limited time. The collaboration focuses on PJ's Coffee's commitment to direct trade coffee, and its importance, by telling the story through original art. Customers nationwide can toast to the holiday season with the new cups beginning mid-November.
"We have spent the last several years investing in our direct trade coffee," says PJ's Coffee Roastmaster Felton Jones, Jr. "We visit the farms in Central America every year, ensuring we roast our coffee using the freshest, most flavorful beans."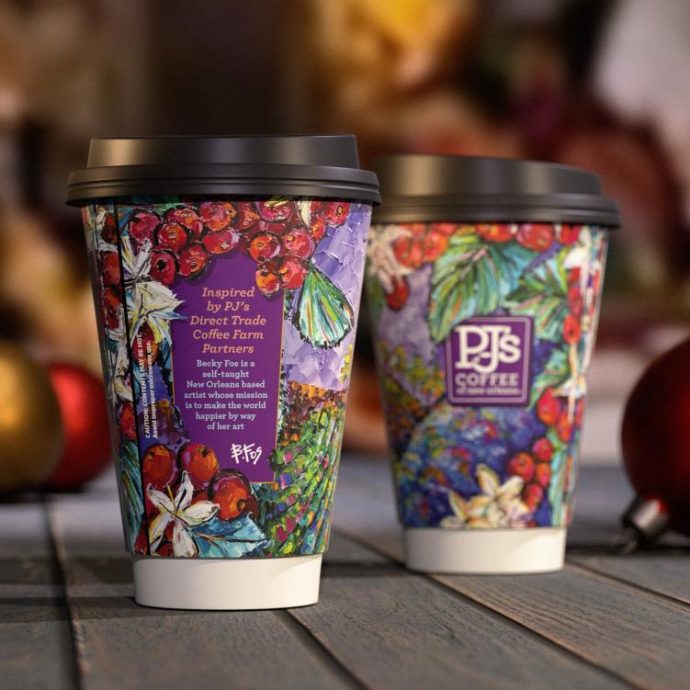 The artwork for the cups is inspired by PJ's Coffee's adopted farms Agua Fresca in Nicaragua and Finca Terrerito in Honduras. The art is meant to inspire conversations about the origins of the beans and connect the dots of how the cup of coffee in their hand came to be.
"I knew I wanted to highlight the beauty of the land in my artwork. So, I created a composition that allows the viewer to almost peer through the cherry blossoms and see the rolling hills of the farms," says Fos. "Because the farmers have a deep knowledge that allows them to understand and care for the soil, I show the pride of placement to the land and the people who keep it."
PJ's Coffee's commitment to the farms goes beyond the beans. The direct trade partnerships help the communities around the farms to improve the quality of health, education, and housing.
"The relationships we have forged in these communities over the years are great," continues Jones. "What better way to showcase their spirit and passion than over the holidays?"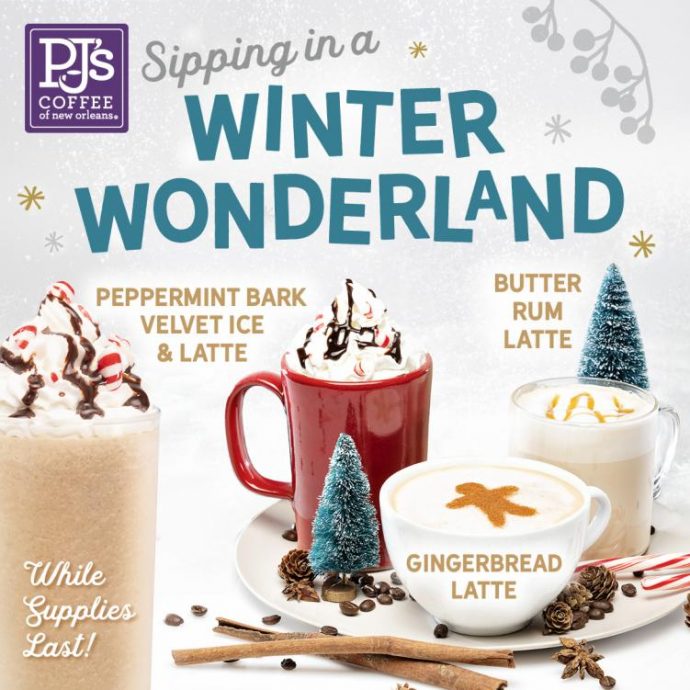 Customers can also now celebrate the season with PJ's Coffee's new winter menu featuring all their favorite holiday flavors:
Peppermint Bark Velvet Ice: Flavors of sweet peppermint and rich white chocolate blended with Espresso Dolce concentrate and garnished with whipped cream, a drizzle of chocolate syrup and crushed peppermint pieces.
Peppermint Bark Latte: PJ's classic Latte sweetened with Ghirardelli white chocolate and peppermint syrup and garnished with whipped cream, a chocolate syrup drizzle and crushed peppermint pieces.
Gingerbread Latte: Cozy up with flavors of white chocolate, gingerbread syrup, steamed milk and espresso. Topped with cinnamon for a perfect holiday treat.
Butter Rum Latte: Rich butter rum flavors combined with espresso, white chocolate sauce, steamed milk and topped with a caramel drizzle.
To learn more about PJ's Coffee of New Orleans, visit pjscoffee.com and follow on Facebook, Instagram and Twitter.