Arts New Orleans and The Helis Foundation announce the unveiling of Downtown's newest mural, Just Us by internationally renowned artist Sanford Biggers. The latest addition to the ongoing project in New Orleans' Arts District, Unframed presented by The Helis Foundation, a project of Arts New Orleans, the mural is located on the west-facing wall of the Contemporary Arts Center (CAC) on Camp Street. To commemorate the new work, an unveiling and panel will take place on Thursday, January 20, 2022 at the CAC.
"We're excited for residents of and visitors to the city to enjoy this beautiful work of art by such a distinguished artist," says Jessie Schott Haynes, Managing Director of The Helis Foundation. "With the completion of Just Us, Unframed now features a collection of nine vibrant murals in Downtown New Orleans."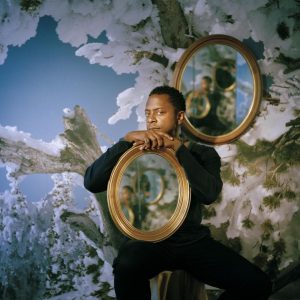 Just Us displays a clouded sky punctured with the words "Just Us" in a cutout-style font that reveals alternative views of more clouds.  Just Us both evokes "justice" and highlight an unnamed group "us" suggesting the multifaceted and nuanced nature of the idea of "justice." Here the conflation of text and image questions notions of stability and consistency of meaning within language.
"With the support from The Helis Foundation, Unframed provides transformative commissions to artists, allowing them to fully express their creative vision on walls downtown," says Arts New Orleans Executive Director Joycelyn Reynolds. "The result is a beautiful and diverse collection of murals which serve to enrich and define the New Orleans Arts District."
Local artists, Wendo Brunoir, a New Orleans native and Best in Show winner of Ogden Museum of Southern Art's annual Louisiana Contemporary presented by The Helis Foundation 2020, and JoLean Laborde, New Orleans visual artist, worked with Biggers to execute the mural.
Biggers' most recent work includes several public art exhibitions at Rockefeller Center in New York City, including a 25-foot-tall bronze sculpture at the Fifth Avenue entrance titled Oracle, and an exhibition, Codeswitch, currently on view at the California African American Museum in Los Angeles.
Public Programming
WHERE:
Contemporary Arts Center (CAC)
900 Camp St, New Orleans, LA 70130
SCHEDULE:
Just Us Unframed Mural Unveiling 
10:30am, CAC exterior west-facing wall on Camp Street
A Conversation with Sanford Biggers
11am – 12pm, CAC theater
Artist Sandford Biggers alongside Andrea Andersson, Founding Director & Chief Curator of the Rivers Institute and Dr. Kara Olidge, Executive Director of the Amistad Research Center.
RSVP:
Due to COVID-19 safety protocols, capacity is extremely limited. Attendance is free and open to the public, but RSVP is REQUIRED. Please RSVP at www.bit.ly/biggersunveiling.