Tickets for the Riki Rachtman one-man show "One Foot in the Gutter" at The House of Blues New Orleans are available now.   Grab your tickets here.
---
Get ready to rock and roll, New Orleans, because the legendary Riki Rachtman is coming to town! The iconic host of MTV's Headbangers Ball and the mastermind behind the notorious rock club Cathouse is set to take the stage at the House of Blues on August 2 with his highly anticipated one-man show, "One Foot In The Gutter."
For decades, Riki Rachtman has been an integral part of the rock and metal scene, and his experiences have been nothing short of extraordinary. Now, in "One Foot In The Gutter," he is inviting fans on an uncensored and unfiltered journey through his unbelievable stories, providing a firsthand account of his wild adventures and encounters with rock stars and rebels.
"One Foot In The Gutter" is not just a show; it's a unique opportunity to get up close and personal with one of rock's most influential figures. Riki's candid and humorous storytelling style will transport the audience through time, recounting his experiences with the biggest names in the industry and shedding light on the behind-the-scenes secrets that made the rock and metal scene what it is today.
Riki Rachtman in New Orleans
The House of Blues, known for hosting some of the most iconic musical acts in the world, is the perfect venue for Riki Rachtman's electrifying show. With its rich history and intimate atmosphere, it promises to be an unforgettable night for all attendees. Fans can expect an evening filled with laughter, awe, and a deep appreciation for the stories that have shaped the history of rock and metal.
Whether you grew up headbanging to his tunes on MTV or have heard about the legendary CATHOUSE, this show promises to be an experience like no other. Riki Rachtman's passion for music, his charismatic stage presence, and his genuine connection with the audience will leave you feeling inspired and exhilarated.
Tickets for Riki Rachtman's one-man show at The House of Blues New Orleans are available now. Tickets start at $25 for a GA ticket. Check out other ticket options and availability here.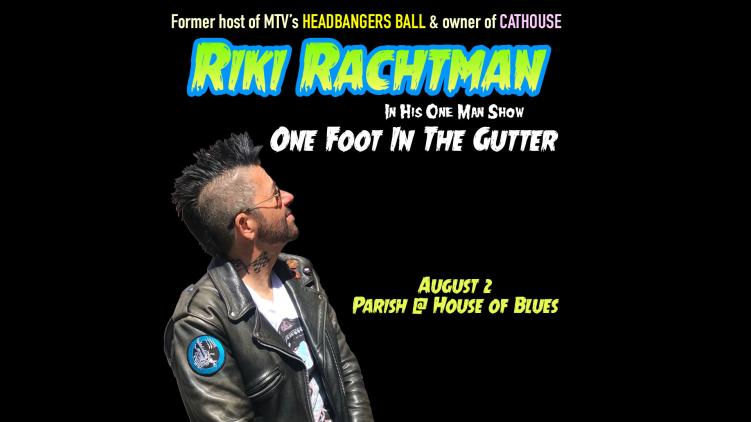 ---
Doors: 7:30 PM | House of Blues New Orleans | Wednesday, August 2, 2023
---
This editorial is Supported By Live Nation. Supported by is an advertorial series used to describe editorially independent River Beats content that is supported by a client's advertising spend.