The second annual Rock & Rouge women's music and food festival is coming to Lafayette Square Park this month. Get tickets here.
---
empower. rEPRESENT. pRESENT. So reads the tagline for the second annual Rock & Rouge Women's Music & Food Festival & Beyond. The single-day women's empowerment festival takes place as Women's History Month draws to a close.
The fest takes place Saturday, March 21st in Lafayette Square in the CBD. Featuring all local women-fronted rock bands, Lena Prima headlines the show. Shawn Williams, Lynn Drury, Big Pearl & the Fugitives of Funk, and The Dirty Rain Revelers are just a few of the named support bands.
The Rock & Rouge Foundation is a registered nonprofit in the greater New Orleans area. Their mission is to support all forms of women empowerment through improving and supporting educational opportunities for girls. They also grant small scholarships for girls to attend summer camp and continue their education in Science, Technology, Engineering, Arts and Mathematics (S.T.E.A.M).
The weekend festival will also host Women's Empowerment Panels, covering topics like politics, business ownership and combatting social and economic oppression.
Partnering with the local Microsoft branch, the festival will again host a S.T.E.A.M. Tent for young girls. This tent features interactive workshops geared towards inspiring and educating the next generation of innovative and independent women.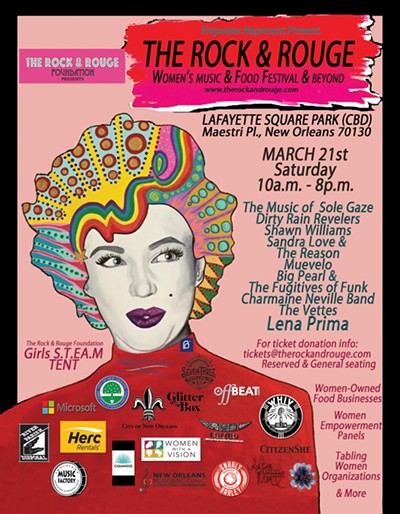 Donor tickets and pre-reserved seating tickets are also available. Reserved tickets include a pre-prepared picnic from neighboring CBD hotspot Carmo.
Join the Rock & Rouge Women's Music & Food Festival & Beyond for a full day of inspiring music, community outreach and women's education in the heart of the city.
Rock & Rouge takes place on Saturday, March 21st.
---
Follow River Beats New Orleans to stay up to date on events in New Orleans
Featured Image via Rock & Rouge