Experience the best of Saint John this summer: Indulge in captivating performances, bottomless bubbles, and a mouthwatering brunch menu at the Sunday Drag Brunch. Plus, don't miss the curated four-course dinners prepared by talented chefs during the Summer Chef Series.
Sunday Drag Brunch at Saint John
Prepare to be captivated by the fabulous world of drag as Saint John, one of New Orleans' premier dining establishments, announces its highly anticipated weekly Sunday Drag Brunch, set to commence on Sunday, July 9th.
Building on the success of their NOLA Pride Drag Brunch, this new recurring event promises an unforgettable experience that combines delectable cuisine, bottomless bubbles, and sensational performances. From 11:30 am to 2:30 pm, patrons can indulge in the best drag show in town, featuring the enchanting talents of Debbie with a D, Laveau Contraire, and other special guests each week.
View this post on Instagram
With the renowned brunch menu that Saint John is known for, accompanied by an abundance of entertainment, guests are encouraged to secure their reservations promptly to secure their spot in this extravaganza of brunch. While the Sunday Drag Brunch takes center stage, Saint John will also continue to offer its regular Sunday brunch on the second floor and balcony for those seeking a traditional dining experience.
Saint John x Gris-Gris Summer Chef Series
In an exciting collaboration, Saint John and its sister restaurant, Gris-Gris, are set to host the exclusive 2023 Summer Chef Series, a month-long celebration of culinary excellence. Taking place every Thursday in July from 6 to 9 pm at The Loft at Saint John, the restaurant's third-floor private events space, this series presents a remarkable opportunity to savor thoughtfully curated four-course dinners prepared by the talented chefs of Saint John and Gris-Gris.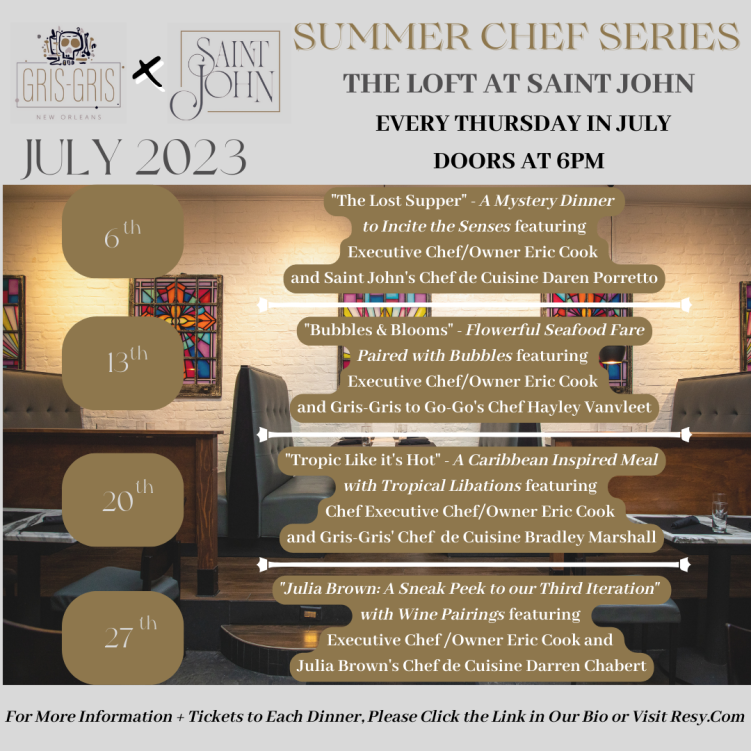 Additionally, guests will be treated to a special sneak peek dinner by Chef de Cuisine Darren Chabert, who offers a tantalizing glimpse of Julia Brown, Chef Eric Cook's forthcoming restaurant located in the vibrant Bywater district.
With tickets available on Resy, attendees can look forward to an array of extraordinary dining experiences throughout the series.
On July 6, the opening dinner, aptly named "The Lost Supper: A Mystery Dinner," promises an intriguing gastronomic adventure orchestrated by Chef Daren Porretto, whose secret menu aims to evoke a range of emotions with each carefully crafted course. Resy Link HERE.
The journey continues on July 13 with "Bubbles and Blooms," a collaboration between Executive Chef Eric Cook and Hayley Vanvleet, the Chairman of the Boards at Gris-Gris to Go Go. Indulge in a delectable fusion of flavors expertly paired with sparkling libations. Resy Link HERE.
On July 20, embark on a tropical culinary escapade with "Tropic Like It's Hot," as Chef Eric Cook joins forces with Gris-Gris' Chef de Cuisine Bradley Marshall to present a tantalizing four-course Caribbean-inspired feast, perfectly complemented by refreshing libations. Resy Link HERE.
Concluding the series on July 27, the event offers an exclusive sneak peek of Julia Brown, as Chef Eric Cook teams up with Chef de Cuisine Darren Chabert to deliver a tantalizing preview of their highly anticipated restaurant. Resy Link HERE.