Guest Author: Kaitlyn Morris
Lil Baby and Lil Durk brought the grand finale of their Back Outside Tour to New Orleans Sunday night. The original date had to be postponed due to Hurricane Ida, but they made up for it on the show's final stop.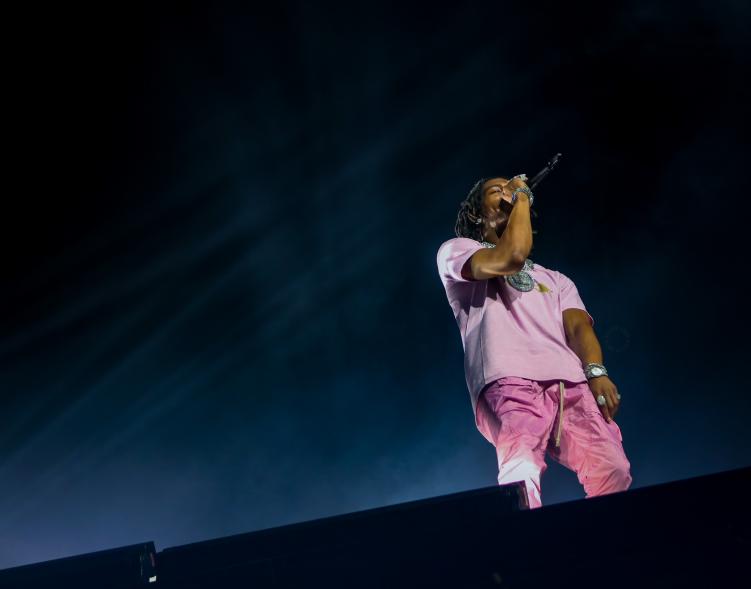 A new OTF artist and new 4PF artist, Noodah took the place of the originally scheduled openers Bankroll Freddie and Rylo Rodriguez for this show. After their performances, Coi Leray took the stage and by this time, more and more seats in the arena were filling up. Although Coi may be tiny in stature, she packs giant stage presence and energy, managing to keep the crowd on their feet throughout her whole set. She performed along with her male backup dancers, never missing a beat as she twerked, hitting splits and choreography. Later on, in her set, she performed her viral TikTok hits "Twinnem" (Go Best Friend) and No More Parties, which of course were immediately recognized by the audience and received huge roars of applause.
Durk then hit the stage accompanied by a band – bass guitar and drummer, which was very refreshing to see for a rap artist. The diamonds around his neck and wrist twinkled under the stage lights with every move he made. He performed some of his hits including "Hellcats & Trackhawks" as well as his popular feature on Drake's "Laugh Now Cry Later. He was then joined on stage by Coi Leray as they performed "No More Parties" together. The crowd went crazy when he performed Pooh Shiesty's "Back In Blood," and even though the rapper is facing jail time, if the crowd's reaction is any indication, the fans are definitely still holding him down via his music.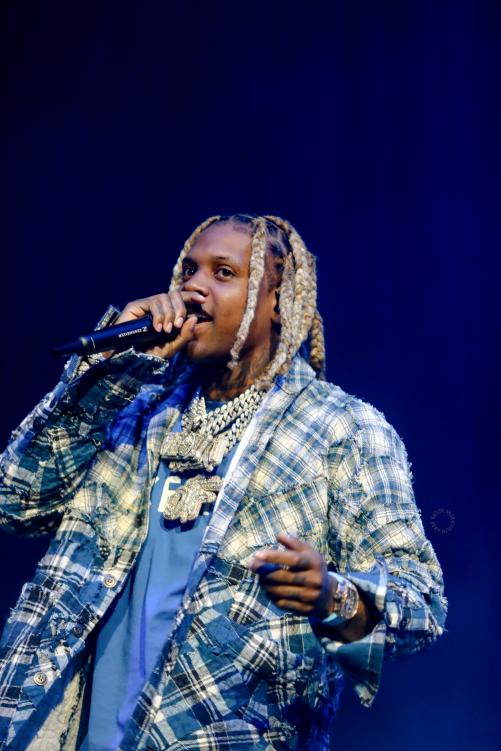 After Durk's set, it was time for Lil Baby to hit the stage. He entered from a platform built high above the stage, so he towered over everyone. He utilized every inch of the stage and made sure to perform for every section. His set build included a portable wardrobe which he was pushed across the stage on by his dancers while performing "Drip So Hard."
There was also a couch on stage, which he sat and rapped from at some points. His dancers were great and truly added to his stage show by doing various genres of choreography, even a section that included ballet. At one point, they'd changed into black sweatsuits while Baby performed with images from Minneapolis and the Black Lives Matter protests being played on the backing screens. He was later joined by Durk back on stage as they performed "Every Chance I Get," a record they have together.
Baby had a couple of wardrobe changes throughout the show before he eventually went shirtless and took his spot back on top of the platform. He sat on the edge of it as he rapped "Emotionally Scarred," which he says is his favorite song from his "My Turn" project. After a few more songs, he thanked New Orleans and wrapped the show just before 11 pm.
Back Outside proved to be quite a successful show, as the rappers have just shared that they've sold over 250K tickets across the country and made over $15 million.