Psybient producer Shpongle is headlining the Joy Theater this weekend. Grab your tickets here!
---
Shpongle infamously found their sound while trying to create a sonic IMITATION of a solar eclipse. It was a transformational experience for the duo in 1996, and their sound has mimicked the wonder of nature ever since.
The Shpongle psychedelic project is making an appearance at the Joy this Saturday. Nowadays their sets more than likely only include half of the original duo – Simon Posford – although Raja Ram occasionally makes appearances with a live flute performance.
When asked to describe their sound Posford has said it's "like nothing you've ever heard before." We now know the group would be the pioneers for the psychedelic trance and ambient movement. Their combination of world music with modern, synth-based electronic music inspired a slew of artists to come after them: PhuturePrimative, Desert Dwellers, and Tipper are just a few.
We covered the Shpongle Bicycle Day show with Alex Grey at the Joy last year and had some mixed feelings. The music was great, but the cash grab for Grey's "Chapel of Sacred Mirrors" felt a bit gauche. We're excited to see the Psybient producer come back to the city without the American artist.
This year, we're teased with a potential virtual reality (VR) aspect of the show. For this special ShpongleDroid show, artist Android Jones is credited for the show's visuals. The tour poster promotes it as "powered by Microdose VR." We're not quite sure what to expect, but we know it will be a spectacle.
Support for the Shpongle 2019 tour comes from Australian world fusion duo Kalya Scintilla and Monreal's deep bass artist Goopsteppa.
After the show, the Republic is holding the official afterparty. Keep boogie-ing into the night with local hero Russ Liquid & the Bay area's Thriftworks.
Shpongle headlines the Joy Theater on Saturday night. Doors are at 8.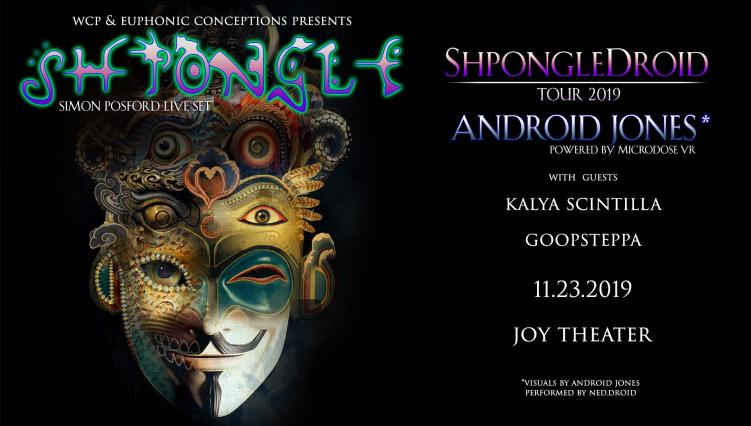 ---
Follow River Beats New Orleans to stay up to date on EVENTS IN NEW ORLEANS.
---
Featured Image: Artist Facebook page