Now that spring has officially sprung, it's time to dine outside and pop the morning champagne bottles! If you're a brunch fanatic like we are, you won't want to miss these spring brunches in New Orleans.
Because why not start your Sunday Funday early, right?
Check out these Spring brunches in New Orleans
---
1) COMPÈRE LAPIN: Brunch Delights and Bottomless Punch Every Sunday
Brunch aficionados can delight in an array of delicious eats at New Orleans' gem, Compére Lapin. Brunch is available every Sunday from 10:30 AM to 2 PM. Tantalizing treats include Egg sandwiches with smoked aioli served on Brioche; Hot Fire Chicken with biscuits and pickles;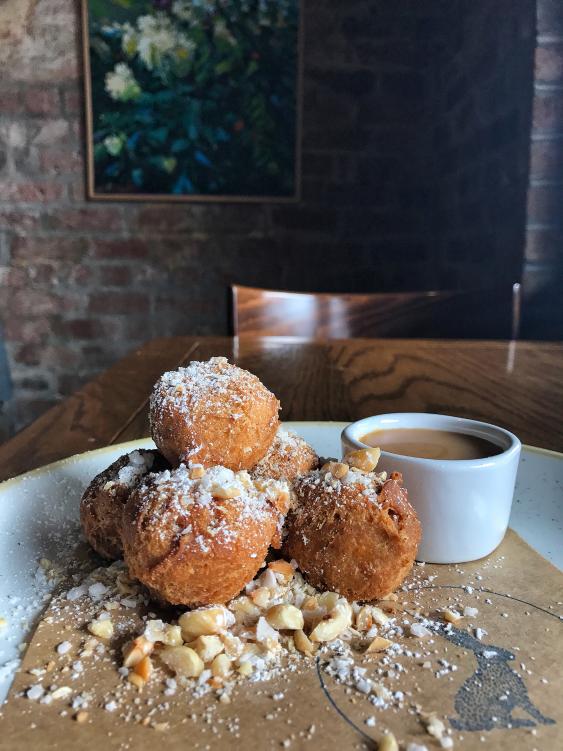 Buttermilk Gnocchi with sausage gravy, and Goat Bolognese. And of course, no brunch would be complete without creative cocktail concoctions.
For just $35, diners can opt for the Prix-Fixe deal, which includes one small plate, one large plate, and one dessert. Libations sure to please include Bottomless Brunch Punch, French 75, and other signature cocktails.
Compère Lapin is located in The Old No. 77 Hotel at 535 Tchoupitoulas Street. Reservations can be made on Resy. To place an order, please visit www.comperelapin.com.
---
2) GRIS-GRIS: Where brunch and refined southern cuisine meet!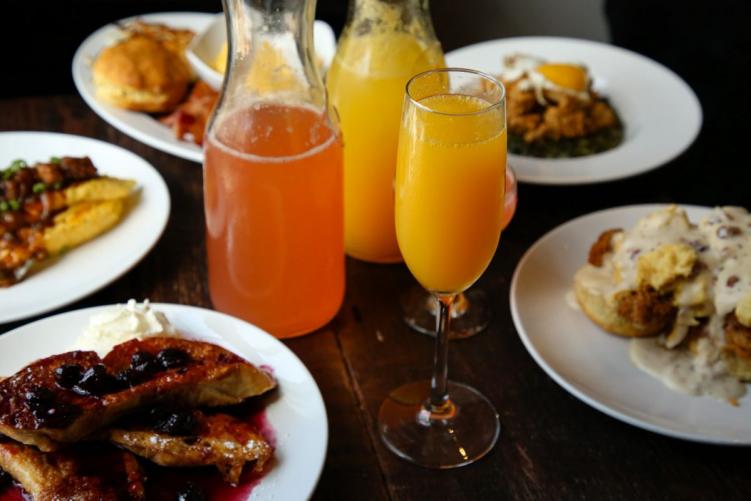 One of the Lower Garden District's best restaurants also includes a good deal of outdoor seating and a heated balcony. Fresh, spring menu items at Gris Gris include blueberry Bourbon French toast, a chicken gizzard omelet, chicken biscuits, gravy, fried oyster, spinach, egg, and hollandaise dish.
For your morning libations — you can choose from a carafe of mimosa, poinsettia, grapefruit mimosa, bloody Mary, and bloody Maria, plus a specialty weekly rotating cocktail.
Gris-Gris serves Weekend Brunch every Saturday and Sunday from 11 AM – 4 PM.
Gris-Gris is located at 1800 Magazine St. https://grisgrisnola.com
---
3) RED GRAVY: Italian meets Brunch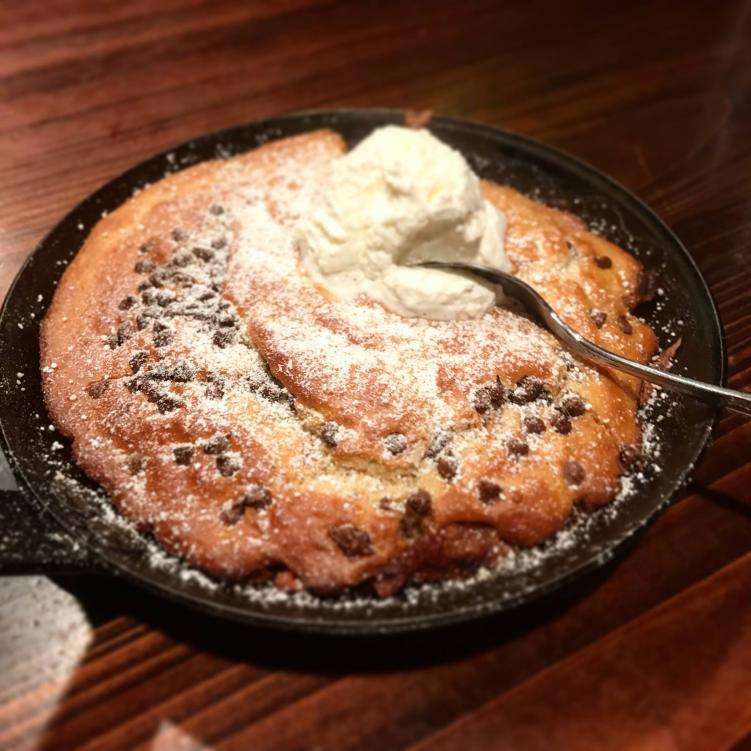 After relocating from the CBD to Uptown over the summer, Roseann and Lou Rostoker were able to add 38 seats outside in an ideal location for brunch. Take one look at their excellent menu and you'll most likely want to try something completely new and exciting! You may have a hard time deciding from ricotta and potato omelets to breakfast spaghetti and cannoli pancakes, you may have a hard time deciding!
Red Gravy serves Weekend Brunch every Saturday and Sunday from 10 AM – 2 PM.
Red Gravy is located at 4206 Magazine St. https://redgravycafe.com/
---
4) CAVAN: Elegant Eats in an Uptown Mansion
After the COVID-19 hiatus, Magazine Street's elegant Cavan has relaunched brunch for dine-in or takeout. Locally inspired fare and exceptional libations are served all day in a decadent 1800s mansion contrasted with a uniquely casual atmosphere.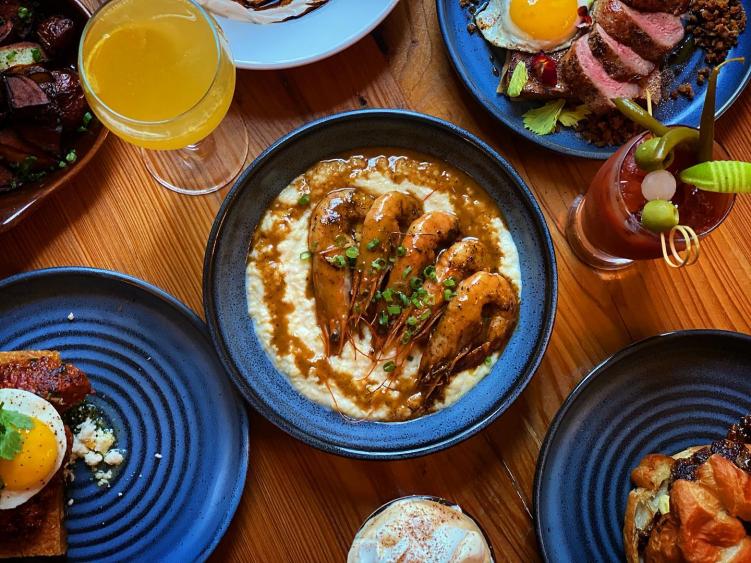 A range of brunch items includes sweet potato avocado toast, shrimp and grits, smoked Gulf fish, and a pork cutlet with hashbrowns, sunny side egg, sun-dried tomato aioli, corn, and tomato relish.
Cavan serves Weekend Brunch every Saturday and Sunday from 10:30 AM – 2 PM.
Cavan is located at 3607 Magazine St. https://www.cavannola.com
---
5) TOUPS' MEATERY: Weekend Brunch Available Saturday & Sunday
Since launching Sunday Brunch in 2019, Chef Isaac Toups' flagship restaurant Toups' Meatery has been a bustling hotspot to spend Sunday Funday in Mid-City New Orleans. Due to popular demand, the restaurant expanded its offerings and serves Weekend Brunch every Saturday 11 AM – 2:30 PM; and Sunday 10 AM – 3 PM.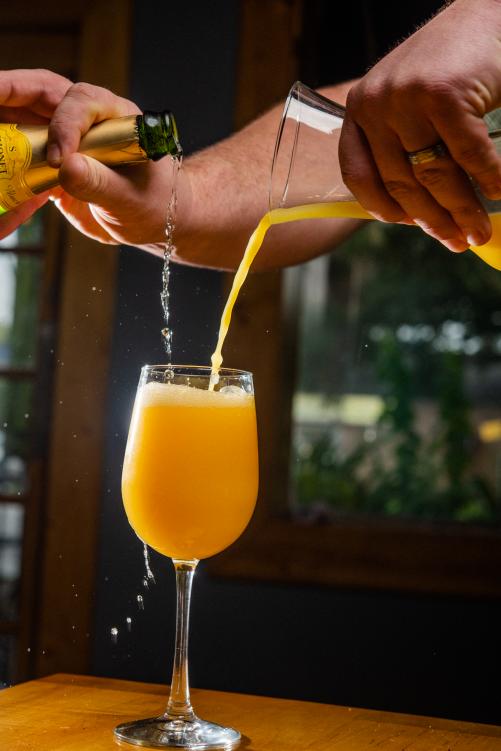 Brunch favorites include Cinnamon Rolls with cane syrup butter, candied walnuts, whipped cream, and the Buttermilk Fried Chicken Sandwich – with hot sauce butter, braised greens, and gruyere.
New Spring dishes include LA. Jumbo Lump Crab Chop Salad – with dill dressing, crispy ham, tomato, pickled quail eggs; Seared Foie Gras – with buttermilk sourdough biscuits, red-eye gravy, crispy onions; and Fried Redfish Benny with braised greens, poached eggs, smokey green hollandaise. Boozy brunch offerings include a variety of seasonal cocktails and $15 Bottomless Mimosas.
Toups' Meatery is located at 845 North Carrollton Avenue. www.toupsmeatery.com.
---
6) BLUE OAK BBQ: For Brisket Debris & Fried Chicken
Blue Oak BBQ boasts "New Orleans' Best Barbeque in the World." They may not be mainly known for their brunch, but the occasional brunch additions to the weekend specials board definitely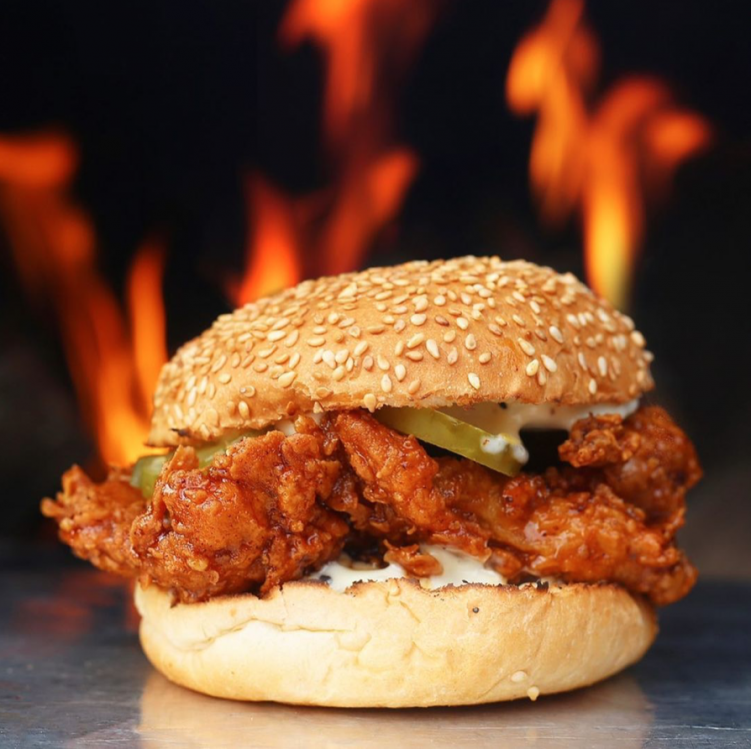 make it worth the trip up to Mid City. Try a sausage, egg & cheese biscuit, brisket debris bowl, or spicy chicken biscuit. Then while you're at it, grab one of their bloody Mary and mimosa buckets — DIY cocktail kits ideal for the large outdoor patio or to bring home.
Blue Oak BBQ is open seven days a week from 11 AM – 9 PM.
Blue Oak BBQ is located at 900 N Carrollton Ave. https://blueoakbbq.com
---
7) JACK ROSE: Southern Fare and Champagne Specials Available Every Sunday
Jack Rose, the culinary crown of the historic Pontchartrain Hotel, brings an eclectic and exciting dining experience to New Orleans' Garden District. Named the #1 "Best Hotel Restaurant" by USA TODAY 10Best, the lively atmosphere at Jack Rose encourages spontaneous celebration whether enjoying brunch "Chambongs" or dinner in the Jack or Rose rooms. Sunday Brunch at Jack Rose is complete with inventive seasonal fare and champagne specials.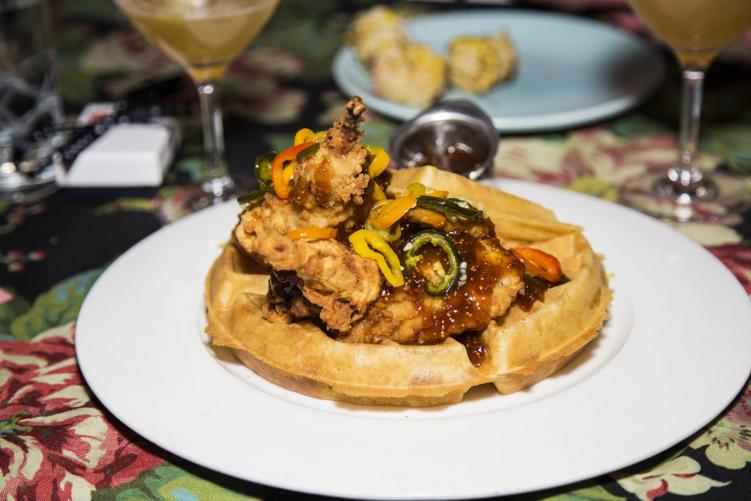 Foodies and imbibers can indulge in Chef/Owner Brian Landry's gulf shrimp & gnocchi Sardi – with saffron, tomato, cracked olives, lemon, basil; steak + eggs – a Wagyu flank with sunny-side-up eggs, crispy potatoes, salsa verde; crawfish cracked potatoes – with Calabrian chilies, cayenne cheddar; crispy shrimp + grits with étouffée sauce; chicken + waffles; or the juicy 1 & 1 burger with cheddar cheese curds and hickory sauce. Upgrade your brunch with Veuve Cliquot bottle specials for $60, or opt for one of the eatery's famed cocktails.
Jack Rose is located at the Pontchartrain Hotel, 2031 St Charles Avenue. Sunday Brunch is served from 11 AM – 2 PM. www.jackroserestaurant.com.
---
8) Ruby Slipper: For Crawfish benedicts, chicken sliders, and all the bloody mary's
Ruby Slipper Cafe offers New Orleans-inspired twists on traditional Southern brunch favorites, including Eggs Benedicts, Beignets, Bananas Foster Pain Perdu, and seasonally stuffed French Toast, as well as eye-opening cocktails. Born from that cozy storefront in 2008, Ruby Slipper Restaurant Group has grown to operate 11 Ruby Slipper Café locations across the Gulf Region and continues to expand throughout the Southeast.
Brunch is open Monday through Sunday: 7 am to 2 pm on weekdays and 3 pm on Saturday/Sunday!
View this post on Instagram
---
9) Copper Vine: For the bottomless bubbles and outdoor vibes!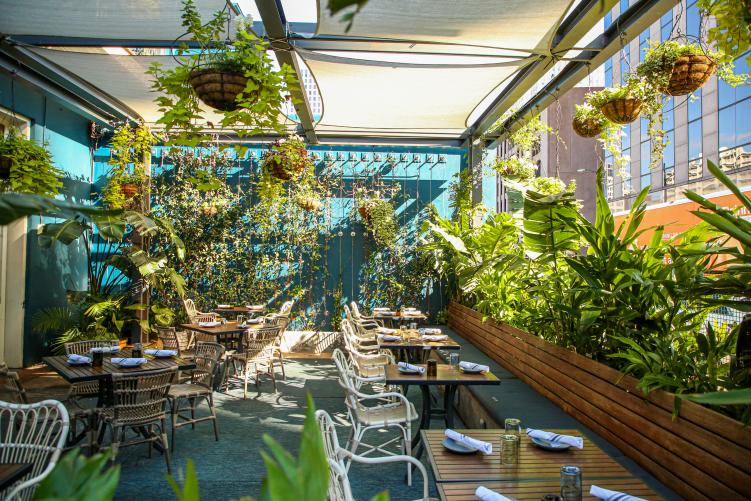 Copper Vine is featuring a Saturday and Sunday brunch from 10:30 AM – 4 PM. Crowd brunch favorites include Cornflake Fried Chicken & Waffle, Jumbo Lump Crab Benny, Wild American Shrimp & Grits, and of course bottomless bubbles that include mimosas, poinsettias, sparkling and sparkling rose!
You can visit Copper Vine at their website HERE to view the full brunch menu
---
10) Alma Cafe: For huevos rancheros & Spanish migas!
Alma Cafe celebrates modern Honduran cuisine right here in New Orleans. The amazing menu is filled with Honduran classics with fresh and local ingredients from Bellegarde Bakery, Inglewood Farm, Southern City Farm, and more.
Alma is serving up huevos rancheros, Spanish Migas, baleadas, yogurt bowls, and breakfast tacos for those brunch options. Alama is open Monday through Friday from 7 a.m. to 3 p.m.
View this post on Instagram
---
11) Birdy's Behind The Bower
The new kid on the block is serving up "Southern-inspired, locally-sourced American cuisine." The restaurant is the newest concept for Latter Hospitality, which also owns the nearby Claret Wine & Cocktail Bar and the Bower.
Birdy's Behind the Bower opens for breakfast Monday through Friday from 7 a.m. to 11 a.m. Lunch is served Monday through Friday from 11 a.m. to 3 p.m., and brunch is served Saturday and Sunday from 7 a.m. to 3 p.m. For more information about Birdy's Behind the Bower, visit the website.
View this post on Instagram
---
12.) The Tasting Room New Orleans: Come for the brunch, stay for the wine and bourbon selections!
This amazing Magazine street gem is nestled right next to the #2 location on our list, GRIS-GRIS. Known for their small plates and wine & bourbon selection, The Tasting Room is slowly starting to become one of our go-to brunch spots in the city. With amazing decor and award-winning dishes, what is not to love about this spot?
Brunch is held every Saturday and Sunday until 3 pm and guests can expect to see bottomless mimosas & bloody mary's, Steak & Eggs, Pain Perdu, and more!
View this post on Instagram
---
FOLLOW RIVER BEATS NEW ORLEANS TO STAY IN THE KNOW ON food IN NEW ORLEANS!