The Sting Ring is one New Orleans' premier boxing event of 2019. It kicks off this Friday, September 6th, from 6:30 p.m. until midnight at The Sugar Mill in New Orleans, Louisiana.
---
I have to admit it: I've never really been the biggest boxing fan. Not because I don't like the sport, more so because I've grown up in New Orleans where football and baseball tend to dominate my timeline. Boxing has never been a premier sport in the city during my lifetime… until now.
Enter Swarm Enterprises, a company operated by four women determined to make an impact in the New Orleans boxing community. Swarm was co-founded by owners Audrey Voelker and Mullady Voelker, in partnership with their friends and colleagues Annie Irvin and Ali Carlisle. They don't look and act like your stereotypical boxing promoters, but in a city that isn't so stereotypical, it works.
"We all come from event production backgrounds, and I think we all realized we could build a platform for these dedicated fighters in our city. Boxing has a dedicated following in New Orleans, but I think the main goal for us was to broaden the audience that is following boxing here."

– Audrey Voelker
In a city that holds 100+ festivals a year, it only made sense to add a little glitz, glamor, and entertainment to a premier boxing event. To match, the team behind Swarm created "The Sting Ring:" a Festival-Style New Orleans Boxing Event.
The evening's main boxing event will feature local fighter Curtis "Hard Knocks" Johnson vs. José Antonio Martinez in an 8-round Main Event for the U.S.B.C. Super Featherweight Championship Belt. The event will also spotlight other local fighters, including Quincy "Chico" LaVallais (7-0-1, 3 KO's), Delvin "DaGator" McKinley (1-0, 1 KO), and Kelvin Brown, who is making his Pro-Debut.
Entertainment includes musical appearances by Black Magic Drumline, DJ Raj Smoove, and a special in-ring performance by Boyfriend prior to the main event.
If that isn't enough, dive into some of the city's best food trucks. Burgers Ya Heard, Taceaux Loceaux, and Afrodisiac NOLA will all be in attendance serving up some amazing food. Along with the fights, food, and entertainment, one of the more unique aspects of The Sting Ring includes a custom cigar rolling station by Cigar Factory.
By creating an exceptionally-produced and equally as entertaining event, Swarm is providing a much-needed opportunity for fighters to showcase their talents to a broader audience.
"Being a part of this community has been such a great learning experience, and I think our ability to create an event like this will really help these fighters immensely. The entertainment value beyond boxing is so important to us. It really sets us apart." – Annie Irvin
Ideas That "Swarm" Into Movements
Sting Ring & Swarm developed from a collection of ideas that eventually formed a movement. Audrey and Ali come from an extensive event production background, owning and running their own full-service event and design agency Carlisle & Voelker. Annie contributes her experiences of creating and operating a number of fundraisers in the city. The boxing connection comes from co-founders Audrey and Mullady, who trained with local boxing coach Marty Marino.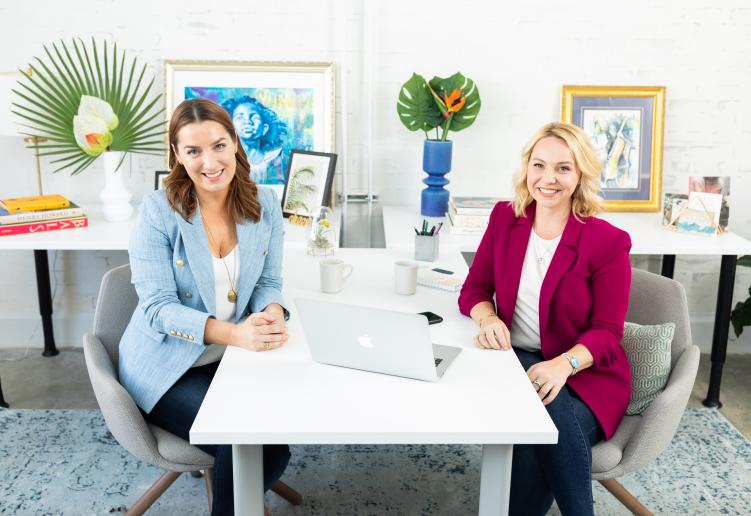 Over the course of the past year, the soon to be Swarm team realized the opportunity for an event like this existed. Their experience seeing other pro and amateur events in New Orleans and their extensive background in large scale events led to the development of something greater: The Sting Ring.
"New Orleans used to be a major hub for boxing. Over time, that changed and everything moved to Vegas. We think that the old-school way of thinking is tiresome, and people are ready for a change. We're trying to restore New Orleans as a boxing town. We actually have local pro fighters that are really talented, and we have the capacity to create events like this. Swarm is apart of this local collective effort with all the boxing gyms of New Orleans to bring boxing events back to the city." – Audrey Voelker
While The Sting Ring is kicking off in less than a week, the Swarm team is already envisioning how they can up their game for their next event. Ali, Mullady, Annie, and Audrey are planning for this to be the first of multiple events in New Orleans. With a clear vision, a background in large-scale event production, and the support of the New Orleans boxing community, Swarm is putting New Orleans and boxing back on the map.
---
Editors Note: Along with their support of the boxing community Swarm has also partnered with the local non-profit Son of A Saint. Son of A Saint provides mentorship, education, recreation, camaraderie, cultural enrichment, and emotional for dozens of fatherless young men in New Orleans.
---
Featured Image: Zack Smith