Tank & the Bangas have made New Orleans proud with their recent successes like performing on the Tonight Show with Jimmy Fallon. Now they present the release of their sophomore album Green Balloon in true Tank & the Bangas fashion – with a bang!
Already at the top of the iTunes charts, Green Balloon shows no musical (or physical) boundaries. This 17 track album was recorded with features by over 30 different artists and in 10 different production studios. Don't try to fit this album into one genre, you'll find influences from blues, jazz, country, and hip-hop — and that's just to name a few.
"Green Balloon is a sister to Think Tank, Think Tank was 12, and Green Balloon is 16 and having sex. She's out there." -Tarriona "Tank" Ball
Alive with the flavor of Tarriona "Tank" Ball's vocal range and capacity. The lyrics just seem to twist and turn for an exciting (to say the least) first listen. As you ease into the tracks for the second or third listen, you'll find nuances and rhythms that you didn't catch before. With the limitlessness of this band, there's no telling where the ceiling is for this group.
They've celebrated their success of the album launch in New Orleans over Jazz Fest weekend. They signed albums at Peaches and packed the house for their set at Jazz Fest.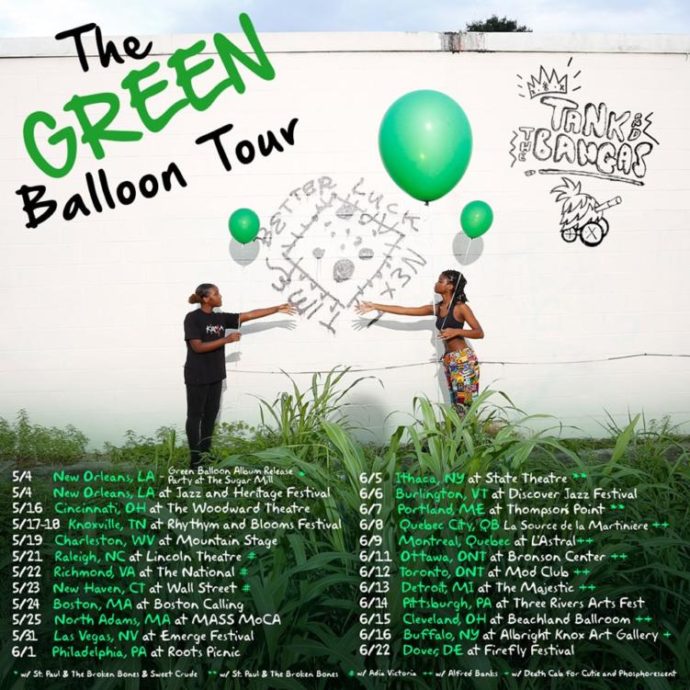 Catch the band on a full nationwide tour to promote Green Balloon and take a listen to the entire album here: