The Soul Rebels just announced a winter tour to support their latest album, "Poetry in Motion." Get your tickets for the tour here.
---
We love sharing the joy of jazz and brass with the rest of the world. And not to brag – but I would bet New Orleans does it best. The Soul Rebels are a testament to that.
The NOLA-based brass ensemble just announced their winter tour in support of their latest album Poetry In Motion, released this past October via their imprint Rebelution Music Group.
The album was received well across the charts. Forbes said the group had "crafted a truly memorable modern offering that's full of old-school spirit and charm."
Yesterday, the band announced a winter tour to support the album that will take them to cities across the US. In an exciting collaboration, many of the tour dates will feature artists who appear on the album. Tank and the Bangas, and​ Big​ Freedia are among the NOLA royalty who will appear on tour with the band.
Poetry In Motion hit the charts with a powerful release. It debuted at #1 for Contemporary Jazz, #11 for Rap, #14 for R&B/Hip-Hop Album chart, and #149 on the overall Current Top Albums chart.
The Soul Rebels have become the go-to live band for major artists to share the stage with, from the likes of Katy​ Perry, Nas, Marilyn Manson, and DMX to​ G-Eazy, Rakim, and​ Joey Bada$$. They even toured with Wu-Tang​ Clan and opened for The​ Rolling Stones at​ the Superdome this past year.
The Soul Rebels always bring the heat and the soul to enhance their sets. The 8-piece brass ensemble continuously shares their rich musical roots and culture through their music. It's a fusion of contemporary music with old-school heart and soul that could only come out of a city like New Orleans.
---
Check out The Soul Rebels winter tour dates below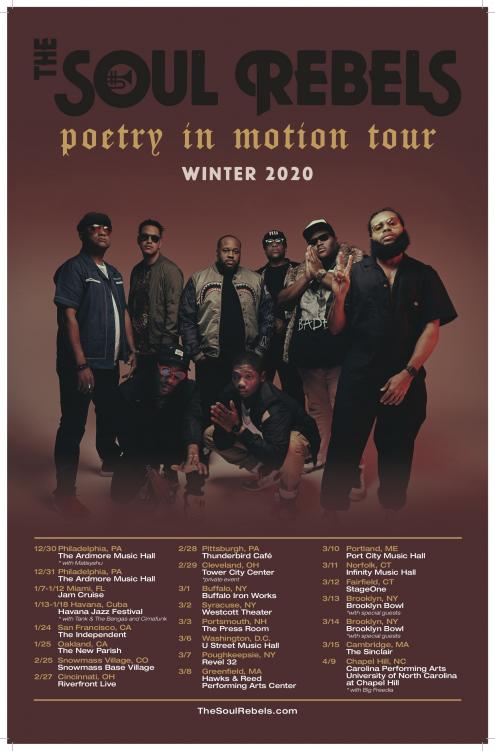 Follow River Beats New Orleans to stay up to date on Music IN NEW ORLEANS.