It's officially "Locals Season" here in New Orleans. After Essence, the festival season begins to slow, the temperature begins to rise, and the huge wave of tourists reduces to a trickle. However, it doesn't mean there aren't still shenanigans to be had. This is New Orleans, after all.
Here's What's Happening in NOLA in July
Mister Mao's One-Year Anniversary Dinner
In celebration of one year, Mister Mao has crafted a special menu. Every guest who visits for dinner can imbibe with a complimentary Passionfruit Jubilee and enjoy the regular a la carte dinner menu or celebrate with a special three-course meal, priced at $50 per person (excluding tax and gratuity). This special dinner is available until July 31.
July 17 – 31 | Mister Mao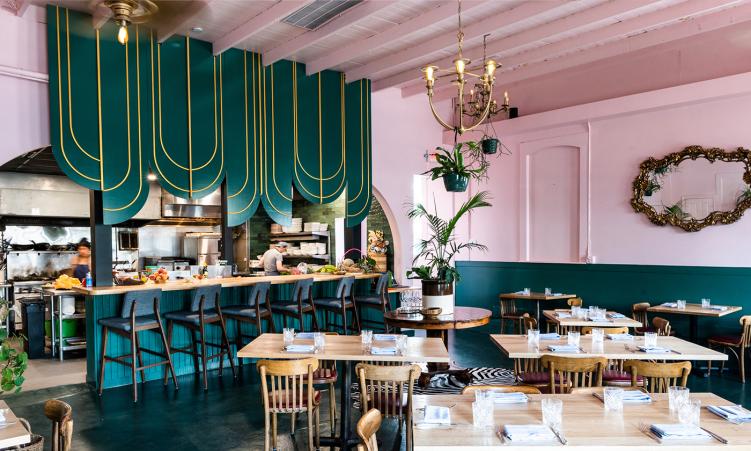 Psych Sunday Vol 3. Femme Edition
Psych Sunday Femme Edition will be one of the hottest parties in NOLA featuring some of the baddest babes on the scene. Femme Edition will feature three dreamy rock bands, DJs, and food vendors all femme-led. Consider this your premonition for the femme edition.
July 17 | The Drifter Hotel | 9:30 am – 5:30 pm
Techno Club Presents DEEP at The Rabbit Hole
Join the Techno Club family and friends for a night of deep dancing at The Rabbit Hole. Don't miss performances by Javier Drada, Herb Christopher, Ryan Deffes, and more. This event is for 21+ and will collect a $10 cover at the door.
July 23 | The Rabbit Hole| 9 pm – 3 am
Creepy Fest 2022
Sheer Terror Records Presents the 13th Annual Creepy Fest in New Orleans. The event will run four nights in July at various venues around Orleans Parish and feature a slew of punk, hardcore, metal, experimental bands, and more. Check out the Creepy Fest 2022 Facebook event for a full schedule and selected locations.
July 21 – 24 | various locations | Doors: 6 pm
NOLA River Fest at the Jazz Museum
The 10th annual NOLA River Festival celebrates the cultural, economic, environmental, and inspirational impacts of the Mississippi River and its inhabitants on the Crescent City and the entire Gulf South region. The all-day festival at the New Orleans Jazz Museum will include live music, presentations and panels, walking tours, delicious local food vendors and a full bar, and more. The festival is free and open to the public as well as streaming on Facebook.
July 23 | New Orleans jazz Museum | 8 am – 7 pm
Yacht Rock Bash at Urban South
Get your party pants ready for the summer party of your wildest dreams. Urban South is throwing a Yacht Rock Bash to commemorate their fave music style and to enjoy some amazing beer. There will be (theme-appropriate) music, vendors, and more fun than you can imagine.
There will be not one, not two, but THREE signature, yachty beers dropping for this party, coming bundled in a gorgeous, limited edition to-go box.
July 23 | Urban South Brewery | 12 pm – 5 pm
2022 Vegan Food Festival presented by Vegan 2 The Soul
Celebrate the vegan lifestyle in New Orleans at the 5th annual Vegan Food Festival. The event will showcase creativity in culture, food, and music that's shared among vegans in the New Orleans Community. The event includes free yoga and fitness at 10 am.
July 24 | Lemann Park | 10 am – 6 pm
Chvrches at Orpheum Theater
"A seamless fusion of emotive theatrics, hook-loaded songwriting, and some of the more forward-thinking sonics in electronic music right now." The Scottish electronic collective (pronounced 'churches') are back on tour in the wake of their latest studio album. The trio, led by Lauren Mayberry is known for working a clean sound, with their music style usually tagged as electronic or synthpop.
July 26 | Orpheum Theater | Doors: 6 pm
Milagro Tequila Pool Party
The Pool Club at Virgin Hotels New Orleans will transform into a tequila oasis as Milagro Tequila hosts its very own pool party. A welcome event amid New Orleans summer, the pool party will feature signature Milagro Tequila cocktails, food, and energy showcasing the brighter side of tequila. DJ Otto will set the vibe with skyline views of the Big Easy as a backdrop. The event is open to all Tales of the Cocktail attendees.
July 27 | The Pool Club at the Virgin Hotel | 5 PM – 7 PM
Kendrick Lamar at Smoothie King Center
Kendrick Lamar is indisputably one of the greatest rap artists of his generation. The Compton native has amassed 14 Grammys and a Pulitzer Prize over his five studio albums. His latest, Mr. Morale & The Big Steppers is currently being toured around the world. Kendrick Lamar and The Big Steppers tour will come through New Orleans with a performance at Smoothie King Center on Friday, July 29th.
July 29 | Smoothie King Center | Doors: 7:30 pm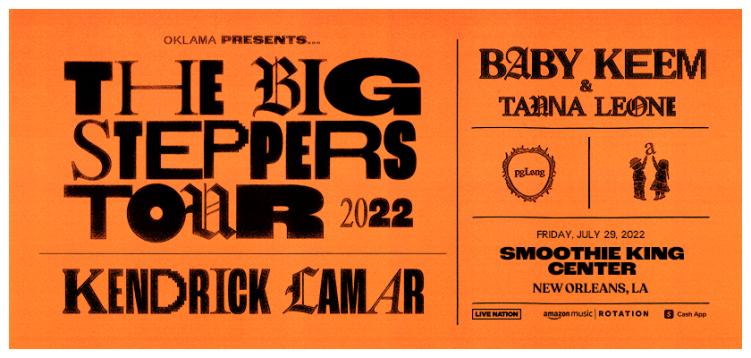 Brunch at the Country's Best Hotel Restaurant
Located in the Garden District's Pontchartrain Hotel, Jack Rose was named the "Best Hotel Restaurant" in the country according to USA TODAY for its bustling energy and Brian Landry's tantalizing cuisine. Weekend Brunch includes the pork belly with carrot puree, fried shrimp + grits in étouffée sauce; chicken + waffles, and Steak Frites. Upgrade your brunch with Veuve Cliquot bottle specialsor opt for one of the eatery's famed cocktails.
Saturday & Sunday | Jack Rose | 11 am – 2 pm