Take a walk around your local Marshall's, or TJ MAXX. What do you see? Probably a lot of red, white, and green. Holiday flags are flying already. If you're like most sane human beings, the Christmas rollout feels earlier and earlier every year. And the earlier it comes, the more pressure it brings. Presents. Family. Travel. Cooking. Do I have a fuzzy sweater? Where's your holiday spirit? You can feel the wrapping paper cuts already. If you're worried about only being a month out from drowning in ribbons and garland, fear not. Help is on the way. Fulton Alley and the Bayou Bar are bringing you some November deals and Happy Hour specials to take the stress out of the Holiday hype train.
Fulton Alley offers the Happiest Hour
Temperature drops making you want to throw something? How about a bowling ball? Fulton Alley is a gaming parlor and prohibition-style cocktail lounge offering up some seasonal deals, so go on and roll some strikes. Monday through Thursday is half off Happy Hour bowling, plus drink specials, from 4-7 pm. The Alley offers $3 Paradise Park; $5 Old Fashioned; and half off wine by the glass.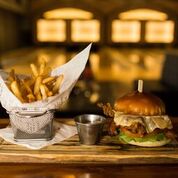 Fulton Alley has also just released a new menu, so there are exciting dishes to pair with these drink specials. There are Southwest Eggrolls, crunchy and stuffed full of fajita chicken, beans and crisp corn. The Cornbread Souffle is savory and salty, with lardon, onion jam, and a jalapeno goat cheese packing some zip. Need something sweet? Check out the Brûlée Cheesecake, with fresh berry compote.
In addition to these great menu changes and Happy Hour deals, Fulton Alley offers Saints Game Day specials. Well located within the Warehouse District, Who Dats can have inventive and refreshing drinks like the Effen Cucumber Bloody Mary (Zing Zang, Tabasco, garnished with a slice of thick-cut pork belly), or get down to business with the Black and Gold Combo (Paradise Park, with a shot of Jim Beam Black). Drink up y'all.
Happy Hour Specials at the Bayou Bar
Bayou Bar is offering a change of pace from Fulton Alley's speed with new dinner specials crafted to be comforting. For $14, guests can sample food created by Chef & Owner Brian Landry and Executive Chef David Whitmore. Think spaghetti, meatballs, and red gravy; or roast pork jambalaya; and smothered white beans served with duck wings. These dishes have a rich Cajun flavor to put your soul at ease.
The specials come accompanied by new menu additions of the same vein. Fried chicken sliders feature sambal aioli with a Napa cabbage slaw; there are meat pies loaded with lamb, tomato, and mint; crispy buffalo alligator is tossed in Crystal hot sauce and served with a zesty Creole ranch. If the flavors sound traditional, think about this fun fact: the Bayou Bar used to count Sinatra and Truman Capote as regular guests. So, it's the lounge and the food that is steeped in history. Bayou Bar features live music from rotating local artists, Wednesday through Sunday.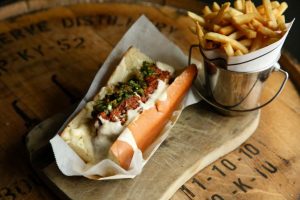 ---
Fulton Alley | 600 Fulton Street, New Orleans. | Monday through Thursday 4 PM-11 PM; Friday 4 PM-1 AM; Saturday 11 AM-1 AM; and Sunday 11 AM-11 PM. | www.fultonalley.com
Bayou Bar | 2031 Saint Charles Avenue, Pontchartrain Hotel | Sunday – Thursday 11 AM-11 PM; Friday and Saturday 11 AM -Midnight.| www.bayoubar.com
---
Do you have any tips to share on food-related specials, events, and news? Email them to brich@riverbeats.life