Thanksgiving is right around the corner, and for many, that can mean good or bad things. Maybe you're excited about a big dinner, or maybe you're not ready to deal with all the political commentary from Uncle John across the table. Traveling can be stressful, but cooking might relax you.
It seems like each year, more folks are heading out for Turkey Day dinner than cooking their own. We're a city that loves to eat, so for a New Orleans Thanksgiving, dining out sounds pretty natural. If you find yourself part of that number, then read on for some of the best Thanksgiving offerings around town.
Seaworthy
Seaworthy is a coastal restaurant that invokes the feeling of a sailor's pub. Their Thanksgiving menu is right on brand. This year, Seaworthy presents a Gulf-style feast. From 5 pm to 11 pm, the restaurant will offer a shrimp boil. Priced at $32, customers will get two pounds of Louisiana shrimp with all the fixings: andouille sausage, potatoes, corn and button mushrooms come boiled with. Seaworthy's regular menu will be available also. Additionally, if you're looking for a staycation, the Ace Hotel is partnering with Seaworthy to offer a Friendsgiving Hotel Room promo that includes your ticket to the shrimp boil. / Reservations at enquire@seaworthy.com or call 504-930-3071
Nolé Restaurant
Are you searching for some entertainment with your New Orleans Thanksgiving festivities? Look no further than Nolé. This year's Gobble Til You Wobble Friendsgiving is actually a Saturday brunch, but the offerings are as bountiful as if it was Thursday. $55 for bottomless mimosas or house margaritas, and a brunch buffet. Not to mention full drag show as entertainment. You're going to want to purchase tickets together to make sure you can be seated with friends. You can buy them here. // Reservations at opentable.com or call 504-593-9955
Katie's in Mid City
Katie's Restaurant is a long-standing New Orleans staple, operating at the heart of Mid City since 1984. This year, the family-friendly restaurant is offering an affordable Thanksgiving feast with all of the fixings. $26 gets you a three-course meal starting with a salad, continuing onto a complete plate (think turkey and beaucoup sides). Dinner ends with Katie's famous white chocolate bread pudding. The full menu is available for walk-in customers, and the Holiday menu will be available as a special menu. Katie's opens from 11a to 5p. // Reservations at dine@katiesinmidcity.com, https://katiesinmidcity.com or call 504-488-6582
Copper Vine
Copper Vine, the spacious and comfortable CBD wine-pub, is open from 3p to 11p. The full a la carte menu will be available, so if you're looking for an untraditional meal, we recommend the creamy lump crab gnocchi. As well as the regular menu, there are holiday specials like chicken & boudin gumbo, short rib with whipped parmesan & veal demi, and pork belly with braised collards.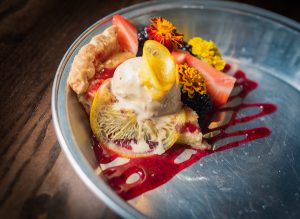 Besides all the dinner offerings, make sure to save room for dessert. The buttermilk pie with berry compote and goat cheesecake with basil ice cream could induce a food coma. We're going to need a whole pot of coffee for that one. //Reservations at www.coppervinewine.com or call 504-208-9535
Jack Rose
Seasonal and Cajun flavors are on display for Thanksgiving at Jack Rose. Chef Brian Landry delivers a prix-fixe menu that offers four-course and ranges from $60-$69 depending on the entree. The choices are inventive: royal red shrimp with squid ink campanelle, or torched provoleta are just a few of the appetizer selections, while fresh Pompano, Stuffed Roasted Turkey, or King Trumpet Mushrooms are some of the flavorful entree highlights. And these are only a few of the extensive dishes there are to choose from. Jack Rose is open from 11a-8p. // Reservations at www.jackroserestaurant.com or call 504-323-1500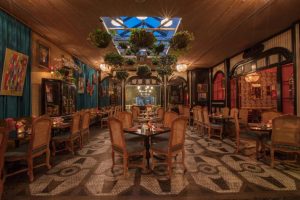 Compère Lapin
By and large, this year's New Orleans Thanksgiving menus are full of cozy foods that invoke comfortable feelings. Nina Compton's menu for the award-winning Compère Lapin is no different. Titled as a family-style meal, the three-course, $85 menu features seafood stuffed mirliton and roasted veggie salad as appetizers. A full dish of turkey, jerk sweet potatoes, and cauliflower gratin follows for an entree. Likewise, dessert is just as homey: after dinner, guests will enjoy a pumpkin flan to round out the meal. // Reservations at www.comperelapin.com or call 504-599-2119
Couvant Bar & Brasserie
Couvant advertises itself as a simple brasserie but that is an understatement. This Magazine based restaurant brings a four-course menu as their holiday offering.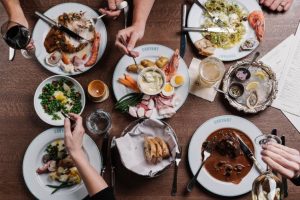 $62 gets a meal that begins with several flavorful appetizers, ramps up to a full Thanksgiving plate, and ends with some incredible sounding deserts, like Pear Frangipane Tart. Shoutout to the Great British Baking Show for teaching me what that is. See the full menu here. // Reservations at hello@couvant.com or call 504-324-5400
The Elysian Bar
In a unique twist, the Elysian Bar is offering a holiday menu not just for families, but by families as well. Chef Alex Harrell turned to the staff at Hotel Peter & Paul, as well as the Elysian Bar in order to crowdsource family recipes. For instance, Peter & Paul Head of Security submitted the Cornbread Mushroom Dressing which accompanies Chef Alex's Stuffed Turkey Brest Roulade. In the same way, someone's Grandmother's Cornbread topped with pumpkin butter finds a happy place on the menu. You can join the Elysian Bar for morning pastries and coffee from Congregation starting at 7a. Thanksgiving begins at 10:30a and continues until 11p. // Reservations at theelysianbar.com or call 504-356-6769
Brennan's
Thanksgiving at Brennan's Restaurant is a classic New Orleans tradition. Start your appetizers with some soup (a delicious Turtle with Sherry) or some decadent Oyster and Artichoke gratin. Seared Scallops or a fried Rabbit Schnitzel are some of the many entree options for this $65, three-course meal. // Reservations at https://www.brennansneworleans.com/reservations/ or call 504-525-9711
The Country Club
We've all been to the Country Club for a rowdy bunch, but how about a New Orleans Thanksgiving Feast without the fuss? This year, you can join the Country Club for a feast full of Rabbit & Mushroom Gumbo, Double Cut Porks, or Grilled LA Drum. Prix fixe prices depend on the entree, and traditional Thanksgiving offerings are spread across the menu as well. The full menu can be found here.// Reservations at info@tccno.com or call 504-945-0742
Catering Options
As fun as this rising trend of eating out on Thanksgiving has become, hosting Turkey Day at home has maintained a popular appeal, albeit, a shifting one. Sure, we're still having feasts with our family, but increasingly we're having Friendsgivings, too. Whether that yearly gathering is in place of, or in addition to a traditional Thanksgiving setup, one thing is certain: cooking is exhausting. So, use these catering options to take the stress out of a time that you should be enjoying, while supporting local businesses.
Picnic Provisions & Whiskey
What does a picnic look like for you? At Picnic Provisions and Whiskey, the details are taken care of, so you can focus on dreaming up your own special dining experience.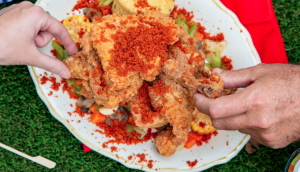 Show up to this year's Thanksgiving feast with ready to serve Smoked Fish Dip, Pimento Cheese, or Tory's Collard Greens. Mom will thank you, or, so will your friends. A full catering menu can be found here. // Place orders online, or call 504- 266-2810
Blue Oak BBQ
A New Orleans Thanksgiving means comfort food, and nobody is cooking a better batch of soul-southing grub than Blue Oak BBQ. Their Thanksgiving catering menu offers up well-crafted essentials: a Whole Smoked Turkey, or Brisket, creamy Roasted Mac and Cheese, Cauliflower Mash, and all the sweet sides like Cranberry Sauce and Bourbon Bread Pudding. Holiday ordering ends on Friday, Nov. 22nd. In addition to the Thanksgiving feast, there are tons of options from the regular catering menu as well. With all these mouth-watering options, you'd better get your order in. // Place orders here, or call 504-822-2583.
Bellegarde Bakery
Bellegarde rounds out the list with some really unique (often overlooked) catering options: baked goods. We're talking artisan pies, breads, and cookies. Be the pre-party ringer with Herb & Garlic Focaccia, Spelt Brioche Tear Rolls. Or, bring the perfect post-feast coffee treats like Louisiana Pecan Pie. // Place orders for Bellegarde here, or call 504-827-0008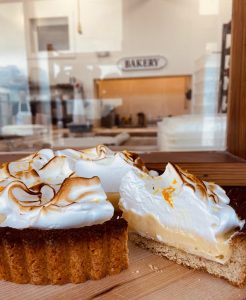 ---
Where are you eating this Thanksgiving? Sound off in the comments, or let us know on social media.