For ten days, October 6-16th, "Hell Yes Fest" descends upon the greater New Orleans area. Offering fans a variety of acts from national big names (Sarah Silverman), tv personalities (MTV's Girl Code) to some of the the city's very own up and coming local acts, "Hell Yes Fest" is sure to please every fan. With over 50 performers and more than 30 shows, the most unique aspect of the festival is it's overall goal of promoting all different genres and styles of comedy. 
While the big names capture the headlines, it's the small intimate shows that keep the festival's true direction alive. The type of shows you accidentally stumble upon, and end up being your favorite decision of the festival. River Beats examined the extensive "Hell Yes Fest" lineup and came up with the "7 acts you must see at this years Hell Yes Fest". 
1.) Live girls & Strong Female Lead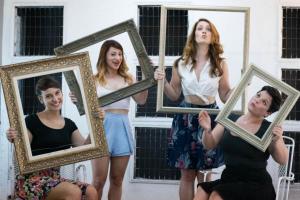 "The type of shows you accidentally stumble upon, and end up being your favorite decision of the festival"
We couldn't think of a better act to fit this role then the all-lady improv group "Live Girls" consisting of Greta Jane, Mary Jo, Julie Florence, and Mary Ethelwyn. Formed in 2015 at the The New Movement Theatre in New Orleans, the all feminist wacky group is a known to create characters that "break out in song, describe sports poorly, monologue about menstrual cups and do terrible impressions of their cajun grandparents".  This deep connection to characters has led the ladies to prioritize their friendships and make building trust a priority. In a recent interview "Live Girls" stated "It's super important to us that our peers feel our deep love for sharing this beautiful wacky thing with them". This Chemistry is instantly noticed and appreciated by their fans.
When not performing in Hell Yes Fest, you can find "Live Girls" every third Thursday at The New Movement in New Orleans!
The River Beats Staff highly recommends heading to the theatre at St. Claude on October 8th to see "Live Girls". This dynamic group is just one amazing example Hell Yes Fest featuring and promoting local New Orleans acts.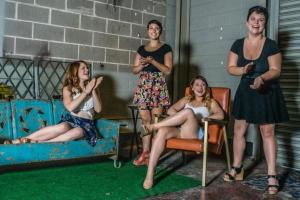 When: Saturday, October 8th
Where: Theatre at St. Claude
DOORS: 10PM
SHOW: 10:30PM
Tickets Available at the Door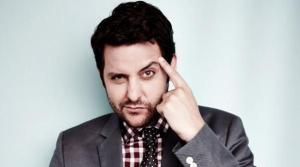 If you're not familiar with the name Ben Gleib, you should be. Gleib is a true "renaissance man" in the comedic world. Esquire magazine featured him in their article "6 comedians who could be comedy's next big thing".  We could list out about 50 different accomplishments Gleib has undertaken over the past few years. His podcast "Last Week on Earth" is one of the top comedic podcast on itunes. He is a co-host his own show "Idiotest" on GSN. Gleib is a frequent guest on "Chelsea Lately" and his voice over work has been featured in movies such as "Ice age" and "The book of life".
One of the best improv comedians on the planet, Gleib has been touring since 2007. This is Gleib first appearance at "Hell Yes Fest", and is featured as one of the festival's "Headline acts".  Catch Ben plus Leon Blanda, Vincent Zambon, and Mary-Devon Dupuy at the Joy theatre October 11th.
[youtube https://www.youtube.com/watch?v=vElRxQNh5SU]

When: Tuesday, October 11th
Where: Joy Theater
DOORS: 10PM
SHOW: 10:30PM
Get tickets here!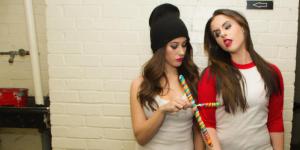 "We're saying, have a lot of sex and be proud of it,
Imagine interviewing all the former people you f*cked throughout your life. Seems pretty hard doesn't it? Well for Krystyna Hutchinson and Corinne Fisher, it's what they do best. The Duo have gained national attention from their well known podcast "Guys We F*cked".  With over half a million subscribers, the Anti Slut shaming podcast has become one of the top downloaded podcast on itunes.
The podcast details Krystyna and Corinne's adventures through one night stands, interviews with former partners, dirty talk, and special topics at hand. In a recent interview with the Huffington post the ladies state  "We want to make people feel more comfortable in their own skin". The goal of the podcast is to "encourage women to feel more comfortable with themselves and everyone to have more great, shame-free sex"
Krystyna and Corrine bring their podcast live to the Joy theater on Wednesday october 12th.
[youtube https://www.youtube.com/watch?v=-b3Hk3A1fpE]
Check out their recent interview with the huffington post here!
When: Wednesday, October 12th
Where: Joy Theater
DOORS: 7PM
SHOW: 8PM
Get Tickets Here!
[youtube https://www.youtube.com/watch?v=fxt53o9E0X8]
At just 24 years of age, Los Angeles based comedian Brandon Wardell has already been listed as the one of the best comedians of the upcoming decade. New York magazine listed brandon in their list of top "50 Comedians" of 2015. He has appeared on Comedy Central's "@midnight," "The Meltdown" with Jonah and Kumail," "Adam Devine's House Party" and VICELAND's "Flophouse,"
According to his website, Brandon Wardell is a self described "comedian/actor/fake DJ/voice of a generation/fashion icon". A true millennial, who embraces his comedic role with his generation.
Active since the age of 17 Brandon has performed at South by Southwest and Bridgedale comedy festival, toured with Bo Burnham, written comedy for vice news, the washington post, Yahoo style and Four pins, Created a joint album with comedy legend Bob Odenkirk called "Amateur Hour", and is currently the host of Comedy Central's Snapchat. 
Wardell's show at the Nola Brewing Company is one of our staff's favorite picks of the festival.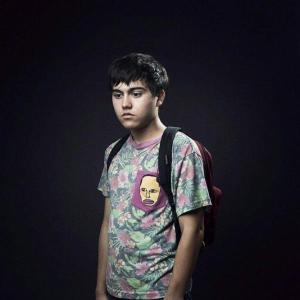 When: Thursday, October 13th
Where: Nola Brewing Company
DOORS: 8PM
SHOW: 8:30PM
Get Tickets Here!

A true "Royal Rumble" of comedy. Sudden death is one of the most unique shows of "Hell Yes Fest". 30 comedians all competing for the best set of the night. The catch is simple, each comic gets one minute of mic time, but only 15 move on to the next round. Each round the comics get an extra minute on the mic, until it's down to the final 2. The winner is crowned "Sudden Death".
When: Thursday, October 13th
Where: The New Movement
DOORS: 10:30PM
SHOW: 11PM
Tickets Available at the Door

Feat: Ali Reingold, Zahid Dewji, Dale Cheesman, George Gordon, Kriss Simmons, Geoff Gauchet
Hosted by Jessica Hong
The headline says it all. A stand up competition in which each comic tries to answer the question "What if comics got stoned, drunk or sober and then gave it their best as they perform on the edge".
Seriously how could we not include this in the list? A stage filled with drunk and stoned comics? Yes Please. This show highlights the beauty of Hell Yes Fest. The description reads perfectly "1 Stage, 3 states of Consciousness, 0 fucks given"
When: Friday, October 14th
Where: The New Movement
DOORS: 10PM
SHOW: 10:30PM
Tickets Available at the Door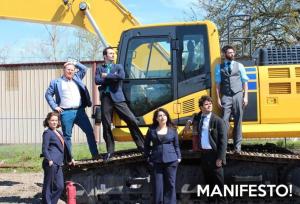 New orleans locals MANIFESTO was formed in 2014. Regulars at "The New Movement" theater in New Orleans, and alumni of the The New Movement improv conservatory, MANIFESTO is one our local staff picks for the 2016 Edition of Hell Yes Fest.
This lively cast of six creates stories from scratch and explores everything weird and awkward about the worlds they create. MANIFESTO combines fast game play and hilarious improv to deliver a constantly evolving storyline.
The Group consists of Jon Vail, Julie Ward, Christy Marino, Scott Anderson, Jake Wynne-Wilson, and Will Monson.
The exciting group exemplifies some of the best and brightest comedy to come out of New Orleans. 
F*uck this week is an exploration of your shit ass week. The floor is open for the audiences to tell it all. Had a terrible week? Let the cast of F*uck this week hear about it. A true improvisation of comedy, that provides audience members with "therapy through comedy".
When: Saturday, October 8th
Where: Theatre at St. Claude
DOORS: 8PM
SHOW: 8:30PM
Tickets Available at the Door
Looking to Attend the festival? Get all show and ticket information here! 
CONNECT WITH RIVER BEATS
facebook |twitter | instagram | youtube | soundcloud