Whether he's hosting massive events, making some of the craziest promo trailers, promoting up and coming artists, creating HOLY SHIP or revealing his passion for growing the community: DESTRUCTO (Gary Richards), A.K.A. the "HARDfather", is a true Godfather of dance music.  As the founder and CEO of HARD Events, Gary has been credited as a leader in the American Electronic music scene. His events have featured some of the biggest names in EDM such as Deadmau5, Skrillex, Justice, Diplo, Boys Noize, Nero, and countless others. Rolling Stone has listed Gary as one of the "50 Most Important People in EDM", and Billboard considers him as one of the major power players of electronic music.
Early Career
Raised in cities like New Orleans, Los Angeles, and Washington D.C. music has always been in Gary's blood. Active in the community for over 20 years, Gary Debuted DESTRUCTO in 1991. The moniker was something Gary adopted in the mid-90s as a way to express his music. Gary claimed the name DESTRUCTO derived from his goal to play the "hardest and most gnarly techno out there." Gaining notoriety in the LA Nightlife scene, Richards is credited with creating several monthly events including the first two "Electric Daisy Carnivals" in 1991 and 1992. While no longer associated with EDC, the name was created directly from Gary's monthly parties. EDC has gone on to become one the most recognizable electronic events on the planet.
HARD
In early 2007, Gary undertook the creation of HARD. While living in Los Angeles, Gary saw a void in the dance community. He created "Hard Haunted Mansion", HARD's first show consisting of Justice, Peaches, 2-Live Crew, Steve Aoki, Busy P, A-Trak, Whitey, Uberzone, Cubes. By 2011, Gary was introduced to a young Sonny Moore (Skrillex), whose dream was to play "Hard Haunted Mansion". The rest is, as you know, history.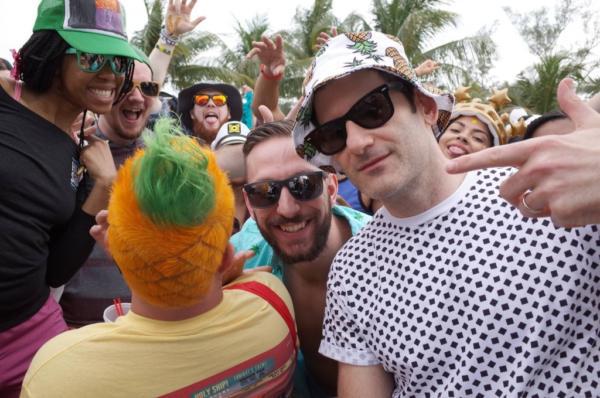 Since 2011, HARD has been noted as one of the premiere event companies on the planet. Acquired by Live Nation in 2014, HARD has seen a steady rise to the top. It produces several world-class festivals including the infamous HOLY SHIP,  HARD Summer, HARD Red Rocks and HARD Day of the Dead.  In a recent OWSLA interview, Gary credits his early success as a reason for HARD dramatic rise: "A lot of these people who played for me in the beginning that have gone on to be mega all over the world are coming back because it's like, we were there first with them, y'know." Electronic music would not be where it is today without the guidance and care of people like Gary Richards.
Gary's years of dedicated work has created a loyal fanbase all over the country. Gary's launch of the very successful HOLY SHIP has created a legion of "Shipfam" who have spread "Dad's" aka Gary's message all over the country. At 45 years old, Gary is still considered to be one of the top music executives in the world. His musical influences range the gauntlet from on Skrillex, to Deadmau5, Crystal Castles, Steve Aoki and hundreds more. With HARD's continued success, it's safe to say the Hardfather isn't going anywhere anytime soon.
Straight from the source: "I always tell a lot of these DJs that are just starting, guys like Dillon Francis and Zedd or whoever, that they're so lucky, y'know. They just kinda got started blowin' up and just killin' it. I spent like twenty-three fuckin' years trying to get this thing goin'."
[youtube https://www.youtube.com/watch?v=cUSOPAZ6di8]DESTRUCTO invades Republic New Orleans Friday October 7th. with support from ILOVEMAKONNEN and Drezo. Don't forget to pick up tickets, and try your luck at our VIP ticket giveaway starting tomorrow!
Source: NestHQ
CONNECT WITH RIVER BEATS
facebook |twitter | instagram | youtube | soundcloud