Intro to Lizzy
Lizzy Lunday has been making art her entire life. A small town girl from Alexandria, VA, she began her journey as a painter as young as her teenage years. She describes it as if painting chose her more than she chose it.
"I don't think it was as much of a decision as it was a natural progression. Painting has always come the most naturally and made the most sense to me."
With a more serious focus on painting, she pursued her education in the craft. Starting her pursuit at Corcoran College of Art and Design in Washington, D.C. as well a short course at Central Saint Martins in England, Lizzy then went on to attend the University of Miami. She spent the majority of her time there. She graduated from the university, receiving her Bachelors in Fine Arts, in December of 2014. With her career in mind, she had these words to share:
"As of right now I'm trying to take my career as an artist one step at a time. I'm planning to apply for MFA programs this winter. As well as progressing with my painting, I would like to also continue to expand my horizons with different mediums."
Settling into Her Style
Within everything produced through creativity, style is developed throughout the learning process. Lizzy was very detailed in the style that she has adopted and adapted in her own form. Taking what she has learned from school and curating her own form of flow.
"My style of painting is is generally figurative and portraiture, while still retaining the brush strokes and character of the paint. I originally taught myself to paint with acrylic paint, and was unable to break some habits when in my BFA classes they had me switch to oil. I'm very pleased to have switched to oil now, but in certain ways you can still see my roots in acrylic paint showing through in my style, which I find interesting." 
There are many different ways to create and produce art. Studying a specific style is common amongst artists. So we asked Lizzy to venture out of her style range.  Inquiring about some other forms of art that excite her creativity.
"Installation, video, performance, and collage stand out the most to me right now. A couple of months ago I had my first installation piece in a show, and it's definitely an art form that I plan to explore further. Working in collage is something that I have done on and off, and I plan to start utilizing it more in my paintings." 
Instances of Inspiration
The majority of Lizzy's work revolves around the female body. She mentions how she admires Jenny Saville and her ability to utilize the same directive. The most wonderful thing about art is the creativity in one piece breeds creativity in another's work. She explains the affect Saville's creations have on her own perspective of painting:
"Seeing an exhibit of hers in 2012 at the Norton Museum of Art in West Palm Beach, FL, and then again in 2014 at the Gagosian in London, England, was influential to the way I saw paintings. Her work is so fresh and powerful, it opened my eyes to what paintings could be."
Sources of inspiration can be found in many different places other than various art. Art is a wonderful way to project one's own emotions, thoughts, or even certain situations in life. Many artists create in order to understand themselves or their surroundings better as well as to connect with others. Lizzy does a great job emphasizing her avenues:
"Inspiration for my work definitely comes from what is happening in my life at the time, which is why you will see that a lot of my work consists of self-portraiture. I make art as a way to navigate through personal issues from my own perspective, but I hope to use it to connect with other people that can relate through their own similar experiences. When, for example, I have a painting that touches on body image, and a woman has an emotional reaction to it and expresses how she relates to the painting, that in itself is motivation. Making these connections with people through art is a really beautiful thing."
Art is also for the artist as much as it is for the viewer or listener. We wanted to know what kind of emotions painting brings Lizzy. So, we asked how painting makes her feel:
"Painting has a way of allowing me to be much more calm, to take a step back from everything in my life and really dissect it. Of course, it has it's frustrating points on your off days, but the feeling after painting something that you're happy with is an awesome rush."

Lizzy's Message
Every form of art has a certain message. Every artist within that form of art has their own messages and motives as well. Whether it may be wishing to sway the thinking of a certain group, pull emotions out of people, or simply just provide personality to the world, other forms help people connect and project. Some help others in their own self-realizations. Lizzy explains hers very well:
"There are a couple of motives/messages behind my work, one is to make the viewer think and reevaluate things that they might not have before. To question why certain depictions make them uncomfortable, to think about their own relationships to themselves and their bodies, and about what type of socially constructed roles they might have unknowingly become accustomed to."

"The second is to connect with people, and for people to feel connected to a piece that resonates with them. It's human nature for us to want to find similarities in others and to feel less alone. A lot of my work touches on subjects that we don't often talk about, so I hope to open up the conversation." 
Inspiration can bloom at any moment in a creative mind. Individuals that share a close relationship with artists are often a source for such influence. Conscious of anything and everything around her, Lizzy describes her current "work in progress":
"I am currently working on a life-sized painting of one of my best friends. It's sort of a tribute to her, for being such an influential person in my life. People paint important figures, she is one of mine. I'm about 70% finished with it at this point, hoping to finish it within the next few days."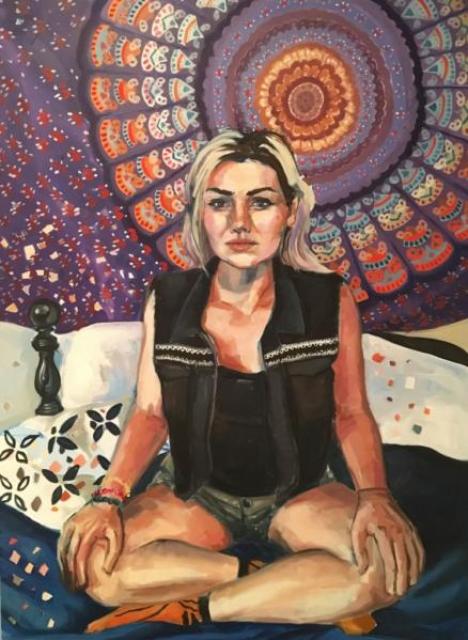 Upcoming places to see Lizzy's work:
Her painting Cake will be in the Op Ed Exhibit at The Art League in Alexandria, VA to begin Oct. 3rd through Nov. 6th. She will have a painting residency at an art-centered restaurant called Palette 22 in Arlington, Virginia. Lizzy will work on her paintings twice a week and her work will be hung up throughout the restaurant.
You can see more of Lizzy Lunday's work at her Instagram. Learn more about her and explore her other pieces here on her website.
CONNECT WITH RIVER BEATS
facebook |twitter | instagram | youtube | soundcloud | mixcloud