Dive into nostalgia with the AQUA Barbie World Tour at The Fillmore in New Orleans! Get your tickets now for a dance-pop extravaganza on November 26, and relive the '90s with chart-topping hits and electrifying performances. Grab your tickets here.
---
Hi Barbie! Get ready to groove back to the '90s as AQUA, the Danish dance-pop sensation, takes you on a nostalgic journey with their Barbie World Tour. The vibrant extravaganza hits the iconic Fillmore in New Orleans on Sunday, November 26, 2023. Brace yourselves for a night of unforgettable music and dazzling performances!
AQUA burst onto the global music scene in the late '90s with their debut album, "Aquarium," which featured the chart-topping sensation, "Barbie Girl." This infectious track became an instant classic and has recently enjoyed a resurgence in popularity, thanks in part to its inclusion in the mega-blockbuster Barbie movie.
The success of AQUA's "Barbie Girl" even extended to the film's soundtrack, where Nicki Minaj and Ice Spice's "Barbie World" sampled the iconic tune. This collaboration debuted at No. 7 on the Billboard Hot 100 chart, marking yet another milestone in AQUA's illustrious career. With hits like "Doctor Jones," "Turn Back Time," and "Cartoon Heroes" under their belt, AQUA has consistently delivered chart-toppers that have left an indelible mark on the music landscape.
Aqua in New Orleans
AQUA's Barbie World Tour has been making waves across the United States, and now they're bringing their unique blend of dance-pop magic to the heart of New Orleans. With a career spanning over two decades, AQUA has established itself as one of the most iconic acts in the genre, and their live shows are nothing short of electrifying.
Prepare to be transported to a world of vibrant colors, infectious melodies, and pure dance-floor euphoria. AQUA's live performances are renowned for their high-energy choreography and engaging stage presence, making every show a memorable experience.
General Admission tickets for this spectacular event are priced at just $65, making it accessible for fans of all ages. For those who want to elevate their concert experience, sectioned seating is also available for $120. Don't miss your chance to secure your spot for an evening filled with infectious beats and high-energy entertainment. Ticket options and availability are here.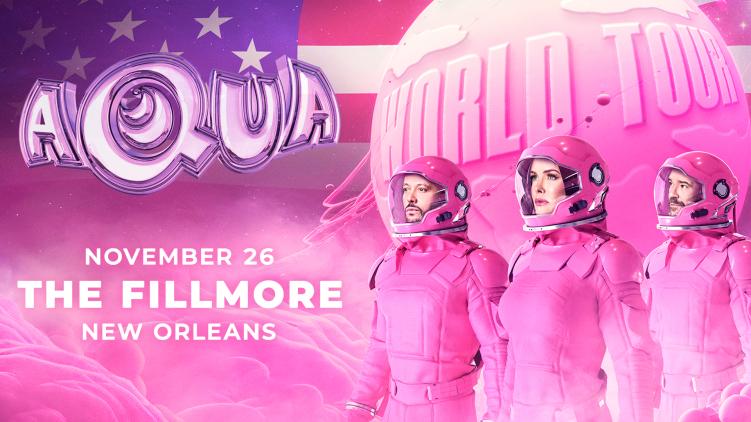 ---
Doors: 7:00 PM | Fillmore New Orleans | Sunday, November 26, 2023
---
Live Nation supports this editorial. Supported by is an advertorial series used to describe editorially independent River Beats content supported by a client's advertising spend.