When you enter Bar Marilou, there are several things which immediately come to mind. "Am I dressed for this place?," "what rabbit hole did I fall into,?" or "this looks like the place for an Aperol Spritz."
Things get a level deeper. Another guest walks up to the bookshelves beside you. They scan the titles, take a few cautious steps to either side and look back towards their friends. Then, with a bashful giggle, they tug at the whole frame of the hardwood case. Seems odd. But to your surprise, it swings open. A whole pack of new questions about this place springs from behind that secret door. You whirl around, looking for answers. As if reading your mind, a server has arrived. And, so have you. Welcome to Bar Marilou, the evolution of New Orleans cocktail society.
New Orleans Growing Spirits Scene
2019 has been a great year for the New Orleans cocktail culture. The Tales of the Cocktail Foundation awarded Compére Lapin the prestige of Best American Hotel Bar. It was the first time a local establishment has earned that honor. The Sazerac House opens in October as a distillery and education center focused on steeping visitors in the rich traditions of the Crescent City. Local favorite NOLA Distillery even made a comeback, much to the excitement of regional producers that work in partnership with the spirit-makers. All over town, cocktails are being crafted with consideration, upping the ante on what quality looks like here in New Orleans. It's into the scene that Bar Marilou has entered.
Tales of Bar Marilou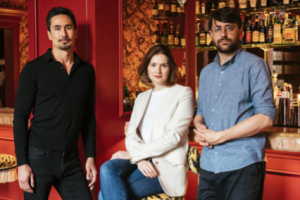 It is important to mention Tales of the Cocktail anytime one discusses the city's spirits society. With regards to Bar Marilou, talking about the world-renowned hospitality conference is crucial. In 2018, word was fluttering in on the winter air: a Parisian hospitality group, Quixotic Projects, was to open a bar in the Warehouse District. Nestled within the developing Maison de la Luz hotel, the yet-named establishment would be the group's first outside the City of Lights. A "convivial, relaxed environment" embodying the salon life of Paris, exported to America. Why New Orleans? A question not often asked because we all know why New Orleans. There is no place like this city. After repeated visits to the Tales of the Cocktail, members of Quixotic Projects felt that sentiment as well. So, in partnership with Atelier Ace (the firm behind Maison de la Luz & neighboring Ace Hotel) Bar Marilou was formed.
It was a quick turn-around for the establishment. Announced in late fall of 2018, and opened in May of this year, Bar Marilou burst to life alongside the gardenias and jasmine of mid-spring New Orleans. It arrived with a textured detail just as vibrant and lively as those spring flowers.
Arriving in Style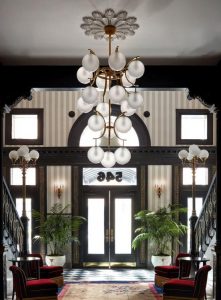 Bar Marilou is housed within the library of the former New Orleans City Hall Annex. LA-based firm Studio Shamshiri worked intimately to craft an environment that is sophisticated, yet unpretentious. You might say Shamshiri did the impossible by turning a government office into somewhere that feels inviting and homely. That welcoming intention extends through the halls of la Luz, into Bar Marilou, which is the street-effacing side of a hospitality experience reviewers often described as a "refuge."
Within Bar Marilou, the roots of the building and the traditions of the city are honored. An exotic, almost-zebra print carpet covers the floor and meets walls painted a deep, lusting scarlet. The barstools are a tiger pattern. The result is animalistic, yet light-hearted and mischievous. A classic Big Easy attitude. Bookshelves fill the red walls, an homage to the law library which once existed here. Besides acting as a speakeasy door, they hold a carefully curated collection of titles ranging in genres and editions.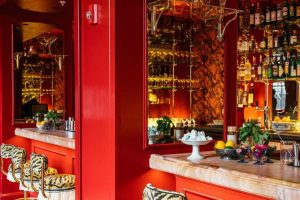 For a night out in New Orleans, a good outfit is one that piques interest, sparks conversation, and shows just enough to grab some attention. The armchairs and ottomans around Bar Marilou have a comparable vibe. Uniquely crafted legs shoot through tasteful fringe skirts, dancing off guests who shuffle under the dim globe lights. A narrative of revelry and joy is found in the layered complexity of the pink marble bar, because, that is where New Orleans finds its energy too. If the Maison de la Luz is "like a quirky residence" then Bar Marilou is the eccentric den of the house.
Although the air of the lounge is eclectic, the food & spirits program is anything but scattered. A selection of natural wines, smalls plates, and aperitifs reveal a serious focus on the culinary arts for Bar Marilou.
The Approachable Aperitif
There's no denying that 2019 was the summer of the Aperol Spritz. Moreover, bars across the country have been celebrating Negroni Week, drinking spirits for charity. Although these types of cocktails are entering the mainstream, Bar Marilou is the first distinct aperitif bar to open in New Orleans. If you're not familiar, an aperitif is a cocktail which has low ABV and is sessionable. The ingredients are designed to stoke an appetite, the flavors pair intimately with food. It can feel very upscale at first. But, the idea of the aperitif is to enjoy your company, not turn up your nose at them. And Bar Marilou is exceptionally good at embodying that.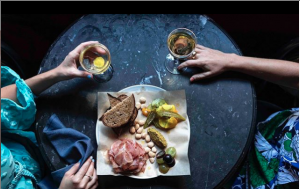 Marilou is short for the name Marie-Louise. The choice to use a nickname instead of something formal was well-thought. Quixotic Projects mapped out their bar as a neighborly, casual place. The inspiration came from 1970's French bar culture, and the door policy is inviting: First come, first served. No guest list, no velvet rope, no bottle service. With five renowned dining establishments in Paris, Quixotic had plenty of experience in crafting a menu that fit this bill.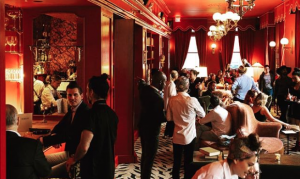 Food & Drink
Start with the "Monarca:" Oaxacan rum, paired with aromatic sweet vermouth. The smokiness of mezcal fills your mouth, a perfect accent to the citrus tang and herbaceous micro sorrel garnish of tuna ceviche. Then, the anchovies arrive. Rich, olive oil-touched fish coats the tongue with every delicate bite. A cleansing sip of the "Gallic Spritz" cuts right through the delectable fat. The crisp, dry cognac cocktail features martini bitters and Marolo Grappa, a type of brandy.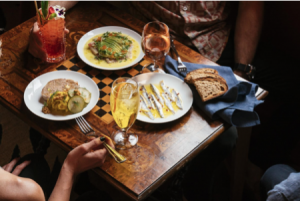 Are you a wine and cheese sort of diner? Camille's Burrata exudes summer joy from the bright notes of fennel pollen. The point where your knife meets the cheese is where life is really happening. The outside texture is not so bouncy as mozzarella, giving way to a stuffing that is creamier than ricotta. That is to say, it's exactly what burrata should be. Pair the silky cheese with a glass of natural wine, like the sparkling pét-nat, for a clean finish.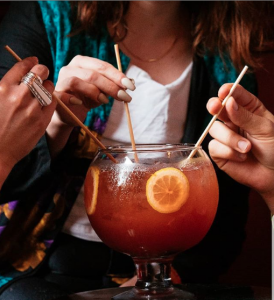 For those dining in larger parties, Bar Marilou offers libations served largely. Certain cocktails can be ordered in a near punchbowl size to share amongst companions. Happy hour is 4-6 PM Monday – Thursday, and 2 – 6 PM Friday – Sunday.
Bar Marilou is the Evolution of New Orleans
Stepping into a new bar or restaurant can be intimidating. Especially when the bar interior looks like it was pulled from a distant land, and the menu does too. But, at Bar Marilou, dining differently isn't difficult. The service is exceptional: staff is not only ready to answer your questions, but they're expecting to. And, they do so with excitement and attentiveness, sometimes dancing (when their hands aren't full). The menu might read like a French class in some places, but the food is homey, almost familiar (if you need proof, try Newsom's Country Ham). The city was founded on French roots. A Franco-inspired bar simply works.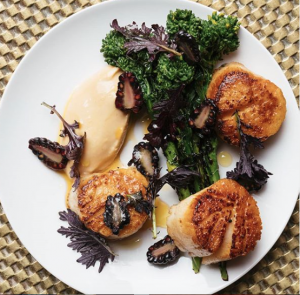 Take away all the glitz and glam of the five-star hotel. Remove the world-wide publicity that Mason de la Luz & Bar Marilou have received. What are you left with? A location that exudes quality, thoughtfulness, and a welcoming atmosphere. A location that is as varied and complex and outright fun as the Crescent City itself. Bar Marilou is distinctly New Orleans, yet distinctly in a class of its own.
---
Since our visit, Bar Marilou has added several new features that are worth talking about. Sunday nights are now industry nights with discounts for local hospitality folks. Marilou's Terroir Tuesday is a new weekly event that features 30% off ALL of their fantastic wines. And live music has arrived on the 2nd of 4th Wednesday each month. You can find the bars hours of operation and address below
Bar Marilou: 544 Carondelet. www.barmarilou.com
Open: Mon-Wed 4p-12a, Thur 4p-2a, Fri 2p-2a, Sat 2p-2a, Sun 2p-12a
Happy Hour: 2p-6p Daily