With the Super Bowl right around the corner (Although our saints are officially out) you might be preparing some of your best tailgate recipes. There's no shortage of foodie inspiration in New Orleans. So why not take a page from some of New Orleans' top chef's recipe books? The chefs over at Bayou Bar, Compère Lapin, and Toups Meatery are sharing some of their favorite Super Bowl recipes that are tailgate approved.
Whether you're just cooking for your own home this year, or you're trying to impress a socially-distanced Super Bowl party – check out these specialty recipes below from Chef Brian Landry from Bayou Bar, Nina Compton from Compère Lapin, and Chef Isaac Toups from Toups Meatery.
NOLA'S Best Super Bowl Recipes
---
Boudin Chimichangas
Chef Brian Landry
Ingredients:
2 tbsp olive oil
2 lbs pork shoulder, cut into 1-inch pieces
½ lb chicken liver, cut into 1-inch cubes
1 ea yellow onion, chopped
3 ea Celery stalks, chopped
4 ea Garlic cloves, coarsely chopped
3 ea medium jalapeños, stemmed, seeded, and chopped
2 ea bay leaves
4 tbsp kosher salt
2 tbsp freshly ground black pepper
1 tbsp freshly ground red chili flakes
2 tsp cayenne pepper
1 tsp paprika
6 cups cooked white rice
1 cup chopped parsley
1 cup chopped green onion
3 cups pork stock (substitute chicken broth if not available)
24 ea flour tortillas (6")
Method:
Heat a large skillet over medium-high heat. Sear the pork shoulder in olive oil until browned on all sides.
Add livers and quickly sear.
Add the vegetables and seasonings, and cook until tender.
Allow the mixture to cool. Chop the mixture until small (or pulse in a food processor until resembles ground pork).
In a large mixing bowl add the cooked rice, parsley, green onion, and 3 cups of the pork stock. Mix for approximately 5 minutes until the mixture becomes slightly sticky.
Check seasoning, add more salt if necessary.
Place 2 oz of boudin in the center of a tortilla.
Fold like a burrito and secure with a toothpick.
When ready to cook, fry in 350° vegetable oil for approximately 4 minutes until hot in the center and tortilla is golden brown.
Serve with Pit House Sauce. (*recipe below)
*Pit House Sauce
Ingredients:
2 lbs ketchup
2 ½ lbs mayonnaise
7 oz Worcestershire (by volume, not weight)
2/3 cup granulated garlic
2/3 cup black pepper
salt, as needed
Method:
Combine all ingredients and taste.
CAJUN QUESO
Chef Isaac Toups | Serves: 6 – 8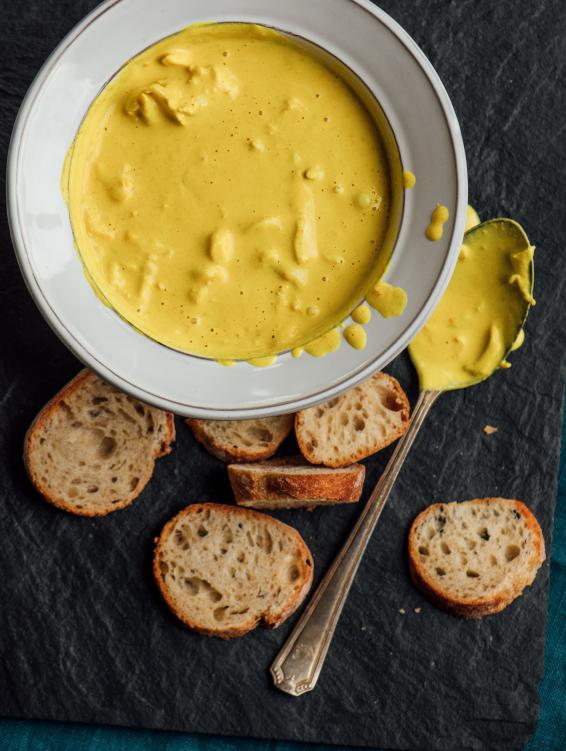 "I know people who say you shouldn't mix cheese and seafood. I say, screw those rules. I refuse to live in a fascist culinary world. This is not a fondue in the traditional sense. Normally you'd warm up your cheese and wine and whiskey and dust in a little flour. Instead, this is a béchamel sauce with all the components of fondue, just combined in a different order. I use my Pepper Paste of Pain instead of traditional kirschwasser because I like a little more acid and some heat."
Ingredients:
4 tablespoons (1/2 stick) unsalted butter
3 tablespoons all-purpose flour
½ cup dry white wine
2 cups whole milk
1 teaspoon Isaac's Pepper Paste of Pain (page 21) or hot sauce
1 teaspoon kosher salt
½ teaspoon white pepper
½ teaspoon saffron
1 cup grated Gruyere cheese
1 pound lump crabmeat (or crawfish tails or chopped poached shrimp)
Baguette, crudites, or tortilla chips, for serving)
Method:
Preheat the oven to 400°F.
Toss the Brussels sprouts, oil, salt, and pepper in a mixing bowl to season.
Arrange in a baking sheet large enough for the sprouts to fit in a single layer.
Roast for 20minutes, until nicely charred. Let cool on baking sheet for 2 minutes.
Transfer sprouts to a mixing bowl, drizzle with 2 tablespoons sauce, and toss until Brussels sprouts are well coated.
Peel & Eat Shrimp
Chef Isaac Toups | Serves: 6

"Boiled shrimp are one of the easiest ways to feed a mess of people in a hurry. I figure around a half-pound per person—though, in Cajun country, you should probably figure a pound per head because more folks always seem to show up whenever you throw shrimp on to boil. Here I split the difference and say 4 pounds will serve 6 people. My boiled shrimp always include celery salt. I had a cook once who was against using garlic powder, onion powder, celery salt—he said, "Why add powders if you want the flavor? Just add the actual ingredient." I agree—except for celery salt. There's something in there that isn't celery. I don't know what it is, and I don't want to know. But you can't get it anywhere else."
Ingredients:
3 gallons of water
3 cups white wine vinegar
1 ½

cups kosher salt
1 ½ cups sugar
24 bay leaves (truthfully, I just grab a big fistful)
36 cloves garlic, minced
3 tablespoons celery salt
1 tablespoon cayenne pepper
4 pounds head-on extra-jumbo shrimp (about 16 to 20 per pound)
16 cups ice
Method:
Put the water, vinegar, salt, sugar, bay leaves, garlic, celery salt, and cayenne in the 5-gallon stockpot and bring to a rolling boil over high heat. Once the water is boiling, add the shrimp and cook uncovered for 2. minutes.
Remove the shrimp using a spider or strainer and place in a large nonreactive mixing bowl. Add 4 cups of the poaching liquid and the ice and give it a good stir to disperse the ice throughout. I prefer my shrimp still warm, so I usually let the shrimp sit for just a minute, then drain and throw them out on the table for people to eat. (You can chill them all the way down in the ice and place the drained shrimp in the fridge if you prefer them cold.) But even when serving them warm, you have to shock them straight from the pot with the ice. If you don't, the shells will stick to the shrimp. And that's a big faux pas where I grew up.
Hot Fire Chicken & Biscuit Sliders
Chef Nina Compton

Ingredients:
HOT FIRE CHICKEN BUTTERMILK BRINE
6 ea Boneless chicken thighs with skin
1 qt Buttermilk
2 ea Shallots; julienned
10 cloves Garlic; smashed
1 bunch thyme

4 tbsp Calabrese Chili Puree
4 tbsp Jerk Spice (*recipe below)
1 tbsp Chili Flakes
6 tbsp Salt
*Jerk Spice Mix
6 tbsp Cayenne Pepper
2 tbsp Dark Brown Sugar
1 tsp Chili Powder
2 tsp Garlic Powder
2 tsp Onion Powder
1 tbsp Paprika
1 tsp Allspice

1 tsp Cinnamon
1 tsp Ginger
For Frying:
2 cups Flour
16 oz Canola Oil
Method:
Combine all the dry ingredients and then add the remaining ingredients.

Brine the chicken overnight. Remove the chicken, dredge in flour and fry at 350 degrees for 6-8 mins, depending on the size of the thigh. In a medium-size mixing bowl, place the hot fire sauce (*recipe below) and evenly coat the chicken.
*Hot Fire Chicken Sauce
WET INGREDIENTS:
1 qt Original Franks Red Hot
25 g Red wine vinegar
250 g H2O
DRY INGREDIENTS:
15 g Brown Sugar
5 g Nutmeg
6.25 g

Ginger
125 g Paprika
62.5 g Cayenne Pepper
12.5 g Onion Powder
12.5 g Garlic Powder
6.25 g Cinnamon
Method:
Mix together wet ingredients in a large container. Add the dry ingredients. Mix together and store until ready to use.
Biscuits
Yields: 6 biscuits
1 Tbs+ ½ tsp Baking Powder
1 tsp Sugar

½

tsp salt

2 cups

All-Purpose Flour

2 ½ oz Butter, chilled and cubed
1 Cups Buttermilk
Method:
Combine all the dry ingredients together, using your hands incorporate the butter breaking it up into the size of a cranberry, slowly add the buttermilk and mix until incorporated. Wrap the container and chill for 30 mins.

Place on a floured surface and roll the dough out to 2 ½ inch thickness and cut into 2 ½ by 2 ½ inches, then bake at 375 for 15-18 mins.
To Plate:
Cut biscuits in half. Place 1 piece of chicken on each biscuit. Top chicken with B&B pickles. Serve and enjoy.
Follow River Beats New Orleans to stay up to date on your favorite FOOD IN NEW ORLEANS.
---
featured image via Toups Meatery