Neighborhood bakeries are on the rise here in New Orleans. In May, Levee Baking Co. opened doors just off Magazine. Then in July, the Old-World style Bellegarde Bakery opened it's first retail location in the Leonidas neighborhood.
Following in September was the opening of Mayhew Bakery in Bayou St. John. Now, an already popular vegan bakery is expanding from a cozy spot Uptown to some new digs in the CBD. This carnival season, welcome in a new Breads On Oak location at 222 Carondelet.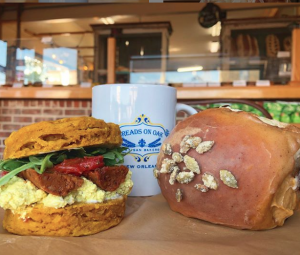 Breads On Oak opened in 2012. Co-owners Chamain & Sean O'Mahony began with a desire to return New Orleans' status as a preeminent baking city to where it was in the early 1900s. After carving out a place as a neighborhood staple, Breads On Oak took a new tack again in 2015, by becoming a full-service cafe. A few years of practice, and the bakery became 100% plant-based in 2018. Sustainability doesn't stop with the ingredients however; Breads on Oak's original location is a composting, plant-packaged, solar-powered example of an eco-conscious cafe. Which makes the news of a new location super exciting– it's great to see green growth.
Breads on Oak
As reported by Ian McNulty, the new Breads location will be on the bottom floor of the Hampton Inn & Suites on Carondelet, which is attached to the Place St. Charles building. As modeled by the Oak St. spot, this Breads location will be vegan as well.
Sean O'Mahony says that the cafe aims to open sometime in January. The menu will be abbreviated from the expansive selections offered at the original location. Although, guests can expect to eventually find dishes like chickpea & hearts of palm crabcakes, or vegan sausage biscuits.
The O'Mahony's are anticipating that the opening of the new Breads on Oak location will be a hit during the carnival season. The bakery offers traditional king cakes made vegan, as well as "adult" king cakes filled with delicious mixes like berry & brandy almond cream, as well as bourbon pecan praline. A boozy, vegan king cake? How's that for balance, people?
---
Do you have a tip on local restaurant news? Send them to brich@riverbeats.life or sound off in the comments below