Copper Vine's Happy Hour includes a variety of discounted wine and beer flights, plus some extra bites. Happy Hour runs Monday – Friday, 3-6 pm.
---
We are always on the lookout for fun and fresh options in every aspect of our lives. Luckily, Copper Vine, located at 1001 Poydras Street in the CBD, offers just that in addition to a delicious dining experience.
With spring in full swing, Chef Amy Mehrtens has introduced some new additions to the menu, which are sure to delight our taste buds. The Smoked Gulf Fish Dip with white remoulade, fried saltines, house pickles, and ikura roe is the perfect starter to kick off your meal.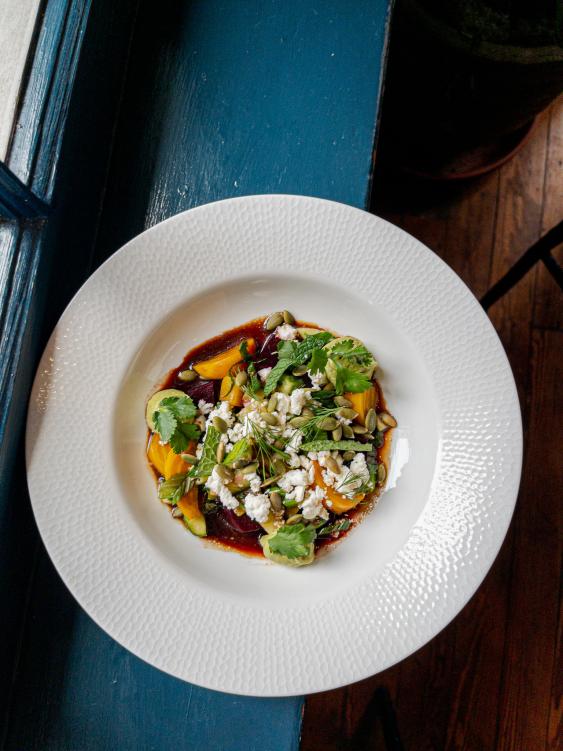 The Balsamic Beets & Fresh Feta with smashed cucumbers, avocado, mint, and pumpkin seeds is a refreshing and healthy option for those looking for a light bite.
And the Seared Duck Breast & Pickled Blueberries with French potato puree, sugar snap peas, wild mushrooms, and duck jus is a decadent and flavorful entrée.
But that's not all – Copper Vine has also added some new happy hour options to its menu. The Chicken Liver pâté with port wine gelée, crostini, and pickled red onion is a savory and indulgent treat. And of course, the Smoked Gulf Fish Dip makes another appearance on the happy hour menu, along with discounted wine and beer flights and additional bites like marinated olives, Brussel sprouts, and prosciutto and fig flatbread.
So if you're looking for a date night spot, a place to unwind after work or a venue for a private party, look no further than Copper Vine. With its new menu additions and commitment to sustainability, it's the perfect place to indulge in a guilt-free dining experience.