Republic NOLA is excited to introduce you to something truly special that has been brewing in the heart of the electronic music scene. Enter ELEVATE, the brand new Thursday night series that's here to change the bass experience in NOLA. Repubic is diving headfirst into the deep, immersive world of bass music, bringing you artists who are crafting a new era of sound, all within the cozy confines of an intimate setting.
ELEVATE was born out of the need to shine a spotlight on the incredible bass artists who are on the brink of greatness. These are the names that might not yet be headlining festivals or dominating airwaves, but they are crafting beats that deserve your attention. Think of ELEVATE as your secret gateway to discovering the next big thing in the world of bass.
Imagine a dimly lit room, with vibes so good that they're practically palpable. The chandeliers overhead cast a warm, mysterious glow over the proceedings. This is your sanctuary to experience the power of bass in a way that's up close and personal. It's a space where the music takes center stage, where the artists and the audience connect on a level that transcends the norm.
And what's more, ELEVATE is here for our community. We've designed this experience with you in mind. The shows are affordable, starting earlier than our usual programming, and wrapping up by 12:30 am – just in time to leave you with those electrifying bass-driven vibes lingering as you head into the night.
Without further ado, let's dive into our upcoming ELEVATE shows. Each date promises an unforgettable night of bass magic:
8.31 – ELEVATE: FLY + ESCPE + Markd
9.7 – ELEVATE: sumthin sumthin + caecus + EYE10
9.14 – ELEVATE: Chomppa + SWAMPZ + MAR
9.21 – ELEVATE: Zen Selekta + PRETTY NA$TY + Subcybin [also a Road to Beyond Existence show – partnered with Beyond Existence to give away a ticket to the festival]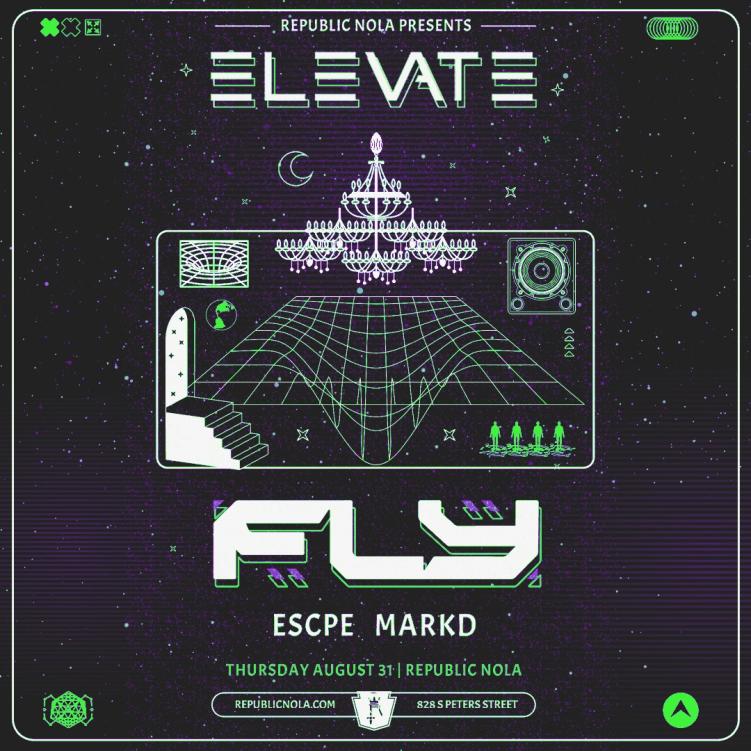 Republic has a more robust lineup for October: with shows on the 5th, 19th, and 26th! So, if you're ready to immerse yourself in a world of bass that's waiting to be discovered, join us at ELEVATE. Let the music wrap around you, let the bass lift you up, and let's embark on a sonic journey that's intimate, exclusive, and undeniably extraordinary. It's time to ELEVATE