The Metropolitan announced a dual-venue show of GRYFFIN & Kai Wachi in the main venue room and SIDEPIECE & BYNX in M3 for Fright Night 2023 on Halloween weekend. Tickets are available tomorrow (8/18) at 11 am CST.
---
One of NOLA's best Halloween parties just announce its headliners for its 2023 edition. AMPS Events & The Metro are welcoming everyone back to Fright Night on October 27. In the past, this yearly Halloween celebration has brought icons like Kaskade, Porter Robinson, NGHTMRE, and DJ Diseal, to the Big Easy. This year, both house and melodic bass lovers can rejoice in the lineup selections.
In the first round of lineup announcements, GRYFFIN, Kai Wachi, SIDEPIECE, & BYNX have been announced. The big change to Fright Night in 2023 is that an event is now a one-day event with a stacked lineup vs a two-day showcase.
Gryffin Returns to NOLA For the First Time Since 2021
Dan Griffith, aka Gryffin, last headlined NOLA when he took over Hells Gala in 2021. The first BIG dance event in NOLA after the pandemic ended. Gryffin is a producer, DJ, and songwriter acclaimed for blending emotional dance-pop with acoustic and electronic elements. Notable for remixing pop hits, he shifted to his own music in 2016, amassing chart-topping originals featuring artists like Carly Rae Jepsen. His debut album "Gravity" (2019) showcased his melodic prowess, followed by continued success with tracks like "Cry" and collaborations with OneRepublic. Gryffin's journey from classical piano training to captivating electronic soundscapes defines his musical evolution.
SIDEPIECE is The Brain Child of Some of Dance Music's Biggest Artists
SIDEPIECE, born from Dylan Ragland (Party Favor) and Ricky Mears (Nitti Gritti), boasts an impressive trajectory in just three years. Their accolades include a Grammy nomination for Best Dance Recording in 2021, the #1 most supported dance record worldwide in 2020, and platinum/gold certifications in a dozen countries for their hit "On My Mind." Playing esteemed venues and festivals such as Lollapalooza, EDC, and Tomorrowland, their style bridges electronic genres, anchored in bass and trap. Party Favor, known for genre-blending bass tracks, collaborated with artists like Gucci Mane, while Nitti Gritti, a multi-platinum producer and award winner, secured a top spot in the '2020 Best Producers' ranking.
More artists are still to be announced for the Metro's haunted Halloween. Fans can start celebrating Fright Night at the Metropolitan this Friday, (8/18) at 11 am, when tickets officially go on sale. You can grab them HERE.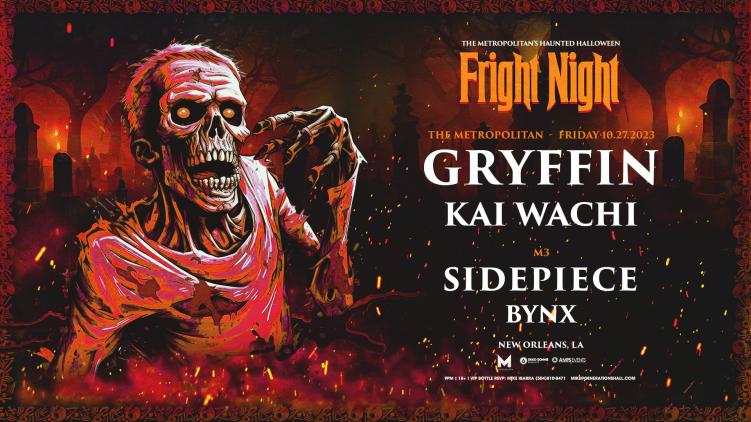 ---
Fright Night 2023 | Friday, October 28 | The Metropolitan