This month, New Orleans will play host to two legendary figures in the world of rock and roll: Yngwie Malmsteen & Glenn Hughes. Grab your tickets here.
---
On August 30th, the iconic House of Blues will play host to two legendary figures in the world of rock and roll: Yngwie Malmsteen & Glenn Hughes. This unforgettable event promises to be a fusion of timeless classics, virtuosic guitar solos, and a celebration of rock history that will leave fans awestruck.
Yngwie Malmsteen, often referred to as a guitar virtuoso and a true maestro of the six-string, will take the stage to deliver a performance that showcases the very essence of his unparalleled career. With a career spanning several decades, Malmsteen has earned his place in the pantheon of guitar gods. Known for his lightning-fast arpeggios, intricate phrasing, and neoclassical influences, Yngwie has pushed the boundaries of guitar playing and continues to inspire countless musicians and fans alike.
During this special House of Blues event, Yngwie Malmsteen will treat the audience to a collection of his greatest hits. From the searing riffs of "Black Star" to the intricate melodies of "Far Beyond the Sun," fans can expect a guitar-driven journey through the highlights of Malmsteen's illustrious career. The House of Blues stage will undoubtedly become a canvas for his virtuosity, where each note and riff will be masterfully crafted and passionately delivered.
Sharing the stage with Yngwie is none other than Glenn Hughes, a rock icon whose powerful voice and bass prowess have left an indelible mark on the genre. A member of the legendary Deep Purple, Hughes' contributions to rock music are immeasurable. As a vocalist and bassist, he played a pivotal role in shaping the sound of Deep Purple during their most iconic period.
Hughes will take this opportunity to pay homage to his roots by performing classic Deep Purple hits. Songs like "Smoke on the Water," "Highway Star," and "Space Truckin'" are sure to send waves of nostalgia through the audience, transporting them back to the heyday of rock and roll. Moreover, the show will also serve as a celebration of the 50th anniversary of "Burn," the seminal Deep Purple album that marked Hughes' debut with the band.
Yngwie Malmsteen & Glenn Hughes in New Orleans
The House of Blues in New Orleans, with its intimate atmosphere and rich musical history, provides the perfect backdrop for this momentous event. As the crowd gathers to witness the sonic collision of Yngwie Malmsteen's fretboard fireworks and Glenn Hughes' soulful renditions, the air will be thick with anticipation and excitement.
In a world where music evolves and shifts, these two titans of rock stand as a testament to the enduring power of classic sounds and masterful musicianship. The combination of Yngwie Malmsteen's technical prowess and Glenn Hughes' soulful delivery promises a night that will resonate in the hearts of attendees long after the last note has faded.
For rock enthusiasts and music lovers in general, August 30th at the House of Blues in New Orleans is a date that should not be missed. It's a rare opportunity to witness living legends breathe life into the timeless sounds that have shaped the course of rock history. As the guitars wail and the vocals soar, Yngwie Malmsteen and Glenn Hughes will undoubtedly create an unforgettable experience that pays homage to the past while embracing the future of rock and roll. Check out ticket options and availability here.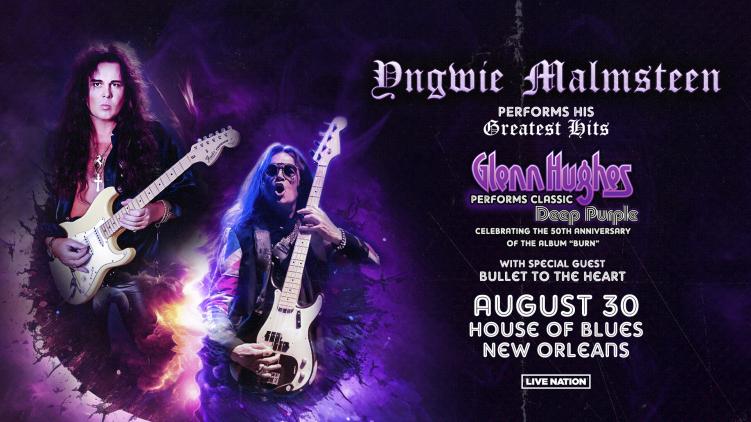 ---
Doors: 7:00 PM | House of Blues New Orleans | Wednesday, August 30, 2023
---
This editorial is Supported By Live Nation. Supported by is an advertorial series used to describe editorially independent River Beats content that is supported by a client's advertising spend.