Hell's Gala returns in 2023: boasting a 2-day lineup at Mardi Gras World with Subtronics and John Summit headlining.
---
Hell's Gala has served as a prominent stage in New Orleans for over a decade now, spotlighting a rich array of talent. This event attracts artists hailing from local, regional, national, and international scenes, who come together to perform during the exciting Halloween weekend. Past rosters have featured acclaimed artists from the bass and house music genres, including but not limited to Excision, Illenium, Steve Aoki, RL Grime, Slander, Benny Benassi, and many others.
In its 14th edition, Hell's Gala is set to experience a substantial growth spurt, overseen by event coordinators Winter Circle Productions and Encore Entertainment. This year's festival is expanding to span two full days, promising an electrifying fusion of both house and bass music genres.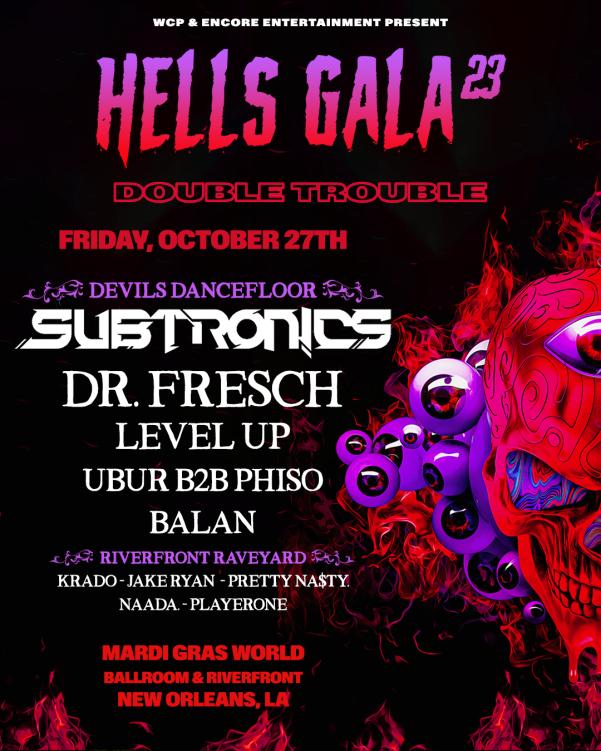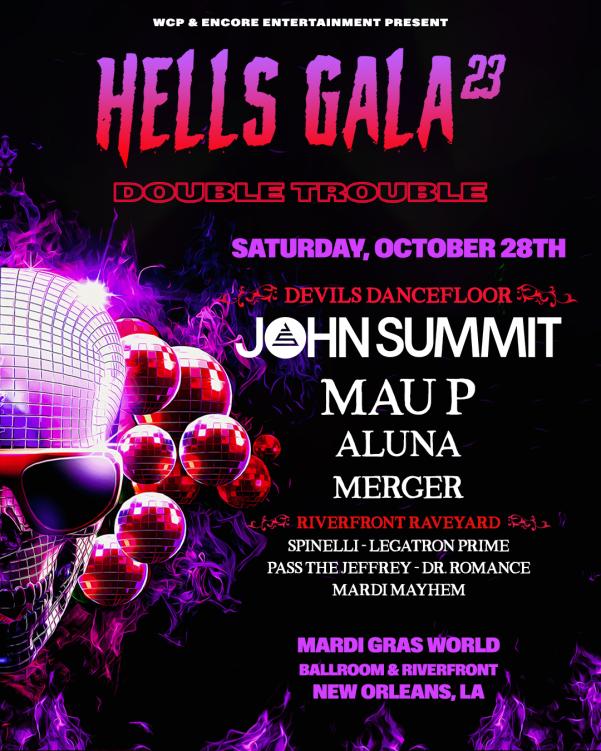 On Friday, October 27th, the festival kicks off with an explosive lineup that includes Subtronics, the dubstep sensation renowned for his earth-shaking bass drops and boundary-pushing productions. Joining him on stage is the ever-energetic Dr. Fresch, known for his infectious beats and eclectic mixes. Level Up, Ubur b2b Phiso, and Balan round out the lineup, each bringing their unique sound and energy to the stage.
The excitement doesn't stop there, as Saturday, October 28th, brings a new wave of talent to the forefront. John Summit, a rising star in the house music scene, takes center stage with his infectious grooves and mesmerizing beats. Joining him are Mau P, Aluna, and Merger, each adding their distinct musical flavors to the mix, ensuring an exhilarating night of dancing and celebration. With such a diverse array of artists, Double Trouble promises to deliver an extraordinary weekend of music and entertainment for all attendees.
Hell's Gala Tickets
Hell's Gala offers an all-encompassing experience, featuring two stages, a variety of local food vendors, engaging sponsor activations, live performances by local talents, thrilling costume contests, and captivating art installations, accessible to all event-goers. Additionally, with a VIP ticket, attendees can revel in exclusive perks such as an open bar happy hour from 9 PM to 12 AM, access to elevated viewing areas, and entrance to a haunted mansion, among other privileges. For those seeking an even more elevated experience, VIP sections are available, complete with private tables, premium liquor, unlimited mixers, and dedicated cocktail service. =
General Admission (GA) tickets are accessible at enticing prices, starting at just $45 for Friday and $50 for Saturday, with standard fees applying. For those looking to elevate their experience, VIP tickets are available, commencing at $85 for Friday and $135 for Saturday, also inclusive of applicable fees. For the ultimate weekend-long celebration, there are extremely limited 2-night passes on offer: $99 for GA and $199 for VIP. These passes provide access to both thrilling days of music, art, and entertainment, ensuring that attendees get the most out of their Hell's Gala experience.
Important Info
Here are some essential details to keep in mind for Hell's Gala. The event is exclusively for those aged 18 and above, and it opens its doors at 9 p.m., with festivities scheduled to run until approximately 3 a.m. Parking is available at Lot K of the convention center, located conveniently on the right side before crossing the train tracks toward Mardi Gras World, offering easy access to the venue. Attendees can find food provided by local vendors, including vegan options for those with dietary preferences. It's crucial to be aware that certain items are not allowed, such as backpacks, cinch bags, briefcases, purses exceeding 18″ x 18″ in size, as well as signs or totems. Adhering to these guidelines will ensure a safe and enjoyable night of music, dancing, and celebration at Hell's Gala.
Join us to embrace the contrasts of light and dark, the magic of music, and the fusion of bass and house music – all awaiting you in the enchanting world of Hell's Gala: Double Trouble.
---