Hurricane season is already in full swing with three named storms so far this year. Those of us who live in the Gulf South are used to hurricanes by this point. However, when it comes to major storms, especially with the lackluster performance of our city's sewerage and water board, you can never be too ready.
There are four steps to make sure you are ready for anything that comes your way:
Listen

Prepare

Plan

Recover
Listen
The first step to making sure you are ready and prepared is to listen to alerts before the storm even hits.  Because of the NOAA Weather Radio (NWR), you can stay up to date and informed on alerts.  Use these to be up-to-date on any severe weather event and be in the know when it comes to making a plan. The NWR issues three different types of reports:
Hurricane/Tropical Storm Advisory
The NWS issues an advisory when they expect severe weather in the area.  This doesn't necessarily mean a storm will form, only the right conditions have been met.  This is a good time to start reviewing your plan and making sure you are set in case the situation escalates.
Hurricane/Tropical Storm Watch
This means that hurricane or tropical storm conditions are possible.  Hurricane watches are issued 48 hours in advance of any storm for the area.  Under watch conditions, this is when you need to start your preparations for a major storm to hit.
Hurricane/Tropical Storm Warning
A warning is issued when storm conditions are expected to hit the area.  The NWS issues warnings 36 hours in advance of the incoming storm.  As a result, under warning conditions you should already have your plan in action and preparations are taken care of.
Prepare
Before any warnings or watches hit, it's important to be prepared for any situation that might come about.  When a disaster hits, it's never an easy thing to anticipate, but having a good bug-out kit will help if the time comes.  Below are several tips to make sure you and your family are ready: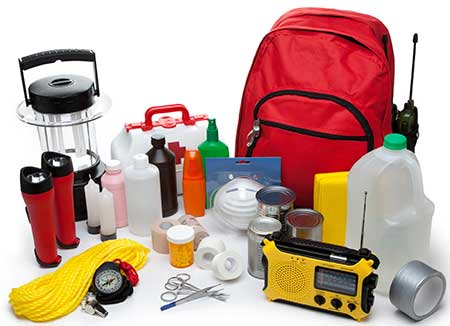 Stock up on emergency supplies
You should store at least one gallon of water per person for three days for drinking and sanitation.  This could be done by simply buying bottled water at your local grocery store to even filling your bathtub in a pinch.  Just make sure your bathtub is clean before using it for drinking water.
"By failing to prepare, you are preparing to fail." Benjamin Franklin
Along with plenty of water, you should also stock up on non-perishables such as canned fruits and veggies, ready to eat meals (MREs), or even peanut butter for a quick protein fix.   Make sure to ration out and prepare in case of extended power outages.
Flood damage mitigation and prevention
For home preparedness, take in consideration if your home is at risk of flooding.  If this is the case, make sure to move all valuables and electronics off the ground onto higher pieces of furniture.  You should also head to your nearest hardware store to stock up on sandbags for your doors to prevent rising flood waters.
Of course, the best way to prepare for flood damage is through flood insurance.  Homeowners insurance does not cover flood damage.  Insurance adjusters typically take 30 days to approve your claim. So don't procrastinate on this or you risk being stuck without it.  This is not something you want to be calling your insurance agent when you have a storm already heading your way.
First Aid Kit
Any emergency situation will call for a well-stocked first aid kit.  They are relatively easy to keep in stock and are always useful to have on hand.  The essentials you should aim for are:
Any medication you are on.  Make sure you have them properly labeled and in the original containers.
Adhesive bandages of various sizes
Antiseptic ointment and/or iodine for wound care
A few pairs of non-latex gloves
Tweezers
Sterile gauze pads of various sizes (small, medium and large)
Hydrocortisone ointment
Other emergency items that will help in a pinch
In the case of power outages, you will want to pick up a battery and solar operated radio and flashlight.  You never know when these will come in handy.  The radio is especially important to keep informed on the situation and any additional alerts, such as calls for evacuation. Also, make sure to stock up on plenty of batteries while you hunker down.
Plan
Hurricane preparations can be incredibly stressful and chaotic.  Having a plan of attack is key to keeping that stress minimal and making sure you are ready.
Be prepared for anything
Power and cell tower outages are very common during major storms. It's best to write down a list of emergency contacts you might need to get in touch with or reach out to.  This could be the NWS, the local police station, and loved ones.
If time permits, you should also document all items that have sentimental value.  This includes planning out what you will be able to take in case of evacuation.  This could include anything from family photo albums to government documents (birth certificates, social security cards, house deeds, etc).  But also know that material things do not replace the loss of life.  Things can be replaced, but you only have one life.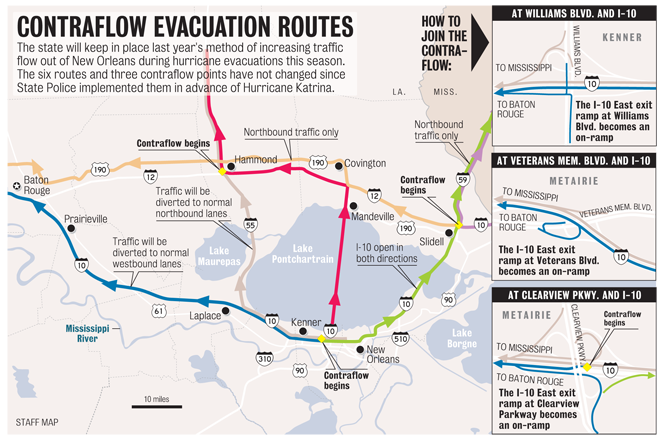 Plan your escape
Evacuation can be hectic, especially with little to no warning.  Having a game plan in case of evacuation can help immensely. Map out several evacuation routes in case of traffic, flooded streets, or any debris as well as routes to your nearest shelter.  Stay tuned to all announcements and evacuate as soon as they call for it. But most importantly, make sure your car's tank is full of gas before leaving.
Recover
Recovery is usually the hardest part of any hurricane.  Once the dust settles and you receive the all clear to return, you really don't know what you're coming back to in most cases.  Assess and document any damage your property might have sustained. Take pictures, document what you might have lost. Recovery can take a long time and is a gradual process. It's better to lose material things than to lose your life over protecting material things.
Featured Photo Credit: NASA