Is it time to start the Mardi Gras celebrations yet? Resident rockstars Win Butler and Regine Chassange think so.
Last season, the Arcade Fire duo premiered their special Krewe Du Kanaval event. More like a miniature festival than any other Carnival activities, the event lit up Congo Square from early to late afternoon in the spring. The event is a homage to traditional Haitian carnival culture. Haitian and Jamaican style food and performances bring the festive block party to life.
Krewe Du Kanaval is inspired by Butler's wife, Regine. She began bringing instruments over to rural areas of Haiti with her charitable foundation KANPE. On one trip, she brought some of the Preservation Hall musicians with her, and their connection through music made her want to bring that energy back to the Big Easy.
Ti Pati – saturday, december 1st
And while it's not time for the parade yet, the Krewe is presenting some Carnival themed events leading up to Mardi Gras. Their first event, Ti Pati, is this Saturday at Okay Bar.
This will be the first in a series of monthly parties at the dive bar leading up to the Krewe Du Kanaval parade. Saturday's performers include Win Butler himself, under his alias DJ Windows 98, DJ Heelturn and DJ Chinua.
The party series will showcase works from The Haitian Cultural Legacy Collection. The collection is a privately owned collection of over 400 acrylic paintings, oil paintings, iron works and sculptures created by Haitian artists and collected by the late Dr. Jean Chenier Brierre and his wife Nicole Riboul Brierre. The collection was created 1944. Brierre's grandson, Nic Brierre Aziz, is one of the co-curators of this weekend's event.
Bote Bliye – now until march 2019
Along with Ti Pati, Nic is currently running an intimate art installation "Bote Bliye," Kreyol for "Forgotten Beauty," at Preservation Hall until March 2019.
The exhibition & installation includes paintings and iron works from the Haitian Cultural Legacy collection, as well as relics and mementos from the lives of Dr. Jean Chenier Brierre and Nicole Riboul Brierre. Bote Bliye seeks to provide viewers with a personal account of the heritage of Haiti and the Brierre family.
Krewe Du Kanaval kicks off February 21-23, 2019. Head to the event page below to check out the upcoming show presented by Krewe Du Kanaval at Okay Bar.
null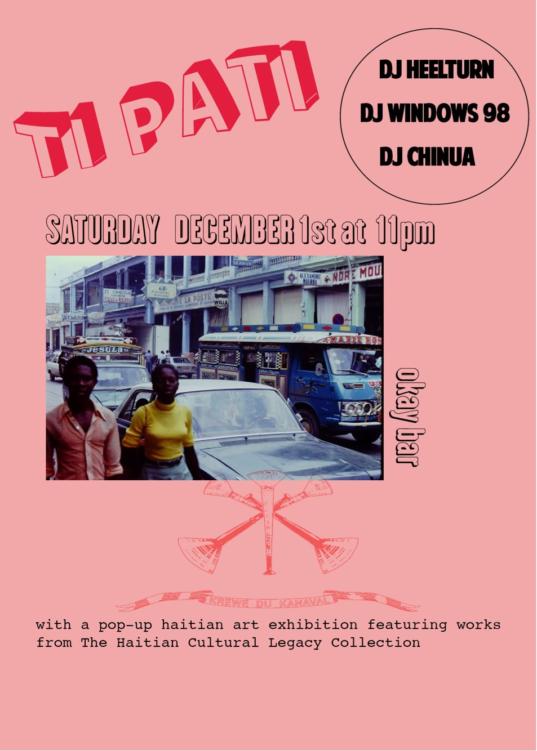 ---
Follow River Beats New Orleans to stay in the know on events in New Orleans!