Don't miss the opportunity to witness one of the most exciting acts in modern pop, LANY when they hit New Orleans on Monday, February 26. Grab your tickets here.
---
New Orleans, are you ready to be captivated by the mesmerizing melodies and soul-stirring lyrics of LANY? Mark your calendars for Monday, February 26, 2023, as The Fillmore welcomes this indie-pop sensation to the heart of the city for a night that promises to be nothing short of magical.
Hailing from Los Angeles, LANY is an American pop band formed in 2014. The group originally comprised three incredibly talented musicians: Paul Klein, the vocalist, keyboardist, and guitarist; Les Priest, the keyboardist, guitarist, and backup vocalist; and Jake Goss, the drummer and percussionist. LANY has been making waves in the music industry since its inception with its signature sound, a unique blend of synth-pop, dreamy melodies, and emotionally charged lyrics. In 2022, there was a significant change within the band's lineup when keyboardist Leslie "Les" Priest officially parted ways with the group after eight years of "friendship and opportunity." Despite this pivotal change, LANY's music continues to enchant audiences with its captivating melodies and introspective lyrics.
Over the years, LANY has garnered a devoted fan base worldwide. They first gained widespread recognition with their 2017 self-titled debut album, which included hits like "ILYSB" and "Super Far." Known for their captivating live performances and introspective songwriting, LANY has continued to evolve and push the boundaries of pop music.
Their 2018 sophomore album, "Malibu Nights," delved into themes of heartbreak and healing, connecting with fans on a deeply emotional level. With each release, LANY has managed to capture the essence of the human experience through their music, making them a force to be reckoned with in the world of modern pop.
LANY in New Orleans
LANY's "A Beautiful Blur: The World Tour" comes on the heels of their latest album of the same name, which was released in September of this year. The tour has already taken the band to cities across the globe, leaving audiences in awe with their dreamlike performances and unwavering passion.
Now, it's New Orleans' turn to be serenaded by the ethereal sounds of LANY. The Fillmore, an iconic venue known for hosting some of the biggest acts in the industry, will serve as the perfect backdrop for this unforgettable night. With its intimate setting and superb acoustics, the venue promises an up-close and personal experience with the band.
Expect a night filled with soulful tunes, swaying to infectious beats, and being lost in the enchanting voice of Paul Klein. LANY's live shows are known for their electric atmosphere and a strong sense of connection between the band and their audience. Tickets are selling fast, so if you haven't secured yours yet, make sure to do so soon. This is a concert you won't want to miss, and it's bound to be one of the highlights of the New Orleans music scene in 2023.
Whether you're a long-time fan or new to the world of LANY, "A Beautiful Blur: The World Tour" promises to be an unforgettable evening of music, emotion, and connection. Don't miss out on this opportunity to witness one of the most exciting acts in modern pop music when they hit The Fillmore stage on Monday, February 26. Get ready to lose yourself in the beautiful blur of LANY's music. Ticket options and availability are here.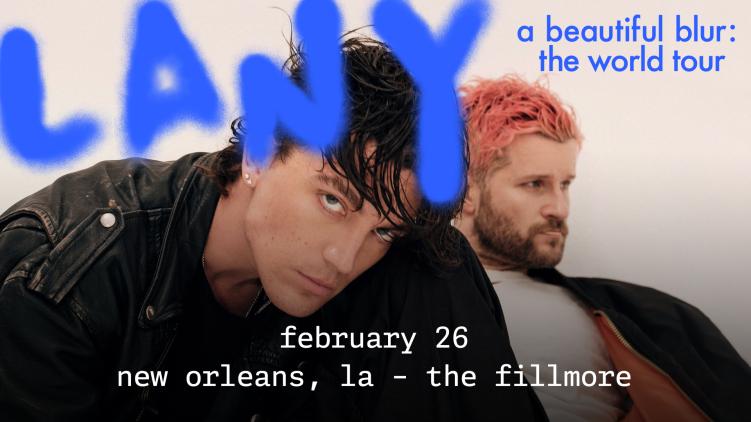 ---
Doors: 7:00 PM | Fillmore New Orleans | Monday, February 26, 2023
---
Live Nation supports this editorial. Supported by is an advertorial series used to describe editorially independent River Beats content supported by a client's advertising spend.