The upcoming New Orleans show at the Orpheum Theater promises an unforgettable night for fans, as Liz Phair will be performing "Exile in Guyville" in its entirety. Grab your tickets here.
---
New Orleans music enthusiasts are in for a treat as iconic singer-songwriter Liz Phair is set to grace the stage at the historic Orpheum Theater on Thursday, November 30. The highly anticipated performance is part of Liz Phair's nationwide tour commemorating the 30th anniversary of her groundbreaking album, "Exile in Guyville."
Born on April 17, 1967, in New Haven, Connecticut, Liz Phair emerged as a prominent figure in the alternative rock and indie music scene in the early '90s. Her debut album, "Exile in Guyville," released in 1993, quickly garnered critical acclaim for its raw, confessional lyrics and edgy sound. The album is hailed as a feminist classic, a response to and reimagining of The Rolling Stones' "Exile on Main St."
Phair's musical journey has been marked by a fearless exploration of themes ranging from sexuality to personal identity. Over the years, she has maintained a dedicated fan base and has become a trailblazer for women in the male-dominated rock genre.
Liz Phair in New Orleans
The upcoming concert at the Orpheum Theater promises an unforgettable night for fans, as Liz Phair will be performing "Exile in Guyville" in its entirety. This rare treat allows concertgoers to experience the album live, from the rebellious anthem "Never Said" to the poignant "Divorce Song." In addition to the full album performance, Phair will also delight the audience with a selection of fan favorites from her extensive discography.
Adding to the excitement, Blondshell, an up-and-coming indie band, will be opening the show, setting the stage for an evening of diverse and captivating musical experiences. With their unique sound and infectious energy, Blondshell is sure to kick off the night on a high note.
The Orpheum Theater, with its historic charm and acoustically rich environment, provides the perfect backdrop for Liz Phair's intimate and electrifying performance. Fans can expect a journey through time as Phair weaves together past and present, celebrating the enduring legacy of "Exile in Guyville" and showcasing her evolution as an artist.
Tickets for this not-to-be-missed event are selling fast, as fans eagerly anticipate a night filled with nostalgia, passion, and the timeless music of Liz Phair. Secure your spot now to witness a music legend in action at the Orpheum Theater on November 30, as Liz Phair takes the stage and brings the spirit of "Exile in Guyville" to life. Ticket options and availability are here.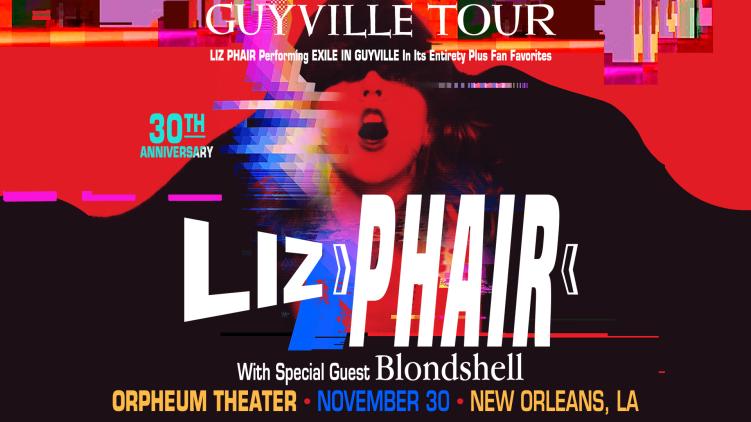 ---
Doors: 7:00 PM | Orpheum Theater | Thursday, November 30, 2023
---
Live Nation supports this editorial. Supported by is an advertorial series used to describe editorially independent River Beats content supported by a client's advertising spend.